NYCC 2013: Teen Wolf Panel
Emily Dunbar '17 / Emertainment Monthly Staff
The Teen Wolf panel began with an announcement that there will be a new show called Wolf Watch on after every episode of the completion of season three. This new program will feature information about the preceding episode, fan favorites, and much more.
Then, they showed a sneak peek at the of something that's going to happen in the B-portion of season three, which airs January 6th. Now, obviously, I'm not going to give away any spoilers, but let me just say, "Oh my god." And we can leave it at that.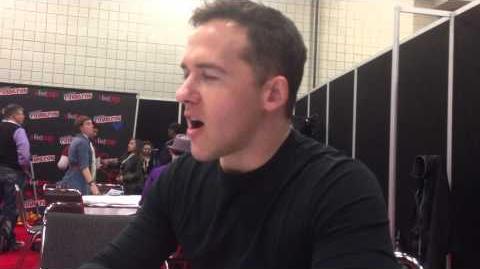 After the sneak peek, show creator, runner, and head writer, Jeff Davis, explained some of what we just saw by talking about the direction they were going for the ending of this season. It's going to be more of a psychological thriller because they did so much action last season. Also, he divulges that some of the characters' heads are still a little messed up from their sacrifices at the end of the A-portion of the season.
Excitingly, 3B (as Jeff called the latter portion of season 3) will feature shape shifters according to the Japanese Kitsune myth. Arden Cho will be one of a couple new actors stepping in to bring new mystery to the show. Cho's mystique will only be upped by the involvement of her parents.

They panelists went to talk about the possibility of a relationship between Sheriff Stilinski and Mama McCall. Jeff said there were debates in the writer's room about making it canon, but Linden Ashby and Melissa Ponzio undoubtedly have a great chemistry and have worked together before. Jeff teases that they're "Definitely heading down a certain path."
Linden also had a fantastic relationship with his on-screen son, Dylan O'Brien, who plays Stiles Stilinski. Dylan's and Linden's real life relationship often inspires new direction for their characters, as they're so incredibly close. Dylan called Linden his second dad and explains that they have a natural bond of friendship and chemistry. He then jokes, "I'm obsessed with Linden, but he kinda hates me."

That little rumor was immediately squashed, as Linden said it has been "such a pleasure to watch Tyler and Dylan grow up." He then went on to address Dylan directly: "Neither one of you are the same person you were when you started [the show.]" Linden had tons of kind things to say about Dylan, who hid his face in his arm and then grabbed and shook Linden's shoulder at the end of the compliment spree.
Jeff explained that though Stiles is one of the only human characters on the show, they really do like it that way. He said, "Stiles needs to remain a moral grounding of the show. He has a superpower: his intellect, his courage." He also revealed that Stiles "loses a certain status," this season, after the prompting of who Stiles is going to end up with, romantically. The room burst into a chorus of "ooh"s and squeals.
Next, Jeff talked about Derek Hale, played by Tyler Hoechlin. He assured us that Derek will return and that he will be a real hero this season. He also gave a noncommittal answer on whether or not we will learn about what truly happened to Stiles' mom.

Dylan professed his appreciation for all the adults on the show, saying they were just as fun as anyone. He also talked about how grateful he was to have Stiles be his first role. He could not have asked for a better character to play to begin a career. Both Linden and Jeff agreed that he is becoming a movie star, and Jeff told a story about how hard, yet necessary, it was to let Dylan miss some Teen Wolf shooting to film The Maze Runner, which he will star in next year.
We can look forward to Sheriff Stilinski's career struggles as he tries to avoid letting the truth about werewolves slip out, and a great plot arc for Lydia Martin, as she navigates the tough waters of learning her new ability. We're going to see Peter Hale psychologically manipulate a lot of people as well as get a taste of his own medicine. Jeff told us that there's going to be a huge cliffhanger at the of the season, and not everyone is coming back.