60th Annual Drama Desk Awards: Goldsberry, Ashford and Fairchild Discuss Their Big Wins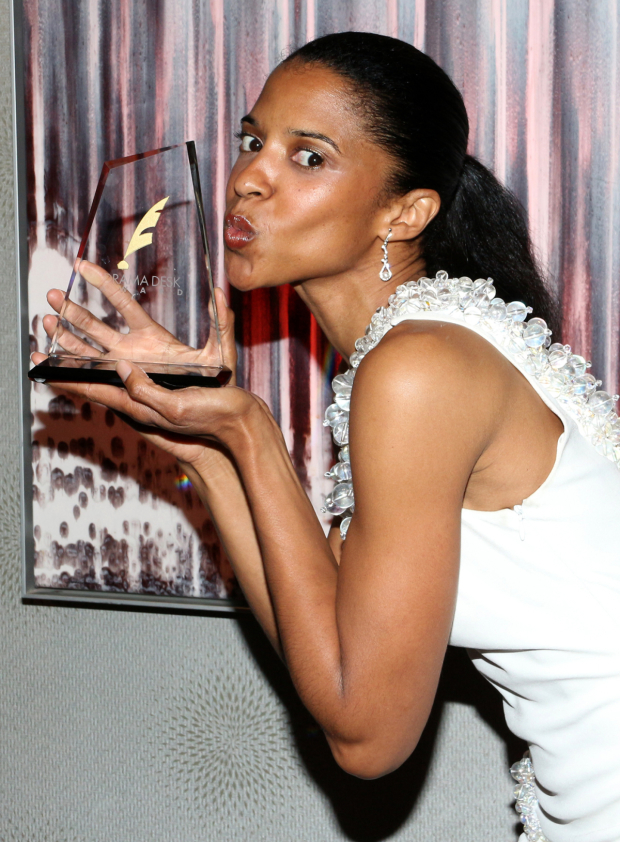 By Nora Dominick '17/Emertainment Monthly Assistant Stage Editor
On Sunday May 30, 2015, some of the hottest Broadway stars attended the 60th Annual Drama Desk Awards hosted by Laura Benanti and presented by TheaterMania. The award ceremony showcased the best and brightest performers and shows from Broadway, Off-Broadway and Off-Off Broadway.
Emertainment Monthly had the pleasure of sitting down with three of the biggest winners from the 60th Annual Drama Desk Awards. Below are interviews with Renée Elise Goldsberry (Hamilton), Annaleigh Ashford (You Can't Take It With You) and Robert Fairchild (An American in Paris).
Renée Elise Goldsberry took home the award for Outstanding Featured Actress in a Musical for her incredible work in Hamilton as Angelica Schuyler.
EM: How does it feel to win your first ever Drama Desk Award?
RG: How does it feel… If I never win another one again I'm just floored and amazed and grateful and I'm just still stunned. Honestly, it just happened and so I'm going to be swallowing that for a couple of months. It's just something you don't necessarily expect to happen in your life. So, yeah I'm going to have to wrap my mind around it and it's going to take some time.
EM: What's it like being in a show like Hamilton that everyone is so excited to see?
RG: It adds to the excitement really. Every show should have that kind of excitement, I think. Every show people should be clamoring to get into anybody's productions of anything because I think theatre itself is magical and special. It's a gift and it's really, really exciting to be a part of a moment where people feel that way about a show, especially because it's all kinds of people not just one group of people. You can be in a certain show and like, one group of people wants to see it, this show everyone wants to see. It's kind of nice not having to work too hard to publicize something. Just to be in it. It feels like I am just walking around having a huge love fest with the world.
EM: If you could switch roles with any other cast member in Hamilton, who would it be and why?
RG: That's a good questions. It might be, even though I don't know how I would do it. I would definitely say Leslie Odom Jr. who plays Aaron Burr, except I would never want the pressure to ever have to be as good as him. That's the only thing. He's so brilliant and so good. When you see it you are going to say, 'I can't believe I was talking to Reneé Elise Goldsberry and not Leslie Odom Jr.' I'm not kidding. I'm not being humble. He's brilliant. So, that's a meal that role and I would love to do it and it would be fun, however I wouldn't ever want anyone to ever have to see it just because it could never be. The mark of a great role is that if anyone could do it, it wouldn't be interesting and great. I definitely feel that way with Angelica Schuyler and that's what happens.
I was in Rent and I was like the last Mimi and I came at the very end at a very long line of women who took on that role. And we were all so different and brought so many different elements to that character, which is a testament to how great of a show Rent is. and I know that about Angelica Skylar, I am the first in a very long line of women who will get to experience and play this role. And everyone in Hamilton will always be wonderful but I will never forget was Leslie Odom Jr. does.
Annaleigh Ashford made a splash this past season for her incredible portrayal of Essie in the hilarious play, You Can't Take It With You. She took home the 2015 Drama Desk Award for Outstanding Featured Actress in a Play.
EM: How does it feel winning this award for You Can't Take It With You?
AA: It's such an honor. I'm so grateful to be representing the play and the brilliant cast. I forgot a lot of people who I was suppose to say thank you too, but they know. I'm just so grateful and honored.
What's it like doing such a great and hilarious comedy up on stage?
AA: I feel like comedy, in the same way that drama is, is that you just have to play the honesty of the scene. We were so lucky that we got Kaufman and Hart's masterpiece so, it was just a comedic masterpiece in itself that we had to work with, which made it all the more enjoyable. So, I always just try to play the honesty and hopefully you and the audience find the comedy within that.
EM: If host Laura Benanti were to pull you up on stage to sing, what would be your go to song?
AA: I would sing "If Mama was Married" from Gypsy in a heartbeat. No contest.
Robert Fairchild is turning heads night after night as Jerry Mulligan in An American in Paris. His incredible ballet work coupled with his outstanding singing earned him the Drama Desk Award for Outstanding Actor in a Musical.
EM: How does it feel to win this award? What was going through your head when Jessie Mueller announced your name?
RF: Well, when I saw the 'R' forming in her mouth and my name coming out, it shocked me. I am just so grateful that people are liking what we are doing and that ballet has made such a huge statement on Broadway because it's so special to us. It's what we've done for the last ten years and to get to bring it to a new audience is really special. The fact that the Drama Desk recognized us and is supporting us means so much.
EM: What's it been like combining ballet and Broadway? And what's it like performing ballet for a Broadway audience?
RF: I kind of feel like a kid in a candy shop. Getting to dive back and forth between dancing, which is what I feel so comfortable with, and acting and singing and doing this for the first time ever. Its a fun little game to play every night and it's always different and it's always exciting.
EM: Dream role on Broadway?
RF: This one.
EM: And if you could switch roles with any fellow nominee, who would it be?
RF: That's too hard. I can't. Honestly, we've been so busy with everything and An American in Paris has taken over my life in the best way possible that I haven't gotten a chance to see a ton this season. So, it wouldn't be a fair statement to say one way or the other, but I'm looking forward to seeing everything when I get the chance.