Kelli O'Hara Wins Her First Tony Award: A Look Back at Her Illustrious Career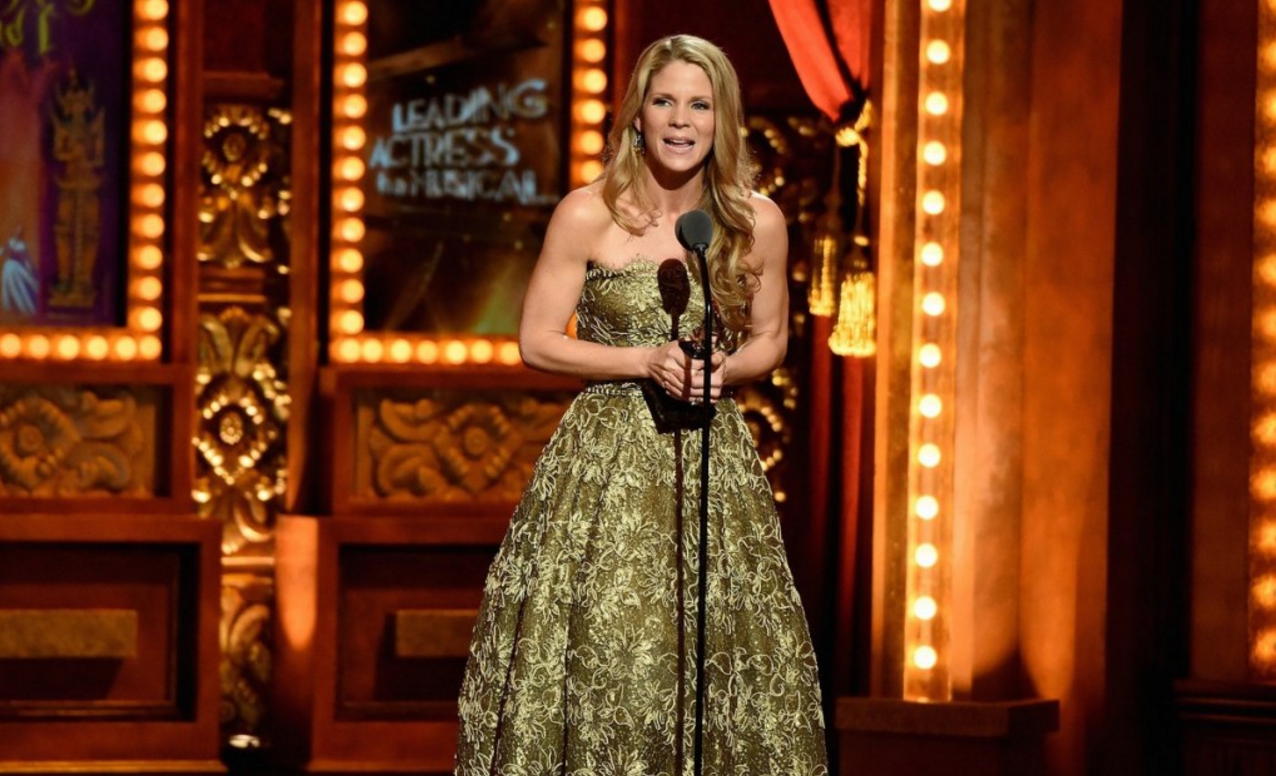 By Nora Dominick '17/ Emertainment Monthly Assistant Stage Editor
Kelli O'Hara began her journey to Broadway at a very young age. Growing up in Oklahoma, O'Hara always had the bug for musical theater and singing. She attended Oklahoma City University where she would graduate with a Bachelor Degree in Music in vocal performance/opera. O'Hara constantly sites her voice teacher, Florence Birdwell, who also taught Kristin Chenoweth, as the reason she is on Broadway today. In a recent interview with The New York Times, Kelli O'Hara discussed Ms. Birdwell and said, "She has been my mentor and my teacher and also a kind of life coach, and I have always told her most things- dark and deep things- about my life." From Oklahoma, O'Hara shot to New York City and began to dance and sing her way into audiences' hearts.
O'Hara's made her Broadway debut in the production of Jekyll & Hyde, she was an understudy back then simply trying to make her mark on the Great White Way. Her first major role came in the 2001 Broadway production of Follies, headed by film and television actress Blythe Danner. O'Hara was an ensemble member and played the role of Young Hattie and then Young Phyllis. From there O'Hara earned her first starring role in Sweet Smell of Success as Susan, where she would share the stage with fellow 2015 Tony Award nominee Brian d'Arcy James. She kept climbing the ladder on Broadway and was soon a notable face in the 2004 Broadway production of Dracula where she played Lucy Westenra. As her resume grew, so did her star power and the next production would truly put her on the Broadway map.
The Light in the Piazza began it's run at the Vivian Beaumont Theater at Lincoln Center in 2005 and with it began O'Hara's long-time partnership with director Bartlett Sher and the Lincoln Center community. O'Hara had been attached to the project since a workshop of the musical at the Theatre Lab at Sundance as well as out-of-town tryouts in Seattle and Chicago. Her work as Clara Johnson, a sweet ingénue travelling to Italy with her mother, turned critics and audiences heads as they witnessed the soon-to-be star power of Ms. O'Hara. Alongside Broadway veteran and Tony Award winner Victoria Clark and pre-Glee Matthew Morrison, The Light in the Piazza sung it's way into audiences' hearts. With outstanding Music and Lyrics by Adam Guettel, O'Hara's operatic voice shined in numbers like "Say it Somehow" and "The Light in the Piazza." The role of Clara earned O'Hara her first ever Tony Award nomination in 2005 for Best Featured Actress in a Musical. From here on out, O'Hara would become the poster child for a classic Broadway soprano.
The following year, Kelli O'Hara would partake in the amazing revival of The Pajama Game, opposite TV and Broadway star Harry Connick Jr. Her role of Babe Williams would earn her, her second Tony Award nomination but this time for Best Actress in a Musical. From here, Kelli O'Hara would begin her illustrious, career-defining love affair with the classic musicals of Rodgers and Hammerstein. She would return to Lincoln Center and lead the monumental revival of South Pacific directed by Bartlett Sher. Her work as Nellie Forbush would forever define her Broadway career as the go-to Rodgers and Hammerstein singer. O'Hara, alongside an all-star cast consisting of Paulo Szot, Matthew Morrison, Danny Burstein and many others, made this revival one of the greatest in Broadway history. South Pacific would earn O'Hara her third Tony Award nomination for Best Actress in a Musical. The epic revival would go onto win 2008 Tony Awards for Best Revival, Best Direction, Best Costume Design, Best Lighting Design, Best Scenic Design, Best Sound Design, Best Leading Actor in a Musical for Paulo Szot and even a Special Tony Award for Robert Russell Bennett for Orchestration. Almost every aspect of the revival earned a 2008 Tony Award except Kelli O'Hara. To this day, some people feel this should have been the year the Tony Award went to her, however she wasn't done fighting for her Tony Award win.
Then after partaking in several Off-Broadway shows like Bells Are Ringing at Encores! and Far From Heaven, she would return to Broadway more determined than ever. In 2012, O'Hara thrilled audiences in Nice Work If You Can Get It opposite Matthew Broderick. The musical showcased O'Hara's booming, Broadway voice and her killer dance moves. The role of Billie Bendix earned her, her fourth Tony Award nomination for Best Actress in a Musical and further solidified her rank amongst Broadway royalty. Of course, the role would not lead to a Tony Award win for Ms. O'Hara, but that didn't stop her. In early 2013, O'Hara played the main character of Julie in the staged concert version of Carousel, presented by the New York Philharmonic at Avery Fisher Hall. The concert was critically acclaimed and was even filmed as part of the PBS series, Live! From Lincoln Center. The concert event featured Nathan Gunn, future Tony Award winner Jessie Mueller, Kate Burton and so many others.
In 2014, O'Hara would partake in a generation-defining musical that would forever change current musical theatre. Directed by Bartlett Sher and with Music and Lyrics by Jason Robert Brown, The Bridges of Madison County opened on Broadway in 2014. O'Hara had been attached to the project for several years and the role of Francesca Johnson was essential written for her. Her operatic and booming voice thrilled audiences' night after night as they were reminded of classic Broadway musicals. O'Hara strayed from her usual Rodgers and Hammerstein roots and slayed each and every song in The Bridges of Madison County repertoire. Her duets alongside the handsome, multi-talented Steven Pasquale were legendary especially in the number "One Second and a Million Miles." That duet would define what an all-star team up on Broadway looks like. Unfortunately, low-ticket sales caused the Broadway fan-favorite musical to end its run much too soon, but only after Jason Robert Brown and Kelli O'Hara snagged Tony Award nominations at the 2014 ceremony. As we all know, O'Hara would not go on to win the 2014 Tony Award for Best Actress in a Musical, but her performance still found praise amongst the Broadway community, especially after The New York Times produced a video of Ms. O'Hara singing the opening number "To Build a Home," acapella. O'Hara further exemplified her multi-talented singing voice and further proved that there is nothing on Broadway she isn't willing to tackle.
This season on Broadway, Kelli O'Hara has gone back to Lincoln Center at the Vivian Beaumont Theater to take part in another glorious revival of a Rodgers and Hammerstein classic, The King and I. From the first second O'Hara stands on stage she commands the theatre. In her opening number, "I Whistle a Happy Tune," she already has the audience eating out of the palm of her hand. Her chemistry opposite 2015 Tony Award nominee Ken Watanabe is astounding. During the classic number, "Shall We Dance?" Watanabe and O'Hara cause the audience to rise to their feet in applause as they dance around the stage. Their love-hate relationship is perfectly portrayed by these two veteran actors and by the end of the musical, the audience is weeping over the relationship of Anna and The King. This season appeared to be the one for Ms. O'Hara, especially when she snagged a Tony Award nomination for Best Actress in a Musical. In a leading actress category filled to the brim with talent, fans and critics waited with baited breathe to see who would win on Tony night, especially with fellow Oklahoma City University alum, Kristin Chenoweth, turning heads in the revival of On the Twentieth Century. When the night finally came, audiences' and fans were on the edge of their seats and finally, after six Tony Award nomination, Kelli O'Hara turned one of them into a win with her first ever Tony Award for Leading Actress in a Musical.
As Kelli O'Hara ascended the Radio City Music Hall stage at the 69th Annual Tony Awards, she received a standing ovation, one that has been awaiting her during the course of her 18 year long Broadway career. She took the stage and gave the best acceptance speech of the evening. She opened her speech with some humor poking fun at her many, many Tony Award nominations saying, "You think I would've written something down by now but I hadn't. I haven't. I wouldn't allow myself to do that but I will say this, I love what I do and I don't need this but now that I have it, I've got some things to say." She then went on to thank her parents, Lincoln Center, her teacher and mentor Florence Birdwell, the entire company of The King and I, Bartlett Sher and of course her wonderful husband Greg Naughton. She ended the rousing, tear-inducing speech by saying, "Thank you so much and for coming to see our shows and I'll back! Maybe not up here but on the theater stage. I'm going to do The Worm!" And just like that Kelli O'Hara danced into everyone's hearts as she danced off the stage clutching her long awaited, very well deserved Tony Award.
From a small town aspiring singer to a 2015 Tony Award winner, Kelli O'Hara has left her mark on the Broadway stage. Her work spans 18 years on Broadway and audiences' and critics cannot wait for what lies ahead. From all of us here at Emertainment Monthly, we salute you Tony Award WINNER Kelli O'Hara and cannot wait to see where your career takes you from here.
You can catch 2015 Tony Award Winner Kelli O'Hara in The King and I, which is currently running at the Vivian Beaumont Theater in NYC. For tickets and more information visit: http://www.lct.org/shows/king-and-i/