Nimona! Webcomic Picked up for an Animated Adaption
Jo Wylie '16 / Emertainment Monthly Editor
Just one month after the new BOOM! Studios comic Lumberjanes was optioned for a movie by 20th Century fox, Lumberjanes co-creator Noelle Stevenson has even more big news on the way. Her iconic webcomic, Nimona, now a graphic novel with Harper Collins, has also been picked up for a feature length animated movie of its own.
Stevenson's Nimona recently finished a 270-plus-page journey through the vibrant and sometimes outrageous world of its title character, Nimona, a plucky aspiring villain who somewhat forcibly sidekicked herself to the ominous kingdom evildoer, Lord Ballister Blackheart.
Nimona follows a cast of characters we've seen before—the dastardly villain and his sidekick, the golden, shining hero and the kingdom he serves—doing exactly as they're expected. "Halt, villain!" shouts Sir Ambrosius Goldenloin (yes, that's his real name). "I have to fight you because that's my job!"
Despite this cast of what at first look like stock characters, Nimona is anything but another archetypal fairytale—instead, Stevenson crafts the real joy and intrigue of Nimona out of character arcs springboarded from all the stereotypes. The real grip Nimona keeps on its readers didn't start with these stock characters, nor with the outrageously anachronistic universe they inhabit—longtime readers will remember the joy of watching the "villain" Blackheart blow out the side of a bank with what definitely appeared to be some kind of rocket launcher. Instead, the catch came when Stevenson's world began to turn on its head—with everyone's roles reversed and all expectations blown out of the water—that we really started paying attention.
Ultimately, people started reading Nimona because of its fantastically snappy writing and the truly enjoyable characters. Nimona's intense dark side and thirst for fun (even at the expense of a castle or two), the touching moments of affection between her and her "boss," and the intriguing dynamic between Blackheart and Goldenloin—all of this drew us in back when there was no assurance that Nimona was anything other than a directionless, fun webcomic.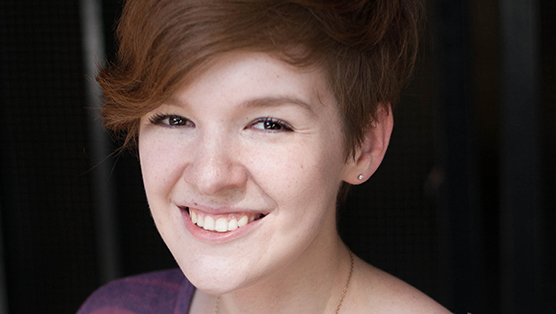 Once we were hooked, though, it was Stevenson's artistic inversion of all the tropes and sudden plunge into gripping tension and emotional drama that had us grinding our teeth on the roller-coaster journey to the comic's end. Webcomics always have the dangerous chance to spiral out of control—many longtime internet surfers will have at least one webcomic in their memories that went on for years and years before fading into obscurity. Stevenson's work, however, always knew where it was going and had a dedicated story and arc for many of its characters that will no doubt develop into one hell of a movie.
The webcomic is due to be made into an animated movie, with Patrick Osborne set to direct. Osborne directed last year's Disney short Feast, a heartfelt little short with a distinctive style. We can only guess as to the animation style pegged for Nimona—despite Osbourne's previous use of 3D animation, and how well it was implemented in Feast, Stevenson's comic style has become very well-known and recognizable, particularly in some online circles, and would be better suited to some classic 2D animation. At this point, however, we can only speculate, and just hope that wherever Nimona goes, it'll be able to take the webcomic's heart and intent with it.
Nimona will fit neatly into the collection of more zany, heartfelt action movies that people have loved in the last year. Pushing back against the gritty, "everything is terrible, humans are the worst" narratives of some modern action movies, Nimona could be a movie for the Pacific Rim, Guardians of the Galaxy and The Lego Movie fans out there.
You can pre-order a copy of the Nimona graphic novel through Harper Collins, and keep an eye out here for more news on the movie! Check out the first three chapters here.