Father's Day Gift Ideas: Ten Books For Dad
Jailene Adorno '16 / Emertainment Monthly Staff Writer
Still can't find the perfect Father's Day gift ? Tired of buying the same T-shirt, book of bad "dad jokes," wallet, or Home Depot gift card? Well, look no further! Here are ten books that your dad, stepfather, uncle, or grandfather might enjoy.
10. Gumption: Relighting the Torch of Freedom with America's Gutsiest Troublemakers – Nick Offerman
If you need a Father's Day gift for someone who is super patriotic and loves presidents such as George Washington and Abraham Lincoln, this might be the perfect gift. In Offerman's second book, his unique sense of humor combined with his love for America is enough to make any dad laugh.
9. A God in Ruins – Kate Atkinson
A God in Ruins is the follow up book to Atkinson's #1 bestseller, Life After Death. Life After Death explored the life of Ursala Todd as she learned about making difficult decisions and taking chances. However, in this new book, she follows the life of Ursala's brother, Teddy. Through Teddy, readers get to experience how one incident can change everything. This is a great book for a dad who just loves literary novels.
8. Who Moved My Cheese?: An A-mazing Way to Deal With Change in Your Life – Spencer Johnson
Fiction isn't for everyone, but there's a book out there for so many different interests. No one likes change, no matter where it is, even if it could be for the better. For the one who is stuck in his ways, perhaps Johnson's #1 bestselling book can really help them to see the bigger picture.
7. It's a Long Story: My Life – Willie Nelson (with David Ritz)
Even if you're not a big Willie Nelson fan, you know his name and his legacy. This book is the perfect gift for fans old, new, and somewhere in between. As far as music biographies go, this is definitely one that people will want to read. Nelson is so real and honest in this book that it only makes people want to keep reading.
6.  The Goldfinch – Donna Tartt
When Theo Decker's mother passes away and he is abandoned by his father, he is taken in by family friends. As he tries to lead a somewhat normal life, he often feels out of place and out of touch with the people around him. However, in order to keep his mother in his thoughts, he holds onto a painting that reminds him of her. Thus begins his appreciation for art. This could be the perfect gift for a father who enjoys stories about making the best out of every situation.
5. Paddle Your Own Canoe: One Man's Fundamentals for Delicious Living – Nick Offerman
Offerman makes another appearance on our list, but for a different reason. For the handyman in your family who loves building things, the great outdoors, and a good steak, of course. This book may be right up his alley. They may find themselves agreeing with the advice Offerman gives throughout the book as well as his philosophies about life.
4. The Wright Brothers – David McCullough
For the dad with a great sense of adventure and a deep understanding and appreciation for inventions, this book is sure to put a smile on his face. In McCullough's new book, he shares the story of Wilbur and Orville Wright, two brothers who truly changed history with their invention of the airplane.
3. Unbroken: A World War II Story of Survival, Resilience, and Redemption – Laura Hillenbrand
From the author who brought us Seabiscuit: An American Legend, comes another amazing story of a young lieutenant during World War II. Readers get to see the lieutenant's whole story from when he was a lawbreaking teenager to when he entered the Olympics and then got drafted into the war. If the father that you're buying for enjoys a great war story, then he'll love this one!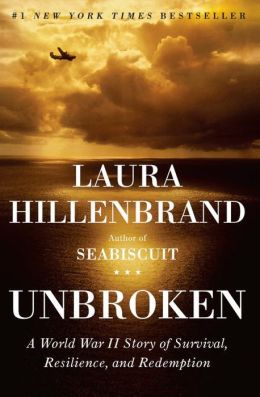 2. Pedro – Pedro Martinez and Michael Silverman
Do you know a father who's really into sports? Probably. Why not give them a memoir on one of America's most beloved baseball players, Pedro Martinez? Not only would they get to know the famous pitcher, but they would also learn to appreciate the struggles and sacrifices he made in order to get to where he is today.
1. Finders Keepers – Stephen King
If none of those books are quite your father's style, then perhaps the newest Stephen King novel? The story of a mysterious writer and a vindictive reader could be your dad's new favorite. No one incorporates suspense into a story quite as well as King does. Why not show dad how much you appreciate his taste in books, by getting him the newest addition to King's classic collection of horror books.