'Significant Other' Brings Millennial Dating to Off-Broadway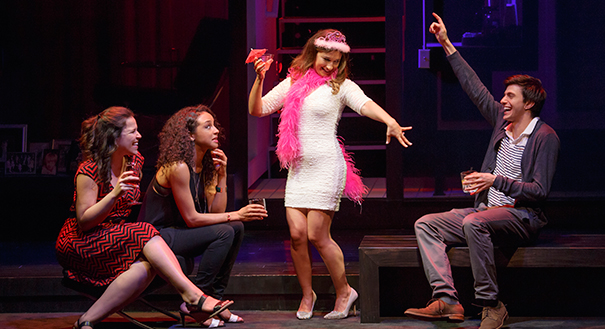 By Nora Dominick '17/Emertainment Monthly Assistant Stage Editor
Finding Mr. Right is easier said then done. In Joshua Harmon's masterful new play, Significant Other, the modern world of dating and finding that special someone proves harder than it looks in the romantic comedies. Roundabout Theatre Company's Significant Other puts a new spin on finding love in the modern age of dating.
Significant Other tells the story of Jordan Berman (Gideon Glick), a down-on-his luck twenty something who is just trying to find Mr. Right. Luckily he has his three closest, tight knit girlfriends, Laura (Lindsay Mendez), Kiki (Sas Goldberg) and Vanessa (Carra Patterson), to help ward off lonely nights in NYC. But nothing stays perfect forever, as singles' nights turn into bachelorette parties and weddings. Jordan soon discovers that being happy for your friends as they find love is almost as impossible as finding love itself.
Written by up-and-coming playwright, Joshua Harmon, Significant Other is a hilarious and heart-wrenching new play that takes audiences' right into the trenches of single life in NYC. Harmon makes his triumphant return to Roundabout following the success of his breakthrough hit Bad Jews back in 2013. He is currently in the Playwrights Program at Juilliard and is under commission by Roundabout as well as Lincoln Center Stage. Directed by Trip Cullman with scenic design by Mark Wendland (If/Then, Next to Normal), lighting design by Japhy Weideman (The Visit, The Heidi Chronicles) and costume design by Kaye Voyce (The Real Thing), Significant Other is making its mark on the Off-Broadway play season.

The incomparable Gideon Glick, who is giving a career-defining performance, plays Jordan Berman. Glick is known for his work in Spring Awakening, Spiderman: Turn Off The Dark, and he appeared as Jack in Shakespeare in the Park's Into the Woods alongside Amy Adams, Denis O'Hare and Jessie Mueller. Glick's performance as Jordan is transcending as he takes the character through the highs and lows of being single in NYC. His ability to portray moments of pure happiness to moments of sheer heartbreak is astounding, especially because he never leaves the stage.
One of Glick's most memorable moments comes during Act Two of Significant Other when Jordan is debating whether or not to send an email to Will (John Behlmann), a colleague and someone Jordan has a major crush on. As he squirms on the ground trying to distract himself, he calls his three friends. But when the phone rings, Laura is in the beginning of a new relationship and fails to pick it up, Vanessa is out with her new husband, and Kiki is busy with her married life. When all three of them fail to pick up the phone, Jordan runs around the stage and delivers fast-paced dialogue at such rapid speeds it's hard to take your eyes off of him. Glick does an incredible job at bringing Jordan from moments of high-energy panic to utter heartbreak in a single breath.

Although Jordan is close to all the women in his life, there are two women who hold a special place in his heart. One of them is Laura, played by the exquisite Lindsay Mendez. Mendez is known for her work in several Broadway and Off-Broadway musicals including Grease, Godspell, Wicked, Everyday Rapture and Dogfight. Mendez takes her impeccable acting abilities to new heights as she portrays Laura, Jordan's terminally single best friend. From the beginning of the play, Jordan and Laura's relationship is pushed to the forefront. Mendez and Glick instantaneously click on stage and they share some of the more touching moments in Significant Other.
Glick and Mendez share several key moments in Significant Other. One of the funniest moments comes in Act one when Jordan, Laura and Vanessa attend Kiki's wedding. The trio stands off to the side and watch as Kiki and her husband Conrad have their first dance. Glick, Mendez and Patterson deliver a hilarious dance routine and let their hair down. Glick and Mendez are the heart of the piece as their characters watch their two friends find love and begin to start their married lives. Another key moment in their relationship comes in Act two when Laura brings her serious boyfriend, Tony, over to Jordan's house for them to meet. The simple dinner party goes smoothly, but the most touching moment comes after Tony and Laura leave for the night. Within seconds, Laura returns asking Jordan what he thinks of Tony. Laura is the only one of the friends to ask Jordan what he thinks. This small moment between Mendez and Glick perfectly exemplifies their characters' friendship. The duo creates some of the most poignant moments in Significant Other.

If any moment in Significant Other were to rip at audiences' heartstrings it would be in one of the final scenes of the play. During Laura's bachelorette party, Jordan storms out unable to take the constant change, especially because now he is losing his best friend. In a brilliantly acted, award-winning performance Glick screams, cries and smiles at Mendez as he brilliantly portrays every emotion Jordan has been keeping inside during the entire play. This monologue is one for the ages and Glick has the amazing ability to make the audience feel every emotion as if they are experiencing it themselves. Mendez is also the best partner for Glick to play this scene opposite. She takes Laura from moments of complete anger to utter heartbreak without saying a single word as she watches Jordan deal with her impending marriage. Mendez and Glick are the core-relationship in Significant Other, and they both play off of each other's emotions flawlessly.
The other major relationship explored in Significant Other is Jordan's relationship with his grandmother, Helene, who is played by the magnificent Barbara Barrie. Barrie and Glick share very short scenes together, but they are some of the most important. Jordan visits Helene often to give her her medication and to reminisce about the past. She always asks how his relationships are going while he continues to let her repeat stories from her past. In the end, Helene is the only core friend Jordan has left and one of his last scenes in Significant Other involves Jordan calling Helene from Laura's wedding. Barrie does an impeccable job at showcasing the older generation and providing insight on a generation of marriages and traditions lost with time.

The scenic design by Mark Wendland perfectly fits Jordan's world. The main facade never changes; instead multiple rooms illuminate depending on the location. With no set pieces constantly flying in and out it allows the audience to focus more on the written word. Joshua Harmon has the incredible, awe-inducing ability to create a world that may be rooted in the millennial generation, but the humor expands past that. Audience members both old and young find themselves laughing and crying alongside Jordan as he goes through this journey.
The structure of Significant Other is also very reminiscent of the late, great Wendy Wasserstein, whose most notable work is The Heidi Chronicles, which was recently revived on Broadway this season starring Elisabeth Moss, Bryce Pinkham and Jason Biggs. Similar to The Heidi Chronicles, only two actors, John Behlmann and Luke Smith, play the ensemble characters. This creative choice works perfectly for Significant Other as it does in The Heidi Chronicles. The other homage to Wasserstein is the dialogue itself. Pop culture references coupled with poignant words and phrases echo throughout Significant Other and make it a play for the ages. Harmon has done it again with Significant Other and continuously showcases why he is one of the most up-and-coming playwrights of this generation.
From long dramatic monologues to quick, hilarious jokes, Significant Other holds everything necessary to make a brilliant new Off-Broadway play. This heart-warming, hilarious new play will soon define a generation of young, single people who are desperate to find love and to cling to their best friends. Gideon Glick delivers a career-defining performance alongside Lindsay Mendez and the other ensemble members. Roundabout Theatre Company has struck gold with this brand new play. This inventive new play by Joshua Harmon is an amazing piece of new work and is a must see for anyone who loves theater and is trying to navigate the modern world of dating.