'Little Shop of Horrors' Raises the Roof at New York City Center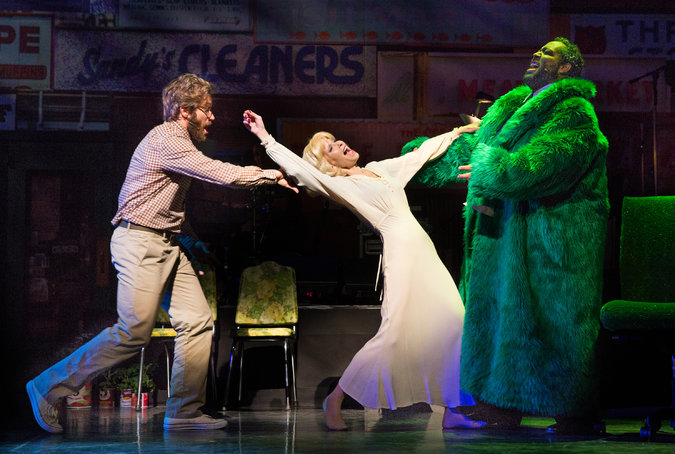 By Nora Dominick '17/Emertainment Monthly Assistant Stage Editor
Three standing ovations. Two musical theatre debuts. One original cast member. A lifetime of memories. It's the event you will wish you were at this summer. New York City Center's Encores! Off-Center series presented Little Shop of Horrors on July 1-2, 2015 and it was the musical event for the ages.
Little Shop of Horrors is based on the 1960's cult horror film and tells the story of Seymour, a florist clerk who buys and nourishes a Venus fly-trap-like plant he has named Audrey II, after his beloved co-worker Audrey. The plant continues to grow and grow and will devour anything in its path. Little Shop of Horrors opened Off-Off Broadway in 1982 and eventually moved to the Orpheum Theatre Off-Broadway, where it enjoyed a five year run. It was produced on Broadway in 2003 and has enjoyed multiple re-tellings across the globe. Little Shop of Horrors was even turned into a movie musical in 1986 starring Rick Moranis and Steve Martin. With music by Alan Menken and a book and lyrics by the late Howard Ashman, Little Shop of Horrors has become a cult-classic musical and this summer it received an outstanding two-night only event at New York City Center.
Little Shop of Horrors at New York City Center resembled what I imagine a Broadway rock concert would look like. There was cheering, standing ovations, whistling and sheer joy as old and new fans of Little Shop of Horrors gathered to witness a re-awakening of this cult musical. If anyone was in the vicinity of the City Center theatre you could hear the sheer volume of applause Ellen Greene received as she entered for the first time. Greene has the character of Audrey flowing through her veins. Greene was the original Audrey Off-Broadway and even reprised the role in the 1986 movie adaptation. The love for Greene as she portrays a character she knows inside and out echoed throughout the theatre as she once again stepped into the high heels and tacky outfits of Audrey.
Greene proved that at the age of 64, she still has what it takes to bring a Broadway audience to their feet. As soon as the opening music of "Somewhere That's Green" began to play, the audience went nuts knowing Greene would be singing this classic number. Her voice still perfectly suits the Little Shop of Horrors repertoire. Greene continues to play Audrey with a level of compassion mixed with comedy that she has perfected in the 33 years of playing this role. Her comedic timing is still spot on as she brings the audience to tears. She doesn't need the music in front of her, the words flow naturally and that's just what audiences wanted to see. Greene's performance of Audrey is, to say the least, career defining. For all intensive purposes, Audrey and Ellen Greene are one person and are one perfect Broadway powerhouse that fans will remember forever.

Of course the character of Audrey is nothing without her Seymour. City Center and New York audiences had the sheer privilege of witnessing Jake Gyllenhaal's musical theatre debut in Little Shop of Horrors. Gyllenhaal plays the lovable-nerd of Seymour flawlessly. His work in this musical event further proves why he is one of the few actors who was born to act on the stage. His work alongside Greene and the other cast members is sheer brilliance. From the moment he opens his mouth and begins to sing in the number "Skid Row," Gyllenhaal brings the house to a rousing applause as they witness the inaugural flight of his musical theatre voice. By the time his epic solo in "Feed Me" comes up, Gyllenhaal has the audience eating out of the palm of his hand and he receives a standing ovation from the already pumped up audience.
Little Shop of Horrors is no doubt known for the musical number "Suddenly Seymour." So when the musical number arrives in Act Two at City Center fans anxiously await the epic duet between Greene and Gyllenhaal. From the moment the song begins Gyllenhaal perfectly exemplifies everything Seymour stands for in Little Shop of Horrors. He has transformed into one of the most iconic musical theatre characters and audiences' forget that it's indeed Gyllenhaal on stage. He begins the iconic song with such a genuine tone fans can't help but swoon. When Greene joins Gyllenhaal in "Suddenly Seymour," it's the very definition of Broadway magic. Before the song is even over, Gyllenhaal and Greene receive a rousing applause and a standing ovation (one that halts the show for close to five minutes). Jake Gyllenhaal solidifies his rank amongst the greatest actors of our generation with his portrayal of Seymour in Little Shop of Horrors.

Seymour and Audrey may be the center of Little Shop of Horrors however Taran Killam as Orin and Eddie Cooper as Audrey II (the plant) are two of the breakouts in this production. Killam further proves why he is one of the greatest comedians today. He uses his Saturday Night Live training to perfectly play Orin, Audrey's abusive and somewhat psychotic dentist boyfriend. The comedy of Orin perfectly suits Killam's comedic timing. His work in the songs "Dentist!" and "Now (It's Just Gas)" are perfection and he steals this rendition of Little Shop of Horrors. The audience can't help but laugh at his impeccable comedy and his singing voice perfectly suits the character.
Unlike the 2003 revival of Little Shop of Horrors, the role of the plant in City Center's rendition strayed away from the Disney-esque puppetry. The soulful, scene-stealing Eddie Cooper played Audrey II.  His work alongside Gyllenhaal is extraordinary especially in the song "Feed Me." He plays the role effortlessly and adds a level of devilish charm and pure soul to the character.
Little Shop of Horrors at New York City Center is the very definition of what NYC theatre lovers crave. A two-night only event that will live in the memories of the audiences that witnessed it. Those who missed it will be eating out of the palm of their friends hands who got to bask in the sheer talent on the stage. Little Shop of Horrors continues to be one of the greatest cult-musicals on Broadway and City Center allowed the musical to blossom once again. Gyllenhaal brings his A-game to the role of Seymour, Killam brings the comedy, Cooper adds a dash of soul and Greene continues to play a role that was tailor-made for her. For two nights only Little Shop of Horrors was re-opened and audiences couldn't get enough.
New York City Center's Encores! Off-Center series continues with The Wild Party on July 15-18, 2015 starring Broadway favorites Sutton Foster and Steven Pasquale. For tickets and more information visit here