Top 10 Reasons to be Excited for 'Arrow' Season 4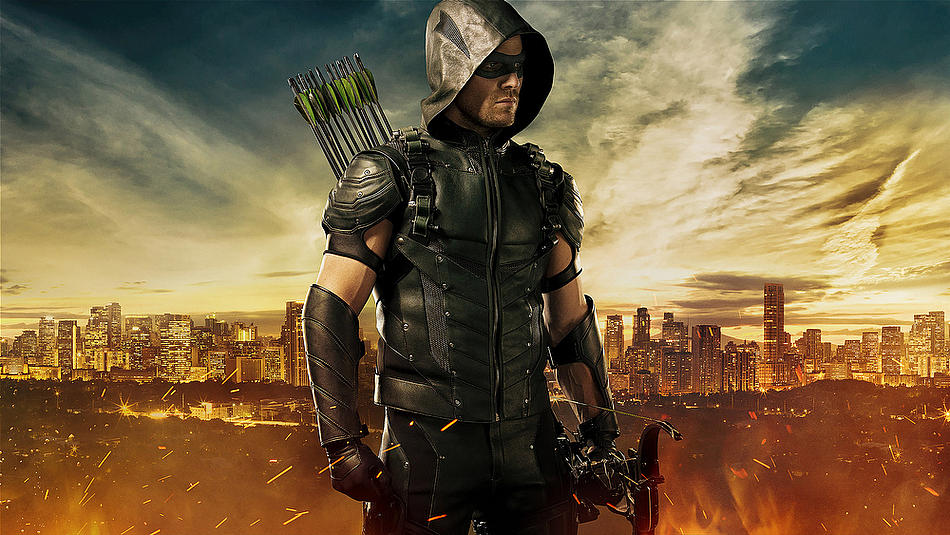 Nora Dominick '17/ Emertainment Monthly Assistant Stage Editor
With the premiere of Arrow season 4 just six short weeks away, Emertainment Monthly has decided to count down the "Top 10 reasons to be excited for Arrow season 4." Last season Arrow soared to new heights by introducing new characters, saying goodbye to some fan-favorites and introducing Ra's al Ghul. This season, Arrow is completely reinventing itself and getting back to basics. Check out the list below and be sure to check out Arrow season four this fall on The CW.
10. Star City
A name change is coming to everyone's favorite, crime fighting city. Arrow season 4 will showcase the name change from Starling City to Star City. The recent reveal came in a set post from Paul Blackthorne, who showed the camera his new badge that clearly reads "Star City."
The name Starling City has been part of the Arrow universe since season one but this name change will lineup the Arrow universe to that of its comic book counterpart. Season 4 will embrace its comic book roots in a number of ways and the name change to Star City will be one of the biggest.
9. Damien Darhk
Damien Darhk was first mentioned in season 3 of Arrow as an ally turned enemy of Ra's al Ghul. This season he will wreck havoc on Star City as one of the big bads of season four. Damien Darhk is slated to be played by Neal McDonough and will be a new, formidable foe for Oliver Queen and Team Arrow.
Damien Darhk exists in the DC comic book universe and he will be the latest character to take on a new life on Arrow. Darhk is the leader of H.I.V.E and was a former member of The League of Assassins. Damien Darhk is a mysterious and sophisticated villain, and an adversary of the late Ra's Al Ghul and it appears he will be one of Team Arrow's greatest challenges. It's safe to say that Damien Darhk will be the major foe in season four of Arrow and fans cannot wait to see how Neal McDonough brings this character to life.
8. Diggle Gets a Costume
John Diggle (David Ramsey) managed to fly under the radar last season and Arrow season four seems to be making up for that fact. In season three of Arrow, Diggle became a family man when he married Lyla and had baby Sara to tend to. His work with Team Arrow, however, never wavered and he continued to be a valuable asset. Diggle and Oliver's bromance continued to be at the heart of the show with Stephen Amell and David Ramsey playing into that aspect effortlessly. At the end of season three, however Diggle became frustrated with Oliver when he decided to hang up his bow and arrows. With Diggle forging a new path in Arrow season four, a few adjustments to his crime fighting regime seem to be in order.
In the past three seasons, John Diggle was the only member of Team Arrow that didn't wear a costume to hide his real identity when out in the field. Arrow season four changes this and gives him a specialized helmet and costume. The announcement was made at San Diego Comic Con back in July and artwork for Diggle's helmet and crime fighting suit appears to have the resemblance of a very simplistic superhero costume. With Arrow and The Flash crossing over frequently, it's safe to make the assumption that Diggle's new helmet might have come from STAR Labs. More information (and hopefully upgrades) will come when Arrow season four premieres.
7. Speedy
Thea Queen has always been a major component to Arrow and in season four she will play an even bigger part as she joins Team Arrow as Speedy. Willa Holland has effortlessly taken Thea from a simple background character into a full-blown superhero-in-training and it has been an incredible journey. Since season one when Oliver revealed that Thea's nickname was "Speedy," fans have been waiting to see if Thea would take on that superhero identity.
At the end of season three following Roy Harper's departure from Starling City, Thea finds Roy in a neighboring town. Before Thea could follow Roy, he does the noblest thing and slips away without her knowledge. In his wake he leaves Thea a heartfelt, tear-inducing letter and his Arsenal suit. "Red always looked better on you," Roy writes and fans can take that as Roy officially giving Thea his blessing to become Speedy. Fans cannot wait to see Thea Queen take flight and join the ever growing Team Arrow.
6. Oliver and Felicity
Arrow season three seemed to be the season for Oliver Queen and Felicity Smoak. The budding romance that began to take shape in season one finally took flight towards the end of season three. During the entirety of season three, Oliver and Felicity were playing the "will-they-won't-they" game and had some truly compelling and amazing moments. Stephen Amell and Emily Bett Rickards took these character's romance to new and exciting heights, however, it being pushed to the forefront allowed other characters to go by the wayside.
In the season three finale of Arrow, Oliver and Felicity finally made the big move and became an official couple. With Team Arrow finally vanquishing Ra's al Ghul (Matt Nable), Oliver felt at peace to leave his life as The Arrow and drive off into the sunset with Felicity. When season four picks up, Oliver and Felicity have fallen into a fairly domesticated lifestyle. Having spent an entire summer traveling together, a major event will have to bring Olicity back to Star City. Oliver and Felicity will continuously play a major role on Arrow this season and Olicity shipper should get excited for this next step. With this duo finally on boyfriend/girlfriend terms, fans can hopefully expect Arrow to get back to basics and focus on Team Arrow as a whole and the development of other relationships on Arrow.
5. A New "Arrow Cave" for Team Arrow
Every awesome superhero group needs an awesome lair. Batman had the Batcave, The Flash has STAR Labs and now Arrow is getting a major upgrade to their "Arrow Cave." Since season one, Oliver Queen and his ever growing team of vigilantes has operated out of the basement of Verdant, a club owned by Oliver and then by Thea Queen. Last season, fans watched as Quentin Lance and the entire Starling City Police Department destroy the Arrow Cave upon believing Oliver was indeed the Arrow. Entertainment Weekly first revealed the new Team Arrow lair that will take center stage in season 4.
The new lair, aptly named the "Arrow Bunker" appears to focus more on the growing Team Arrow instead of the singular Oliver Queen. The original lair gave the feeling of Oliver working alone while the new Arrow Bunker appears to have space for every single member of Team Arrow. There's still no word on where the Arrow Bunker will be hidden, but it's a major upgrade from the old one.
4. Mama Smoak Returns
She is probably the most beloved new character in the Arrow universe. Donna Smoak turned heads last season in the episode "The Secret Origins of Felicity Smoak" and soon became a fan favorite. Charlotte Ross commands the screen as Mama Smoak and TVLine recently broke the news that she would be booking a trip to Star City in the sixth episode of season four.
The nature of Donna Smoak's return to Star City is under wraps right now, but the last time fans saw her in Starling City she was nudging Felicity towards a relationship with Oliver Queen. The other two times she appeared on Arrow it was related to Felicity's life, so fans can hopefully assume she will be making an appearance because of her daughter's new found relationship with Oliver. Charlotte Ross is a welcomed face on Arrow and this season four appearance will hopefully be the first of many.
3. New Characters
Last season fans said goodbye to several fan favorites including Caity Lotz as Sara Lance and Colton Haynes as Roy Harper. Although these familiar faces will be greatly missed, Arrow season four seems to be jam packed with new faces.
Echo Kellum will be playing the role of Curtis Holt/Mr. Terrific. Holt is said to be a technological savant and inventor who works under Felicity at Palmer Technologies. Kellum already seems to be melding into the Arrow family and will hopefully become a great friend with Felicity Smoak. We can't wait to see his scenes opposite Emily Bett Rickards!
Enlisted alum Parker Young will take on a new role in Arrow season four as Alex David, a political consultant working for Oliver and a potential love interest for Thea Queen. Fan favorite Teen Wolf actor J.R Bourne will also join the Arrow universe as Double Down, a minor, metahuman villain who appears in The Flash universe.
Constantine fans will also be excited for Arrow season four because Matt Ryan will be reprising his role in this season. Constantine was a fan-favorite show last year on NBC, but was unfortunately cancelled after one season. Ryan will find a new home on Arrow this fall and will add another DC Comic level to the growing Arrow universe.
Even more character have been added to the flashback sequences of Arrow as well. With all of these new additions, Arrow is expanding more than any other season and fans cannot wait to see how these new characters interact with fan favorites.
2. Crossovers
It's hard to talk about Arrow season 4 without recognizing The Flash season two. The Flash became a major component to not only The CW and superhero television, but also Arrow's universe. Last season characters crossed over from Starling City into Central City and vice versa. The Flash and Arrow crossover event last fall showcased Oliver Queen, Felicity Smoak and John Diggle in Central City during the first hour and then Barry Allen (Grant Gustin), Caitlin Snow (Danielle Panabaker) and Cisco Ramon (Carlos Valdes) crossed into the world of Starling City. Both hours of television were huge for both TV shows and this year it will happen again.
The Flash and Arrow will have a major crossover event once again, but this time there are more extremely exciting factors at play. With The CW adding DC's Legends of Tomorrow into their lineup midseason and Supergirl taking flight on CBS in the fall, Arrow and The Flash will have two other shows that could be components of a crossover event. These other shows will definitely affect Arrow season 4 in a very, very good and exciting way.
1. The Green Arrow
At San Diego Comic Con this year, fans were blown away when Stephen Amell ascended the stage in Hall H in a brand new Arrow costume and officially announced that he will become The Green Arrow in season four.
The new suit has short-sleeves and more closely resembles Oliver Queen's look in the DC Comics' New 52. The inspiration for the change comes after The Arrow was torn to shreds at the end of season 3. During season 3, Ra's al Ghul dragged Oliver's work as The Arrow through the gutter and even told Quentin Lance that Oliver was indeed The Arrow. With Roy Harper coming out to Starling City as The Arrow, faking his own death and leaving town, The Arrow persona died. Fans cannot wait to see how The Green Arrow comes into being on Arrow and fans know that Stephen Amell will continue to do a killer job as this beloved superhero.
Arrow season four return on October 7, 2015 at 8/7c on The CW.