Tony Award Nominee Laura Osnes Discusses 'The Bandstand,' Her Broadway Career and So Much More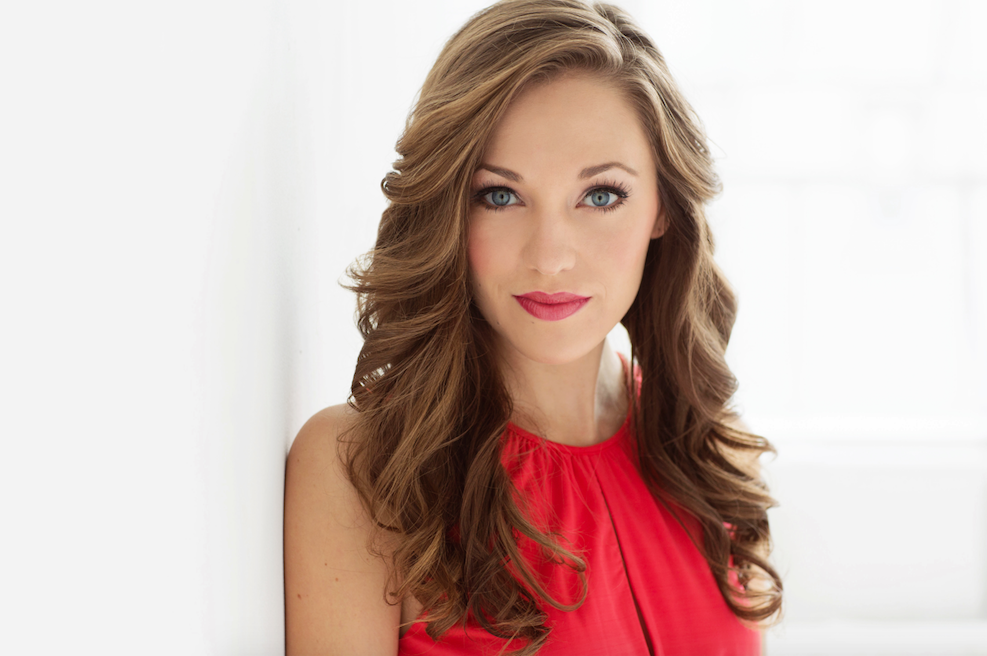 Nora Dominick '17 / Emertainment Monthly Assistant Stage Editor
Emertainment Monthly: Stage had the amazing opportunity to sit down with two-time Tony Award nominee Laura Osnes, who is currently getting ready to start performances in the brand-new musical The Bandstand at the Paper Mill Playhouse.
Laura Osnes got her start on Broadway in 2007 when she won the NBC reality competition Grease: You're the One That I Want! From there, Laura Osnes has shot to Broadway stardom and performed in some of the most buzzed-about musicals in recent years.
After completing a successful run as Sandy in Grease, she went onto take over the role of Nellie Forbush in the Tony Award-winning revival of South Pacific. From here, Osnes only continued her climb to Broadway royalty. She went onto star in Anything Goes opposite Sutton Foster and would earn her first Tony Award nomination for Bonnie & Clyde in 2012. In 2013, a once-in-a-lifetime role was presented to Laura Osnes when she took the role of Ella in Rodgers & Hammerstein's Cinderella, a role she was born to play. Now, she is turning heads alongside Newsies veteran Corey Cott in the new musical The Bandstand.
Laura Osnes talked to Emertainment Monthly: Stage about The Bandstand, performing at the first ever Elsie Fest, her favorite Broadway moments, and so much more! Check out the full interview below.
Emertainment Monthly: Tell me a little bit about The Bandstand.
Laura Osnes: The Bandstand is a brand-new original musical and it takes place around 1945, post-World War II. The group of vets returns from fighting in World War II and they start a band to compete in a radio broadcast competition. My character gets roped into being the singer of the band and they discover their need for each other and the need for music as kind of their heeling force from the pain and the residual effects of what they are dealing with from the war. It's really powerful. It has the highest highs, like the swing numbers are amazing and it's so fun and high energy, then on the flip side there are a lot of emotional scenes that happen, especially in Act Two.
EM: How did you get involved with this new musical?
I've been attached for about a year and a half to the project. I didn't do the very initial reading, but I joined early on. I got offered to do a reading by the director Andy Blankenbuehler and decided to do it. I did a lab of the workshop last summer. Last summer we did a four week lab, where we staged and choreographed and memorized the whole thing and kind of did it in a black box theatre. At that point, we knew that there were producers that were interested and it would hopefully have some sort of future life. Then the Paper Mill people got on board and now we're at Paper Mill, which is super exciting.
EM: Is this your first time working with Paper Mill Playhouse?
It is! I have been there several times to see other shows, but I have never worked there before. I'm excited. It's been great to work there. Mark [Hoebee], who heads up Paper Mill, has been present at all of our rehearsals and we just got to the theatre and I'm already moving into my dressing room. I can tell all the dressers and the backstage crew are such a family already. Stepping into their home is going to be easy, but also really special.
EM: What's it been like stepping into those costumes for that era?
It's so fun! The costumes are great. Corey [Cott] and I have both been so anxious to move onto the next step. There's a lot you can do in a rehearsal room and I think we were definitely ready to add this next element. I feel like the costumes, especially, really put us in the era. I have so many beautiful costumes. It's so fun because even though in that era things were rationed, everybody was kind of dressed up all the time. It was just a different time where women did their hair and always wore dresses and heels. The guys were always so sharp and put together with slacks and button ups and gel in their hair. A lot of the guys are in uniform in parts of the show. It's really cool and it's another character in the story that we've been waiting to add.
EM: You have an incredible cast working with you and Corey Cott. What's it like working with them and Corey?
Corey and I have been friends for a while. We've been dreaming of the day we could perform together. Now, this gets to be it and we both get to create these roles together. So it's been so fun and so easy. He's unbelievably talented. He's learning piano for the show, and the songs are not easy to sing—and he's nailing them. Corey is just such a sincere actor and it has been wonderful to be working with him. Beth Leavel plays my Mom in The Bandstand and she's so like a mother, which is so wonderful. We are always hugging each other in rehearsal. She looks out for me. The cast is just spectacular.
EM: You've done a ton of Rodgers and Hammerstein musicals like Cinderella and Carousel, but you also did Bonnie & Clyde. The Bandstand fits into the same genre as Bonnie & Clyde. What's it like stepping away from the Rodgers and Hammerstein music and trying something different again?
Yeah, exactly. It's really great. I have been doing Rodgers and Hammerstein for the last three years, so it's like waking up my belt voice again. I think that's the joy of being a musical theatre performer, we get to be so versatile. My character—her name is Julia—she's not rebellious in any way, but she's definitely strong. She has a sexiness to her and a depth. Julia has gone through a lot in her young life, so it's reminiscent of South Pacific, I think. Even though that musical is Rodgers and Hammerstein, Nellie is still in the World War II era and the strength that she had and the courage is what I'm equating it too, except I get to sing big band swing music instead of Rodgers and Hammerstein. It's nice that some of it is kind of in my wheelhouse, but I'm also getting to challenge myself and exercise a whole new muscle with The Bandstand.
EM: You built the character of Bonnie from Bonnie & Clyde from the ground up too, what's it like doing the same thing again?
Gosh, it's so rewarding and exciting because there's no preconceived notion. No one has played this role before. Even with Bonnie, a lot of people have the movie in mind or they think I'm going to be Faye Dunaway. The cool thing about Bonnie is that she actually existed, so that was neat because I could do my own research. With this character, it's a fictitious character based on real events and it's completely brand-new. There's no book of it, there's no movie of it, there's nothing. We literally are getting to create these roles and it's so cool. It's an exciting challenge as an actor and I think once we open it's going to be really fulfilling and rewarding.
EM: Have you been looking into the 1940s era for any inspiration?
Oh, absolutely. There's so much research on World War II and that time there's been some great documentaries I've watched too. I watched movies like Saving Private Ryan and things like that to wrap your mind around the horrors of that war and what these guys went through. I also have an amazing connection in that my husband's [Nathan Johnson] Grandma was a jazz-singer in a band with her husband in the 1940s. So I've had a few great conversations with her, and then she also grew up in Cleveland, where this show takes place. She has been a really wonderful resource for me. We've definitely been doing our research.
Oh my God! I have the greatest respect for him. He has such a director's brain, even though in the past he's been known for his choreography. He has been a joy to work with. He's so positive in the room, but he also won't let anyone screw around. He demands excellence and he works fast, so you have to work fast to keep up with him. Andy challenges all of us to be the best that we can be and that's exactly what you want from a director. He's a wonderful leader. I look forward to going to rehearsal every day and I'm amazed at the picture he can paint. Andy is a genius in terms of staging and seamless transitions. He has a movie in his mind and then he tries to get us to capture his vision and make it come to life on stage. It's so cool to see him work.
EM: How do you choose the projects to attach yourself too? What stands out in them?
That's a really, really good question. It's a great place to be, but it's also a hard place to be, to have to make decisions like that. I've had to turn some things down in order to pursue something else. When that happens, I've learned that I just have to follow my heart. There are certain projects you either feel an affinity for or you get more excited about and sometimes it's not the logical choice. You have to weigh things, but in the long run I've learned that the things I get most excited about doing or the thing my heart feels more drawn towards is usually the way I should go. Even if it's different than what the world may think because sometimes it is. You have to just go forward knowing that this is the path that I was supposed to take.
EM: So, you ended Cinderella and you've been doing small, cabaret shows and have been taking a break from big musicals. How has that been?
It was really great to get to be a normal person for a little while and have my evening free after not having them for like a year and a half. Even feeling like I could have a little bit of a social life because when you are in a show you just have to be so careful. I have to be careful with my voice and with my health and stuff. It was really nice to just let my guard down a little bit and feel like I could go to my friends birthday party or I could have a glass of wine if I wanted. I could cook dinner at home and have dinner with my husband. Things you just don't get to do when you are in a show eight times a week. It was wonderful, but I was definitely ready for a show again. After I left Cinderella I did Threepenny Opera off-Broadway and lots of concerts and then I did Carousel earlier this spring, but it's great to be back in The Bandstand again with people and telling a story, playing a character, and doing that. It's really what I love doing the most, so the concerts are fun to do in the downtime, but I think I'm happiest when I'm working and when I'm on stage doing a show.
EM: Taking things in another direction, you performed at Elsie Fest this year. What was that like?
Yeah! It was amazing! I think Darren [Criss] and all of us didn't know what to expect. We all had no idea how it was gonna go. We didn't know if people, for one, were going to show up, and two, if they were going to like it. It went over so well. I think Darren was proud of how it came together. It just started with an idea and then he just called his friends, and we all got on board. We each did a 35-minute set of music, and we rocked it. The sound was amazing, the venue was perfect, and it was a beautiful day, and lots of people showed up. Now, it's all over YouTube and everywhere. I hope it was a hit, and hopefully they learned from doing it this year. This was the trial year, so they will know what to do next year if Darren decides to bring it back. It went really well and we all had a ball because it's so much fun. It's rare for theatre people to actually feel like rock stars for a night and I feel like we got to.
EM: How was doing Carousel in Chicago and tackling that big musical?
Julie Jordan was a dream role of mine so when that came my way I was ecstatic. I got asked to do it 8 months before it happened. I actually kind of turned it down at first, thinking hopefully, I would have a show in NYC happening by then, and nothing came through and I was available to go and do Carousel, and I am so glad that I was. It was amazing. Yes, it was dream role I got to check that off the list, and then working with Steve [Pasquale] was phenomenal. He's an unbelievable talent and probably the most talented man I have ever met in my life. We just had a really great time. We were there for seven weeks, my husband came out to visit three times, and it was in Chicago and I'm from Minnesota so a lot of my family and friends came to see the show. It worked out really well. The venue was gorgeous—3,700 seats! It was the biggest theatre I have ever performed in. We had a thirty-seven-piece orchestra and everything was just on such a grand scale, even compared to Broadway. It was really fun to get to do that. I loved Chicago too—I fell in love with the city.
EM: Do you have any other dream roles that you would love to play?
Marian Paroo in The Music Man is a major dream role of mine. Actually, the Guthrie Theatre in Minnesota, where I'm from, did The Music Man earlier this summer, and I was home in town and I went to see it. I texted Santino afterwards and I was like, "I just saw The Music Man at the Guthrie and ALL I could think about was you and me doing these roles on Broadway!" So that would be super fun. I would love to do that show. There are other roles like Peggy Sawyer in 42nd Street or Clara Johnson in The Light in the Piazza or Belle in Beauty and the Beast. The most exciting roles though are the ones you get to create like I did with Bonnie or what I am doing with Julia in The Bandstand.
EM: Another thing you did this year was you got to host the first ever Tony Awards Red Carpet! How was that?
They approached me about it and initially they wanted Santino [Fontana] and I to do it, but Santino wasn't available. So I was trying to think of other guys that I could do it with and I thought of Darren [Criss] and I was like, "Darren would be awesome!" He has a big TV following as well, and he was currently on Broadway in Hedwig and the Angry Inch. I texted him and I was like, "I think you have a matinee this day, but could you ever bolt out of costume and get down there?" And he was like, "Yeah, my show is ninety minutes with no intermission—I could totally get there." So everything fell into place and he was able to do it. We had to do our research and really see who was nominated and stuff like that. Getting to see Kristin Chenoweth and Alan Cumming was so exciting and seeing all my friends was amazing to celebrate their day. It was so fun to still be a part of it, but for me, I didn't have the stress of performing or being nominated. I got to be a huge part of it and enjoy it without all the stress.
EM: Do you have a favorite moment from your entire Broadway experience?
The moment that comes to mind was my first Tony Award nomination for Bonnie & Clyde. That was the most surprising thing ever, I think. I remember it so well. I was just not expecting it at all. I was asleep and it was like 8 in the morning and my agent called and I was like, "Why is Tim calling?"And I didn't answer it. Then he texted me in all caps and was like, "CALL ME!!" Suddenly, my heart leapt, and I suddenly remembered it was the Tony Award nominations that morning. I called my agent and he was like, "Laura Osnes, you have just been nominated for a Tony Award." And I immediately started crying, my dog Lila was going crazy, and Nathan and I were just in our bedroom crying. It was so wild. I love what I do and I'm just so thrilled I get to do it every day, in NYC, on Broadway. It's been my dream since I was three years old. The acknowledgment of going one step further and getting nominated for a Tony Award was insane. It's the thing you dream about, but you never think it will actually happen—and then it did!
EM: Last question: this Broadway season is incredible. Is there anything currently on Broadway you are dying to see?
Obviously, Hamilton is the hottest ticket in town and I saw the first preview at The Public. I haven't seen it on Broadway yet. I would obviously love to see it again too. That's the show to see. I actually just saw Spring Awakening—I went to their opening night performance. It's so beautiful. I didn't see the original production, and I actually am really glad that this was my first exposure to it. I was familiar with the songs and I kind of knew the story, and I was a little hesitant just because of the subject. I thought it maybe was gratuitous for gratuitous' sake, but it was all justified. You totally see why these kids feel the way they do, and it's justified and you see that on stage. The whole added element of American Sign Language being incorporated into it is unbelievably moving. They are all signing and it's all perfectly cast. I had the best time. I'm dying to see Waitress when it arrives. I've heard such amazing things about it. There are so many great things to see this season!
The Bandstand begins performances at the Paper Mill Playhouse in NJ on October 8th. For more information and tickets visit: http://papermill.org/