'Arrow' Review: "Blood Debts"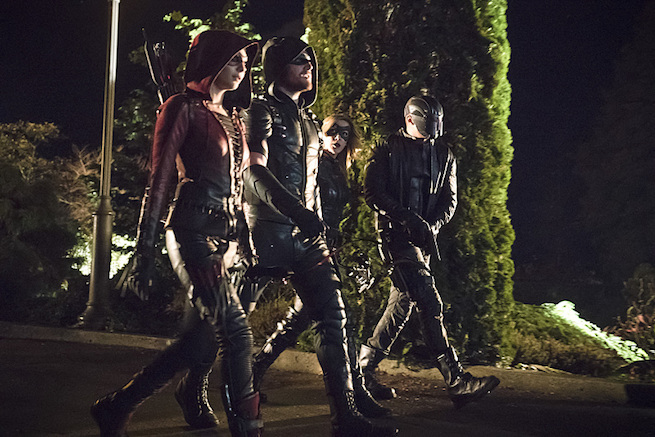 Nora Dominick '17/ Emertainment Monthly Co-Executive Stage Editor
After an explosive mid-season finale, Arrow came back with vengeance as Green Arrow/Oliver (Stephen Amell) fights to find Damien Darhk (Neal McDonough). When fans last saw Oliver, he was clinging to Felicity (Emily Bett Rickards) after she is brutally shot by The Ghosts. The latest episode of Arrow entitled "Blood Debts" picks up moments from where the mid-season finale ended with Felicity being rushed to the hospital and Oliver desperately seeking answers.
After one of the most talked about mid-season finale's this television season, Arrow is back in full-force as Team Arrow searches for Damien Darhk. If any Arrow fan doubted Felicity Smoak's importance on Arrow they were definitely silenced in the mid-season premiere. The highest compliment to her character is the fact that every other character gravitated around her this episode. Emily Bett Rickards has turned Felicity into one of the biggest characters on TV and it's astounding how much her presence was missed. Rickards continues to defy expectations and this episode further proved that she can accomplish anything that is thrown at her. The first glimpse of Felicity in this episode is her in the hospital surrounded by Team Arrow (minus Oliver) and Donna (Charlotte Ross). Seeing Felicity lying in the hospital bed will surely reduce any Arrow fan to tears. Felicity's sense of humor doesn't waver though as she prepares for another surgery to correct nerve damage she sustained. Rickards amazing acting only escalates from here as the Felicity story unfolds. Felicity's condition not only leads to incredible acting from Rickards, but also every other actor on Arrow this week.
"Darhk hurt a friend of mine. A close friend. A woman better than you and me put together." One of the biggest storylines to spawn off of the Felicity storyline is Diggle (David Ramsey) confronting Andy (Eugene Byrd). With Oliver reverting to his old ways, Diggle helps by interrogating Andy about Darhk. This leads to some incredibly poignant moments between Ramsey and Byrd. Tension between Diggle and Andy is high especially when Diggle decides violence is the only way to get answers. Andy berates Diggle by saying, "I didn't think you had it in you John. What changed?" To which he replies, "Her name is Felicity." Ramsey continues to defy expectations and it's hard to separate where the character ends and Ramsey begins. An underutilized force, Ramsey continues to leave his mark on the Arrow universe and here's hoping Diggle will continue to have more of an impact as season 4 progresses.

As if finding Darhk wasn't enough this week, Team Arrow once again encounters Lonnie Machin/Anarky (Alexander Calvert). Anarky is on a rampage following his fight with Speedy/Thea (Willa Holland). Although Thea believes Anarky has come back to hurt her, his true purpose is to hunt down and kill Darhk. This storyline leads to some incredible moments from Amell and Holland as both wrestle with the sins of the past. In an incredible fight sequence, Team Arrow goes after Anarky in his childhood home. It's there that Speedy and Anarky come face to face for the first time since the accident. Holland and Calvert play effortlessly off of each other and create the tension villains thrive off of. It's safe to say Thea has become one of the most beloved characters on Arrow. Calvert once again shines as Anarky and is playing a role that seems to have been tailor made for him. He has the rare ability to make fans enjoy this villain's presence on every episode he takes part in. 
When Team Arrow catches Anarky, Green Arrow/Oliver decides it's time to use one of his old methods: torture. Oliver's rampage over Felicity leads to some of the best moments between Amell and every other actor on Arrow. Stephen Amell has always been very good at the action sequences of Arrow, however this season the more emotional storylines are where he shines. This episode of Arrow was the perfect balance of action and emotion for Amell. Right before he's about to torture Anarky, Speedy/Thea comes in with news on Felicity and it doesn't sound good. Oliver flees the scene and what ensues is the first of many tear-inducing moments.

Stephen Amell has the natural ability to fall in sync with any actor that comes onto Arrow and this has become true with his work opposite Charlotte Ross. When Oliver shows up at the hospital for the first time, Donna unleashes her motherly instincts and doesn't hide the fact she is disappointed in her future son-in-law. Ross has been one of the brightest additions to the Arrow cast this season. Her moments opposite both Rickards and now Amell continue to push the show to new and incredible heights. In a crushing conversation at the hospital, Donna tells Oliver, "They can't fix her [Felicity]…The damage to her spinal cord it's… Oliver, it's permanent. She's never gonna walk again…" The devastating diagnosis rocks Donna, Oliver, and the entire Arrow fandom to its core. Although this storyline isn't a surprise to most fans, hearing the words come from Donna solidifies the reality and it's going to be a tough storyline to swallow. Ross continues to bring her A-game to every Arrow episode she takes part in. Episode after episode she brings out new sides to not only Felicity, but also Oliver.
With Felicity's diagnosis hanging over Oliver, Amell has an incredible interaction with David Ramsey. The duo have always had a special connection on Arrow. Whenever these two actors are in emotional scenes together it's hard not think that they are the best "brothers" on TV. With Oliver on a rampage to get Darhk, leave it to Diggle to talk some sense into him. In a heartbreaking speech, Diggle tells Oliver, "You should know that whatever your play is I've got your back, but you've come so far Oliver…You've recovered the humanity that you lost when I first met you. I know you want payback for what Darhk did to Felicity…. but don't lose what made her fall in love with you in the first place." Ramsey continues to be the voice of reason on Arrow and the incredible writing coupled with his sheer love for his character makes this monologue strike a powerful chord. Amell and Ramsey knock every scene they have together out of the park and with Felicity in critical condition there will hopefully be more moments for them to shine in.

It only takes an entire episode for Team Arrow to finally tell Oliver he needs to see Felicity. What comes next is one of the most gut-wrenching moments between Felicity and Oliver ever. Rickards and Amell astound in their scenes opposite each other as they continue to have the best chemistry. As Oliver enters Felicity's hospital room, it's hard not to shed a tear at the duos first scene together all episode. In an episode with very little dialogue from Rickards, she elicits the biggest fan reaction. Seeing Felicity lying in bed, listening to the man she loves, will surely reduce an entire room of Arrow fans to tears. Rickards doesn't have to utter a word, the tears welling up in her eyes are enough to make this scene one of her strongest to date. She has come a long way during her four years on Arrow. Going from a guest star in season one to the character every other character gravitates towards is a major accomplishment for the young actress.
In a soon-to-be classic "Olicity" moment, a distraught Felicity turns to Oliver and says, "The doctor's…they say…" The sentence isn't even finished before she starts crying, Oliver tears up, and every Arrow fan is on the floor sobbing their eyes out. Felicity continues by saying, "We didn't really exchange any vows so the whole, 'For better, for worse' thing doesn't really apply here…" Oliver gives a heartbroken Felicity her engagement ring back and tells her, "For better, for worse." Cue an ungodly level of crying from every Arrow fan as the duo share a sweet kiss. Amell and Rickards deliver one of the most honest and heartbreaking performances together. In a rare moment for Arrow, there is no action involved, Oliver isn't coming to save the day, it's simply two characters, their love for each other, and some of the best dialogue on Arrow. Rickards and Amell have grown exponentially during their time on Arrow and it will be interesting to see how the duo deals with this new, emotional storyline. Oliver says it best when he tells Laurel (Katie Cassidy), "We go out every night, suiting up, risking our lives. Fighting assassins and meta humans and all the worst kind of people. She's stronger than all of us."

By episode's end, Team Arrow finally catches up to Anarky, who is holding Darhk's wife and daughter hostage and what ensues is an amazing fight sequence paralleling Speedy fighting Anarky and Green Arrow fighting Darhk. In the end, Anarky slips away from Speedy and Darhk decides to spare Green Arrow's life and give him some time to treasure his family because he will come back and show no mercy.
The latest episode of Arrow delivered some of its best acting to date. In an episode purely driven by dialogue, Rickards and Amell leave fans with some of the most emotional moments Arrow has ever produced. Of course, Arrow couldn't end there. In a four month flash forward, Oliver is standing at the grave that has plagued the nightmares of every Arrow fan this season. In a new clue as to who is in the grave, Oliver gets into a limo with…. Felicity. Everyone's favorite tech nerd isn't the one in the grave, however things aren't looking good for Oliver and Felicity. She is not wearing her engagement ring and there is some serious tension in the limo. Felicity does however agree with Oliver that he needs to kill whoever caused this to transpire. Arrow continues to deliver crushing blow after crushing blow and the mid-season premiere sets up the back half of the season. It will be interesting to see where the show goes from here. Sit tight Arrow fans because things look like they will get worse before they get better.
Arrow airs Wednesdays at 8/7c on The CW
Overall Grade: A-
Check out the trailer for the next Arrow episode entitled "A.W.O.L":
[embedyt] http://www.youtube.com/watch?v=y7E5c-xSmI8[/embedyt]