'Arrow' Review: "A.W.O.L"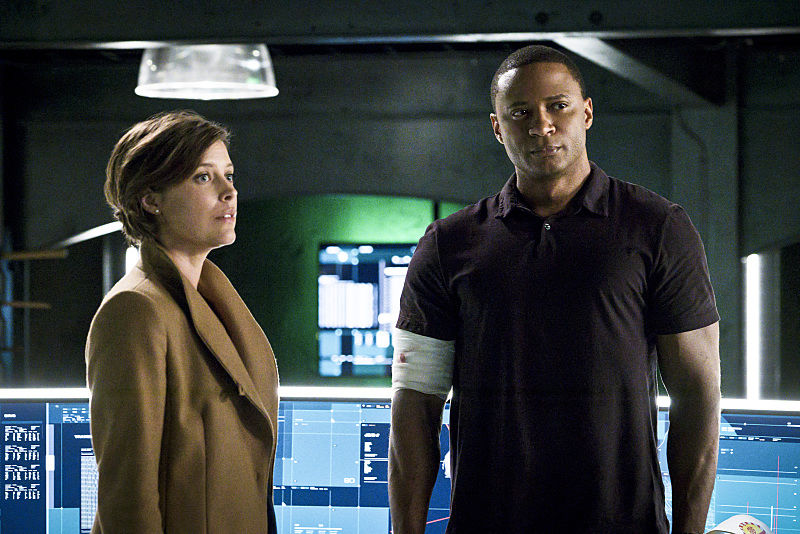 Nora Dominick '17/ Emertainment Monthly Co-Executive Stage Editor
After an intense and emotional mid-season premiere, Arrow continued to tug at fans heartstrings as both Felicity (Emily Bett Rickards) and Diggle (David Ramsey) must confront their pasts. Last week on Arrow, fans watched as Felicity got the heartbreaking diagnosis that she would never be able to walk again while Anarky (Alexander Calvert) and Damien Darhk (Neal McDonough) continued to wreak havoc on Star City. Arrow delivered some killer emotional moments and continued to deliver the action everyone loves in the latest episode entitled "A.W.O.L"
After a poignant Arrow episode last week, Arrow came out of the gate swinging and delivered several jaw-dropping moments. This week Arrow focused heavily on Lyla (Audrey Marie Anderson) and Diggle as they learn of a threat tied to A.R.G.U.S and Amanda Waller (Cynthia Addai-Robinson). Anderson has been underutilized this season of Arrow, so it was refreshing to have her and Ramsey share a major storyline this week. When one of Lyla's friends is captured and tortured by a mysterious military organization called Shadowspire, the duo spring into action. Anderson brings her A-game to tonight's episode as she settles back into the Team Arrow dynamic with ease. Whenever Lyla is a driving force on Arrow, fans know that the episode is going to be action packed and filled with twists and turns and that's exactly what this episode brought.

With Lyla and Diggle working with Team Arrow to hunt down Shadowspire, Diggle also must face his past with Andy (Eugene Byrd). Byrd and Ramsey continue to knock the brotherly dynamic out of the park this week. Byrd has been an excellent addition to the Arrow cast this season and has allowed the character of Diggle to blossom even more. This week the flashbacks featured Andy and Diggle's time in Afghanistan and it's the first time this season that the flashbacks seem to hold some weight. The duo play the estranged dynamic effortlessly and the character arc has been amazing to watch this season. For a storyline that began in season one, the payoff of Diggle and Andy's relationship has been incredibly satisfying for long-time fans. When Diggle reveals Andy's involvement with Shadowspire, this leads to one of the best quotes of the night. Diggle tells Andy, "So exactly how many evil organizations are you associated with? I'm beginning to lose count." Byrd and Ramsey continue to play this storyline with raw emotion and here's hoping they continue to grow the dynamic as the season progresses.
Although Diggle's storyline involving A.R.G.U.S is a major plot point in this episode of Arrow, Felicity Smoak continues to take center stage and tug at fans heartstrings one emotional speech at a time. Arrow began this week with fans watching as Oliver (Stephen Amell) carries Felicity down the stairs of their apartment. A broken Felicity tries to remain optimistic, but deep down Oliver and fans know that she's hurting. Rickards and Amell deliver some amazing performances this week as they begin the journey of dealing with Felicity's life-altering injury. Even in times of trouble, the adorableness surrounding Felicity and Oliver is through the roof. Roles appear to be reversed as Oliver remains the optimistic one for most of the episode while Felicity is cracking under the pressure. Rickards continues to astound this week as she brings another side to her character. In one of Felicity's toughest storylines to date, Rickards comes out as MVP and further proves her incredible acting abilities. With Team Arrow on the hunt for Shadowspire and Felicity not there to help, this leads fans into one of the best portions of this week's Arrow episode.

One Emily Bett Rickards a week is already amazing, but this week fans got a double dose of Ms. Rickards when Felicity begins to hallucinate her younger self. That's right Arrow fans, Goth Felicity is back and this time she's got quite the bite. With Team Arrow trying to figure out Shadowspire's endgame, Felicity desperately tries to whisk away her hallucinations. Rickards is a force to be reckoned with this week as she plays two sides to Felicity. Her acting has grown above and beyond expectation and these scenes push her acting limits to new and exciting heights. "You used to be me. Strong. Confident. Brunette. But you wasted all that away to go play superhero and look where that got you." Seeing Felicity battle Goth Felicity is enough to make any fan sit on the edge of their seat in anticipation. Rickards triumphs as she plays two sides to the same coin effortlessly and there's no doubt why she is one of the best actresses on Arrow to date.
With Felicity arguing with her past self, Team Arrow attempts to infiltrate Shadowspire. When they arrive and see that the location has heavy security, Oliver gives Felicity a call to see if she can assist. When she effortlessly lifts the security Oliver tells her, "That was amazing. See, you just need to get back in the game." Of course, Goth Felicity is right there to knock her back down a peg. With Felicity's head not in the game, Green Arrow and Spartan end up getting trapped by Shadowspire and have to blow their way out. Although the duo make it out unscathed, Felicity takes this as a sign that her superhero days might be over. This set back perfectly sets up one of many beautifully acted scenes by Amell and Rickards this week.

"I love how playing superhero is what we consider normal, but there's no going back to normal… I can no longer be part of the team." Felicity delivers this crushing sentence to Oliver and fans everywhere who are all rooting for her to get back out there. Rickards and Amell do a wonderful job of playing the happier side to the Oliver/Felicity relationship, however these devastating moments are where the duo always shine. Once again, Rickards delivers her lines with such devastation that fans are instantly sucked into her world. As Felicity rattles off the things she can't do anymore, fans everywhere feel the heartbreak and tears just behind her eyes. Rickards has the natural ability to tug at fans heartstrings with a single word or phrase and it's one of the many reasons Felicity's character has skyrocketed in popularity. With Oliver desperately searching for a way to connect with Felicity once again, Goth Felicity appears at the most inopportune moment. In a heartbreaking scene, Oliver tries to give Felicity a rousing speech, but all she can concentrate on is her hallucination. In the end, Felicity screams "Shut Up!" and "Can I just be alone for a little while?" and with that Oliver sulks away thus crushing every fan's heart.
Katie Cassidy and Stephen Amell have gone through a lot together in the four years of Arrow. Their characters began the show as estranged love-interests and now have moved into one of the best friendships on TV today. This week's episode of Arrow featured an incredible moment between Cassidy and Amell as Oliver confides in Laurel. Oliver admits to Laurel that when they went up against Vandal Savage (Casper Crum), Barry (Grant Gustin) went back in time and altered the past. First off, the expression on Laurel's face is priceless, but when Oliver launches into a heartfelt speech is when Cassidy and Amell truly shine. Oliver tells Laurel, "I have been tortured by the idea that what happened to Felicity is because I wouldn't listen to him [Barry]." She responds in the best way possible saying, "The only person responsible for what happened to Felicity is Damien Darhk… Felicity makes her own choices you know? I'm sure that's one of the reasons you love her so much." Cassidy and Amell shine in these small moments opposite each other. This scene alone truly shows how far the characters and actors have come in the four seasons of Arrow and for long-time fans it's great to see them hit this place in their relationship.

When Shadowspire infiltrates A.R.G.U.S, unbeknownst to Team Arrow, Amanda Waller and Lyla are held hostage. What ensues is one of the craziest Arrow twists the television show has ever produced. As Shadowspire awaits for Waller to release the codes for Rubicon, a top-secret plan that could kill millions, Diggle and Andy are trapped desperately trying to get to them. In a moment of pure shock and awe the leader of Shadowspire, Lieutenant Joyner (Erik Palladino), shoots and KILLS Amanda Waller when she doesn't produce the information. That's right Arrow fans, Amanda Waller is dead! This in turn raises several other questions for fans such as who is now the head of A.R.G.U.S? This death comes as a major shock and was definitely one fans did not see coming.
A new episode of Arrow can't go by without an amazing, Tumblr-exploding "Olicity" moment and this week's episode did not disappoint. While in the Arrow cave desperately trying to find information on Shadowspire, Oliver is surprised when Felicity comes rolling in to help him and the team. In an amazing moment purely driven by dialogue, Rickards and Amell deliver some of their best acting this entire episode. Felicity gives one of her classic speeches when she tells Oliver, "This is who I am. I wanted to come along on your awesome superhero adventure because I wanted to help people… I wanted to do some good in the world." Although this good speech is incredibly powerful, it's the moment that comes next that will truly have fans talking for weeks. In a rare moment, Oliver begins to tear up as he stares at the woman he loves. Felicity reminds him, "This is not your fault and it's not mine either." Amell has transformed himself into an incredibly talented actor this season and his intimate moments opposite Rickards are where he begins to shine brightest. Rickards and Amell bring out the best in each other and these "Olicity" moments are truly spectacular.

By episodes end, Team Arrow, with the help of Felicity, save Lyla, Andy and Diggle from Shadowspire and Felicity FINALLY gets a codename. That's right, after years of being on Team Arrow, Oliver gives her the codename "Overwatch." Another important moment to come out of this is Andy finally abandoning his old ways and helping the team save Diggle and Lyla. In the end, Andy goes home with Lyla and Diggle and finally meets little Sara. Talk about an emotional, well-deserved Diggle family reunion several episodes in the making.
Of course, Stephen Amell had to make Arrow fans cry at least one more time during this week's episode. When Felicity decides to burn a picture of Goth Felicity and shed her past, Oliver delivers a crushing monologue. He tells her, "The doctor's say your condition is permanent. I don't think it is healthy or productive for either of us to live in denial, but I have seen people with speed and shrink and fly. We watched a friend of ours come back from the dead that is the world we live in now. And I will not stop searching it until we find a way to make you walk again." The writing for this week's episode of Arrow was some of the best and it was delivered with such incredible acting by Amell and the entire cast. Amell continues to soar in the more emotional moments on Arrow.
Arrow continues to up the stakes week after week. This week allowed fans to explore more of the Diggle/Andy dynamic as well as Felicity coming to terms with her new disability. Arrow continues to deliver crushing blow after crushing blow as it begins the slow descent towards the season 4 finale. Sit tight Arrow fans because things look like they will get worse before they get better.
Arrow airs Wednesdays at 8/7c on The CW
Overall Grade: B+
Check out the trailer for next week's brand-new episode entitled "Unchained":
[embedyt] http://www.youtube.com/watch?v=FOpf5zVn3p8[/embedyt]