First Timers Rule: A Look at First Time Winners at the 2016 Emmy Awards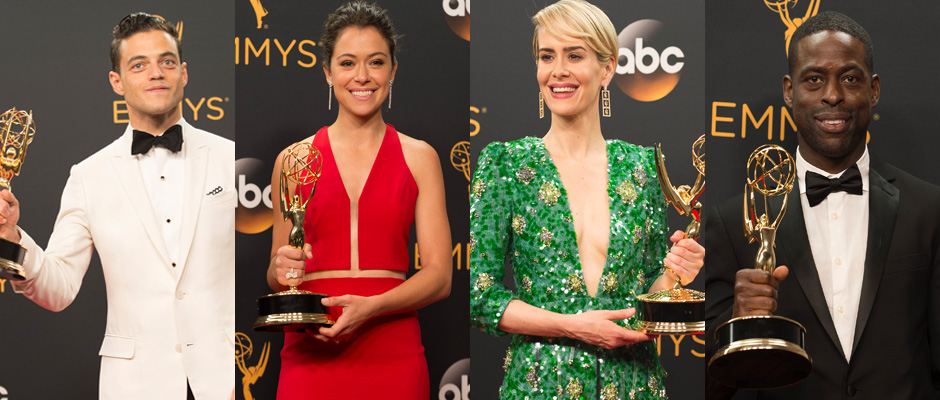 Nora Dominick '17/ Emertainment Monthly Executive Stage Editor
Last night, the 68th Annual Emmy Awards held some surprising wins for TV's biggest night. Some veterans took home trophies, like Julia Louis-Dreyfus for Veep and Jeffrey Tambor for Transparent, however the theme of the night seemed to be: first timers.
When the 2016 Emmy nominations were first announced, I was pleasantly surprised by the new talent being recognized. Sure, I had my share of snubs like everyone else, but a lot of new faces would be gracing the Emmy Awards. There was Kit Harington for Game of Thrones, Constance Zimmer for UnREAL, Ellie Kemper for Unbreakable Kimmy Schmidt, The Americans finally got the love they deserved and numerous others that stole my heart during the past TV season. Although some of my favorites were finally getting recognized, I couldn't help but wonder if this would really change the Emmy game?
Over the past few Emmy Awards most of the same actors and shows have dominated categories. We went through an era of Bryan Cranston, deservedly, taking home Best Lead Actor in a Drama Series, Modern Family winning Best Comedy Series year after year and even Maggie Smith bringing home Best Supporting Actress in a Drama Series time and time again. Although some things still haven't changed, I began to be bored with the Emmy Awards. A night that I had deemed my "Super Bowl" for so many years was beginning to be somewhat predictable.
So, when Kevin Spacey for House of Cards, Claire Danes for Homeland and even Bob Odenkirk for Better Call Saul showed up as nominees, I became slightly discouraged. I felt like these nominations could have come out four years prior and still be relevant. Not that these veterans didn't deserve their nominations, all of them continuously thrive on their respective shows, however I wanted to see new people take home TV's highest honor.
We consume so much TV on a regular basis. From binge-watching on Netflix to watching network TV to turning on HBO. TV is consumed at a rapid pace. There are so many shows out there it's often hard to find the shows you "need to be watching." It also becomes harder to become a successful show. Most shows don't last as long as they used to. Not every show can have 12 seasons under their belt like Grey's Anatomy.
So, when a show breaks through all the clutter and becomes a hit amongst TV audiences, I'd love to see those new shows get recognized. Not to say veteran shows don't have a place at the Emmy Awards, but I like to be surprised. I want to see someone walk up and accept their first Emmy Award after they blow me away in a single episode. This is where I thrive.
So, when the 2016 Emmy Awards rolled around I was a little less than excited. I had already figured Spacey could walk away with Lead Actor again, Louis-Dreyfus would continue her streak of wins for Veep and maybe Danes could win for Homeland. I thought I had the voting committee figured out.
The 68th Annual Emmy Awards surprised me in the best way possible!

Out of the 12 main acting categories, 8 of them were won by first time winners. A refreshing statistic for the Emmy Awards. From first time nominees to veterans of the Emmy Awards, each of these eight brought something new to TV this season and were rewarded handsomely.
First up, Louie Anderson took home the award for Best Supporting Actor in a Comedy Series for his work in Baskets. A category usually dominated by the casts of Modern Family or Veep. This came as a shock to me and would become the first of a lot of surprises throughout the night. This was Anderson's first acting nomination and first win.
Next up, Kate McKinnon beat out some stiff competition to take home the Emmy Award for Best Supporting Actress in a Comedy Series for her work on Saturday Night Live. A category won in the past few years by Allison Janney for Mom. She also became the first SNL cast member to win an acting award since Gilda Radner in 1977. Talk about an incredible honor. This was McKinnon's fourth nomination and first win.
Ben Mendelsohn also brought home his first Emmy Award for Best Supporting Actor in a Drama Series for his portrayal of Danny Rayburn in the Netflix series Bloodline. This was his first nomination and win.

It's hard to mention the 2016 Emmy Awards without recognizing the incredible limited series, American Crime Story: The People vs. O.J. Simpson. A cultural phenomenon this past year on TV, The People vs. O.J. racked up some serious awards throughout the night. Not only did it take home the big award for Best Limited Series, but it's actors also cleaned up.
First up, Sterling K. Brown took home the award for Best Supporting Actor in a Limited Series or TV Movie for his work as Christopher Darden. This was Brown's first Emmy nomination and win.
Next up, Courtney B. Vance took home Best Lead Actor in a Limited Series or TV Movie for his portrayal of Johnnie Cochran in The People vs. O.J. This was also his first Emmy nomination and win. Brown and Vance also received standing ovations upon accepting their awards.
Although Vance and Brown were wonderful wins, nothing seemed sweeter than Ryan Murphy royalty, Sarah Paulson, FINALLY walking away with her first big Emmy win. This year marked her seventh Emmy Award nomination and first win. Six of her nominations have come from working on a Murphy created production. Paulson deservedly took home the 2016 Emmy Award for Best Lead Actress in a Limited Series or TV Movie for her work as Marcia Clark in The People vs. O.J.

The final two first time Emmy Award winners seemed to cause every TV fan to jump up and scream. First up, the adorable Rami Malek won Best Lead Actor in a Drama Series for his awe-inducing portrayal of Elliot in Mr. Robot. A show that dominated last summer as the show to watch, Malek continuously pushes himself to the breaking point while playing Elliot. He brings this flawed character to life with such realism it's hard not to recognize his talent. This was Malek's first Emmy Award nomination and win.
And finally, it was the Emmy win heard around the TV world. The beloved Tatiana Maslany FINALLY won Best Lead Actress in a Drama for her work as Sarah, Alison, Cosima, Beth, Rachel, MK, Krystal and numerous other clones on Orphan Black. An utterly brilliant show on BBC America, Orphan Black continuously pushes Maslany's pure talent to new heights as she adds character after character. With a fiercely loyal fanbase entitled "Clone Club" backing her up, Maslany finally takes home her first Emmy win. This was her second nomination and first win.
The 2016 Emmy Awards helped restore my faith in my "Super Bowl." With countless first time winners in both acting and behind the scenes, Emmys 2016 brought new TV shows and talent to the forefront. With this setting the stage, who knows how the 2017 Emmy Awards will play out. Be on the look out for new talent, begin watching and get ready for the 2017 Emmy Awards.