'Arrow' 100th Episode Review: "Invasion! Part 3"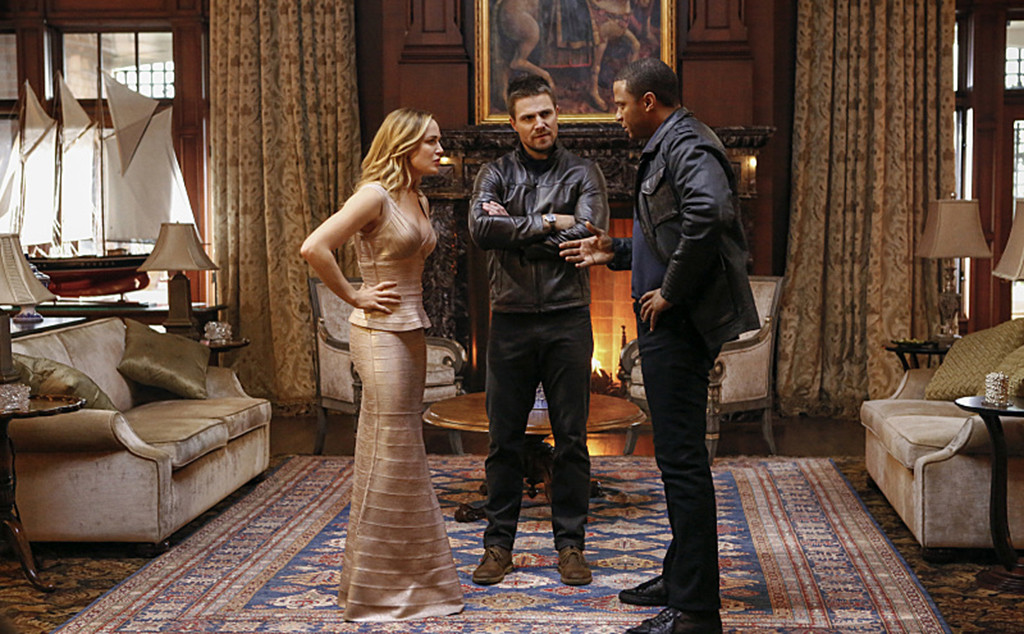 Nora Dominick '17/ Emertainment Monthly Executive Stage Editor
Arrow tackles a massive milestone this week. The hit superhero show crosses over the 100 episode mark with its latest episode. Not only that, but it's also part of the massive 4-part DCTV crossover event, "Heroes vs. Aliens." Arrow has had its ups and down during season five. While trying to recuperate from a rocky season 4, the show has lost its spark. The 100th episode of Arrow entitled "Invasion! Part 3" serves as a giant love letter to long-time fans and puts us back on the right track with only some weaknesses.
Going into season five, Arrow's 100th episode was met with some mixed emotions. The milestone would be incorporated into the massive 4-part crossover with Supergirl, The Flash and Legends of Tomorrow. Something fans (and this reviewer) were not too happy about. When Arrow first leapt onto screens in 2012, it was hard to image the show having the impact that it has. While most people credit The Flash with building The CW's superhero empire, none of it would've been possible without Arrow. Since season one, the show has been the backdoor for numerous characters including Barry Allen (Grant Gustin), Ray Palmer (Brandon Routh) and Sara Lance (Caity Lotz).
In 100 episodes, Arrow has created some truly memorable moments, all of which are celebrated here. Beginning with Tommy's (Colin Donnell) heroic downfall to Roy (Colton Haynes) being unmasked as "The Arrow," the show has moments of pure character development and insane villainous twists. It's a show that isn't afraid to be dark and broody. There's rarely any happiness as Oliver (Stephen Amell) and the gang fight to save Star City. Watching the show evolve into something much more than a mindless crusade of killing villains has been a privilege to watch. The characters hold Arrow up and it's something season five has sadly lost sight of. The 100th episode acts as a beautiful reminder that without his friends and family, Oliver is a shell of the man we're willing to fight behind.
Arrow's 100th episode is set up as a love letter to past seasons right from the start. At the end of The Flash's portion of the crossover, Oliver, Sara, Ray, Diggle (David Ramsey) and Thea (Willa Holland) are taken hostage by The Dominators. This leads them into a universe where Oliver never got on "The Queen's Gambit," never landed on Lian Yu and never became The Green Arrow. The episode's premise leads to some beautiful goodbyes and storylines, but also has some flaws.

This alternate reality deals a lot with Oliver's relationship with his parents. Both Robert (Jamey Sheridan) and Moira (Susanna Thompson) are alive and well. As a consequence, Stephen Amell delivers a raw and poignant performance. During The Flash, Oliver speaks to Barry about altering the timeline and creating Flashpoint. He tells Barry that he would give anything to go back and do it all over. He would make sure his parents would survive. The alternate reality serves as Oliver's very own Flashpoint. This fuels Oliver's choices and Amell's acting in some of his best work this season.
When Oliver eventually puts it all together that this is a dream state, he rallies everyone and decides it's time to head home. Before leaving, he has a final, crushing moment with his parents. There are barely any words exchanged, it's simply Oliver hugging his parents goodbye. A small moment he, sadly, never had the chance to do. Amell hasn't had very many quiet moments in season five. His scenes mainly consist of training the new Team Arrow or being Mayor, so this slow moment is very welcomed. Amell may thrive in the action-heavy sequences, but it's moments like this where we can see how far he's come. The singular shot of Oliver crying in the embrace of Moira will no doubt bring a tear to any fan's eyes. Amell gives this scene his all and it's one of the best in the 100th episode.
Willa Holland also triumphs in Arrow 100. Arguably the most underutilized character this season, Holland hits her stride in this episode. While Oliver struggles to find a way out of this alternate reality, Thea wants to stay here. Amell and Holland haven't shared many scenes together this season, another negative to Thea's storyline, but it all changes here. In a heartfelt moment, Thea tells Oliver, "We finally have a chance to be happy." She continues, "Maybe this is your reward for all the sacrifices you've made." Like Amell, Holland may kick butt at the action sequences, but the profound moments like this are where she stands out. We hope that Thea's storyline on Arrow grows as season five progresses because this episode made us miss her even more.

While seeing Robert and Moira again strikes a hefty chord, Laurel's presence in this episode looms the largest. After her devastating and sudden death last season, the 100th episode acts as a chance for Sara and Oliver to say a proper goodbye. While it's short farewell before heading home, Sara and Laurel's scene packs the greatest punch. They never received a proper goodbye for their characters last season, so this is very important moment for them. Lotz and Cassidy always work beautifully together and it's exemplified in this moment.
Lotz is one of the greatest assets DCTV has and we are glad she gets this moment alongside Cassidy. Laurel's death has reverberated to Legends of Tomorrow for most of this season as Sara realizes she can't change the past. This allows Sara bidding farewell to Laurel (Katie Cassidy) all the more impactful. It's a scene that was necessary last season, but was never achieved and we are happy to see it now. Even if it's in an alternate reality.
Laurel and Oliver being engaged is one of the most jarring things to see in Arrow 100. They're romance on Arrow may have been short lived, but their undying friendship for each other is something we continue to miss. Laurel and Oliver's final farewell in this alternate reality is leaps and bounds better than the hospital scene in season 4. We are finally given some closure on their relationship and it's hard not to take it as the Arrow writers re-writing the sins of the past.
Laurel's last words were squandered last season. Her character went out with a flutter as opposed to a bang. After several seasons of moving past Oliver and becoming The Black Canary, in her dying moments she says she will always love Oliver. Something we never really bought. In this alternate reality goodbye, we finally get the closure on the Laurel/Oliver relationship we all deserved. Oliver tells Laurel the man she fell in love with is not him and she deserved so much better.
Amell and Cassidy are given the opportunity to have the farewell scene both of them deserved in season 4. While this doesn't excuse the fact that Laurel's entire character arc is reduced simply to her unconditional love for Oliver, we take this as a small apology. We continue to miss Cassidy's looming presence on Arrow, especially in this season. This is the closure for Laurel and Oliver we've been waiting for.

Arrow 100 is directed by James Bamford and he does an incredible job. The entire episode is brilliantly directed as it transports us back to seasons gone by. The greatest stunt achievement Bamford pulls off in this episode is also one of the best overall moments. When Ray, Sara, Thea, Diggle and Oliver try to escape they're each confronted by villains that have personally hurt them. Ray comes face to face with the Mirakuru soldiers; Sara faces off against Damien Darhk (Neal McDonough); Diggle fights The Ghosts; Thea confronts Malcolm (John Barrowman) and Oliver fight Deathstroke.
Not only is this a beautifully coordinated stunt sequence, but it holds a deeper meaning for each character. In some fashion, each of them avenges a loved one's death. Ray shoots down the Mirakuru soldiers that killed his fiancé, Sara takes down Darhk, who killed Laurel and Diggle ends The Ghosts, who essentially took Andy from him. Even Thea takes out her anger for Malcolm and Oliver, once again, stabs Deathstroke in the eye. The theme of the alternate reality is closure and this is a perfectly executed homage to that.
If there's one way to make a fanbase drop to their knees it's old characters reappearing for an inspirational moment. Right as Oliver is about to leave this reality, he sees flashes of everyone who has inspired him. From surprise appearances by Tommy and Roy to Felicity (Emily Bett Rickards) and Moira, this is a moment long-time fans have been pining for. This is a moment where Arrow flashes their strongest moments. It reminds us how important the show has been. Once again, Amell executes this scene with brilliance. He doesn't utter a single line, instead quotes of the past flood over him and his face says it all. Amell is always the backbone of Arrow and this is a moment of reflection not only for fans, but Oliver and Amell as well.
While this episode brings back characters from seasons gone by, there are some inherent flaws. For starters, making it part of the crossover, while it wasn't as self-destructive as it could've been, detracts from the celebration of Arrow. Being thrust out of the alternate reality to deal with The Dominators in present day is disorienting. We enjoy that The Dominators got us to this celebration and we understand we had to pull Oliver out somehow, but it ultimately detracts from the episode.

Team Arrow 2.0 trying to find Oliver with The Flash and Supergirl (Melissa Benoist) is the least interesting portion of the episode. There's nothing that furthers the plot of Arrow and besides getting them onto the Waverider, it doesn't have any long-term effects on the crossover. Arrow 100 being part of the crossover isn't as bad as it could've been, but we still would've preferred a stand alone episode to celebrate this show.
Our biggest issue with the alternate reality for Arrow 100 is the lack of Felicity. This leads back to the episode being part of the crossover in part. We needed a member of Team Arrow to be left behind so Oliver could eventually return, but Felicity being left behind just feels odd. Rickards has built a character that is integral to the structure of Arrow so it seems weird that Felicity wouldn't be there to celebrate the show. While in the alternate reality she still works with Diggle, who is The Green Arrow, that's all we really get of her. Although the flashes to Olicity reminds us that we totally didn't hallucinate all of last season, which is a positive.
Even the moment where we see "Smoak Technologies" in the Star City skyline, the hope that Felicity is a powerful, female business woman is ripped away. "Smoak Technologies" is the enigma that the team uses to return home. We couldn't even give her a shining moment in this alternate reality, really? Also, Quentin (Paul Blackthorne) is all but absent. He has a few quick moments with Oliver and Laurel, but that's it. We would've enjoyed a heartbreaking Lance Family moment. After all, Quentin never got to say goodbye to Laurel either.
Overall, Arrow 100 delivers a love-letter to the fans. With re-appearances by fan favorite characters and a stand out performance by Amell, this episode gracefully captures 100 episodes. While we still wish it wasn't part of the crossover and Felicity and Quentin played bigger roles, this is by far one of the best episodes this season. This episode reminds us what Arrow does best. 
Arrow's mid-season finale airs Wednesday at 8/7c on The CW
Overall Grade: B+