PaleyFest 2017: 'Pretty Little Liars' Teases CrAzy 7B, Talks Favorite Moments, & Says Goodbye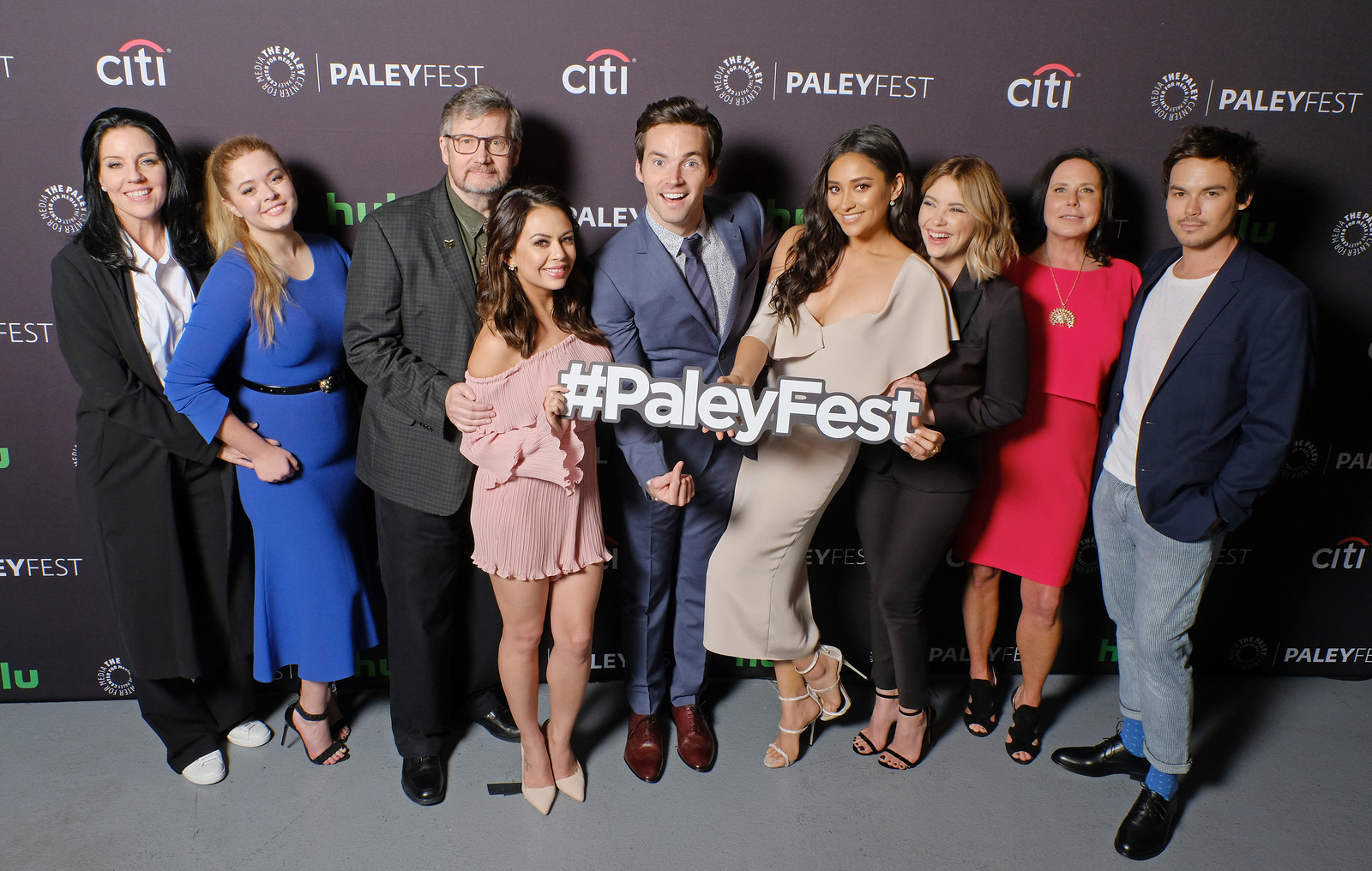 Nora Dominick '17/ Emertainment Monthly Executive Stage Editor
It's the beginning of the end for the groundbreaking teen show, Pretty Little Liars. On April 18, 2017, the hit series will begin its final season. To celebrate seven seasons of secrets, lies and killer outfits, Pretty Little Liars dropped by PaleyFest 2017 to dish on 7B and relive some of their favorite memories.
Debuting in June 2010, Pretty Little Liars quickly changed how we watch TV. Undoubtedly the most tweeted about series, PLL established an Internet presence and created a devoted fanbase. For seven seasons, the show has thrown every twist and turn imaginable as fans try to figure out who "A" is.
To celebrate the beginning of the final ten episode, airing on Freeform later next month, several cast members and executive producers sat down in the Dolby Theatre in Hollywood, with a couple hundred devoted fans, to say goodbye. Moderated by Senior TV Editor at Buzzfeed, Jarett Wieselman, PLL was honored in all the right ways. Joining Wieselman for the panel was executive producer Marlene King, executive producer Joseph Dougherty, Ashley Benson, Shay Mitchell, Sasha Pieterse, Janel Parrish, Ian Harding, Tyler Blackburn and Andrea Parker. Lucy Hale, Troian Bellisario and Keegan Allen were missing from the panel, but Hale and Bellisario sent special video messages in their absences.
To kick things off right, PaleyFest 2017 audience members became the first to view the first minute of the premiere of 7B. Don't worry, you can watch it right here. King assured fans that the final 10 episodes will be a real "love letter to the fans." Not giving away too many details, King said that the series finale will be a 2-hour event and was written like a movie.

One episode in 7B the cast is extremely excited to finally see is the episode directed by Bellisario. It's slated to be the fifth episode out of the final ten. Pieterse spoke about having Bellisario assume the role of director. She said, "It was SO awesome. She has such good incite. She's an incredible director." King remembers that Bellisario was able to get the cast to go in places no other director has been able to, because she knows them so well. King adds, "This is Troian's love letter to the girls."
Of course what is the end of Pretty Little Liars without knowing where all our favorite couples will end up. King said, "All the end games will be the end games, but no one will get there super easily." Dougherty continued saying, "Without hurdles, the prize is not worthy. You have to earn your happy endings."
When PLL ended 7A, all of our favorite ships were in very different places. Emily and Alison (Emison) finally kissed, Ezra and Aria (Ezria) were on a rocky road when Ezra found out Nicole was alive, Spencer and Toby (Spoby) are both in compromising situations, and Caleb and Hanna (Haleb) finally got back together. Blackburn discussed Haleb finally getting back together saying "Haleb was meant to be." Although, he did enjoy Caleb and Spencer's fleeting romance saying that it was fun to play. Blackburn also spoke to working wit Benson saying, "We laugh so much. She made me feel comfortable immediately."

Elsewhere, Pieterse and Mitchell were ecstatic to finally get the long awaited Emison kiss in 7A. It was a moment the two actors had been waiting forever for. Mitchell and Pieterse also spoke to the impact of their characters relationship. They're both very close in real-life and enjoy playing the relationship. They hope they play it authentically. Teasing Emison in 7B, King says that Alison's story focuses on her dealing with her sexuality. She says, "Emily plays a big part in that."
Harding spoke to Ezria's "rocky road" ahead. With Nicole back in his life, Harding says Ezra has some difficult choices to make, "Ezra's stuck between a rock & a hard place."
Everyone's favorite "villain," Mona is going to have an exciting storyline coming up in 7B. Parrish said, "She's still Mona. You never really know what side she's on." She added that Mona will continue to grapple with whether or not she wants to be on the good or bad side. Parrish says Hanna continues to be Mona's pull to the good side.
Pretty Little Liars has arguably given us one of the most mysterious villains in TV: A. One simple letter has plagued the PLL fandom for seasons and now we're getting closer to the final reveal. Parrish spoke about being the first A to be unmasked, saying she knew it was a big moment for the series and wanted to do it justice. She continued saying, "I have a little bit of pride for being the first person to wear the hoodie." Harding also spoke to Ezra's time being "A." He said, "If they [Ezria] could get through that, they could hopefully get through ANYTHING."
One of the most impactful characters on Pretty Little Liars is no doubt, Emily Field. A groundbreaking character on TV, Emily made it okay to love who you want to love. Long after the series has ended, Emily will continue to play a role in LGBT representation on TV. Mitchell spoke to the monumental impact Emily's had on audiences lives. She said, "Love is love. It doesn't matter. I love this character for everything that she gave. There needed to be characters like Emily all along."
.@shaymitch playing Hanna and @AshBenzo playing Emily = PRICELESS 💕 #ButtahBenzo #PLL #PaleyFest pic.twitter.com/WUlzE5nPal

— Emertainment Monthly (@EmertainmentEC) March 25, 2017

While the relationships on screen are some of our favorites, the casts friendships off-screen also play a major role in the Pretty Little Liars fandom. One friendship in particular stole the PaleyFest panel: Shay Mitchell and Ashley Benson or "ButtahBenzo." Mitchell and Benson spoke about their close relationship saying they see each other all the time. Mitchell said, "I never had a sister, but when I met Ashley, it felt like I had a little sis." Then, in a little game of role reversal, Wieselman gave Mitchell and Benson a chance to recreate an Emily/Hanna scene, but this time with Mitchell playing Hanna and Benson playing Emily. Let's just say, there were a lot of laughs.
.@tylerjblackburn playing Spencer and @IANMHARDING playing Aria. It's the roles they were BORN for 😜❤ #PLL #PaleyFest pic.twitter.com/o6RklBXAzZ

— Emertainment Monthly (@EmertainmentEC) March 25, 2017

Mitchell and Benson weren't the only one's to get in on the Pretty Little Liars scene reenactments. Pieterse acted out a scene opposite Parrish where Pieterse played Hanna, the role she originally auditioned for. Then, Blackburn and Harding, hilariously, read a Spencer/Aria scene.
While the PLL PaleyFest panel focused a lot on looking ahead at 7B, it was also a time of reflection and goodbyes for the cast and fans. Each member of the panel discussed their favorite moments over the seven seasons of Pretty Little Liars:
King said that her favorite moments were filming the pilot and the final episode. They felt like great bookend for her.
Harding said his favorite moment was the Christmas episode in season 5 when he had to be in his boxers. He loves that episode because the entire cast was together.
Parrish said her favorite moment was actually the saddest as well. She reflected on the final table read. "We did a lot of bawling. It felt very full circle."
Pieterse said her favorite moment is actually one fans haven't seen yet. It's the final scene between the five liars. Without giving any spoilers, Pieterse remembers having to film her line in that scene: "It took me fifteen takes to get it because I was crying."

Mitchell also agrees one of her favorite moments is the final scene with the five girls. She also enjoyed every scene where the entire cast was together.
Benson's favorite moment is also the final scene with the five girls, but also the final scene they ever shot on Pretty Little Liars. She remembers everyone huddled behind the camera so they could all be there when they said "cut, that's a wrap" for the final time.
Blackburn also agrees that the scenes when the entire cast was together are some of his favorites. He loves special effects, so any of the big scenes, like driving the car into Emily's house, are the one's he remembers fondly.
Parker's favorite moment is also one we haven't seen yet. She says Mary Drake's final scene is very memorable. She also loved every time her and Pieterse had to film near Alison's grave.
To close a very bittersweet panel, an audience member asked if they would ever return for a spin-off series. Harding quickly jumped to answer saying, "Gilmore Girls did that thing where they came back, I think it would be amusing for us to come back in 10 years." He jokingly said he would return if it was something totally crazy, "like Pretty Little Liars  meets Game of Thrones."
The final ten episodes of Pretty Little Liars begin April 18th on Freeform