'Broad City' Review: "Sliding Doors"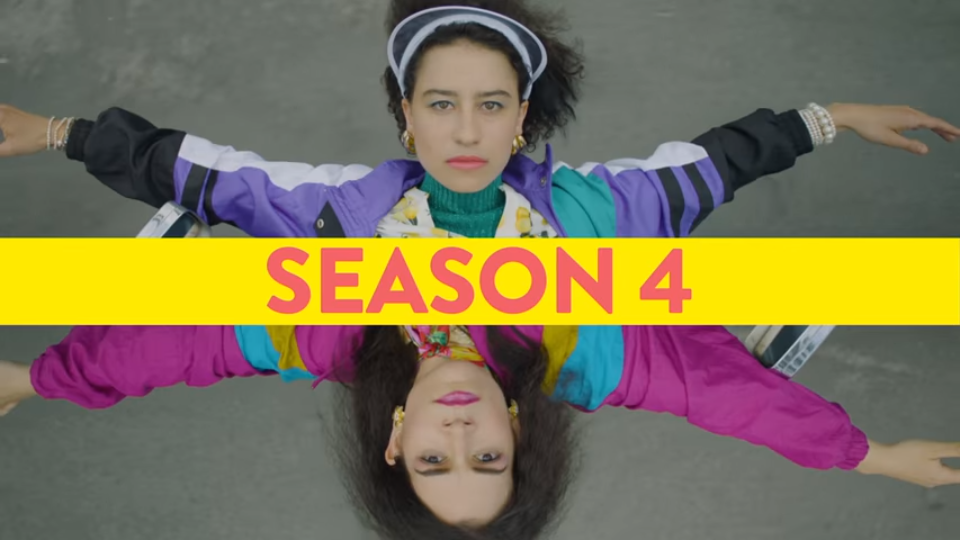 Kyra Power '19 / Emertainment Monthly Staff Writer
Warning: the following contains spoilers for the first episode of the fourth season of Broad City.
After a year and a half long wait, Comedy Central's favorite buddy comedy is back. At the end of last season, Broad City's Abbi (Abbi Jacobson) and Ilana (Ilana Glazer) attempted an unsuccessful pilgrimage to Jerusalem, but this first episode does not take us to the aftermath of that disastrous trip. Instead, it blesses us with the story of how Abbi and Ilana met, or actually two possible stories of how they met. Titled after the hit 1998 rom-com starring Gwenyth Paltrow and John Hannah, "Sliding Doors" the episode follows a similar layout: two alternate realities play out.
For Abbi and Ilana, both stories begin on the subway. Abbi doesn't have enough money to swipe in, so a kind stranger, Ilana, swipes her in. The two run down to the approaching train together and pass a man who throws up off the staircase. They board and then awkwardly wave goodbye. We zoom back and are given an alternate world, one where the man does not throw up off the stairs, but directly in front of Abbi and Ilana, causing them to miss their train.

The episode splits itself between these two worlds: one where Abbi and Ilana go to their respective errands and classes, where Ilana makes out with a straight Jaime (Arturo Castro) and Abbi meets a hot Bevers (John Gemberling) and tells him he will never have to pay for food in the apartment, and one where they smoke up for the first time together, go to BB&B, encourage each other, and Abbi calls Melody and tells her she does not want "Matt" to move in with them. One episode reads as a new blossoming friendship and the other of a terrible, lonely day. We can't help but smile as we watch what we hope to be the reality of their friendship, even as they get their fortunes told by a weird woman eating a rice bowl. She tells them that they will die at the end of the day, but Abbi and Ilana laugh it off. Yet, as the episode draws to a close and they eat pizza from Abbi's favorite place in Ilana's favorite smoke spot, they run from the cops and get hit by a bus with a poster of Tr*mp (yes, that word is bleeped as profanity this season) plastered on it, awakening us to the reality that this fun story was the made up one and in reality, Ilana used to date Jaime. So, after their real terrible days, Ilana heads to her favorite smoke spot and Abbi gets a whole pizza for herself and goes outside to eat it. They bump into each other once again and reintroduce themselves, showing that if a relationship is meant to happen it will.
"Sliding Doors" has some great laughs and keeps in tune with the eccentric Broad City humor of the mundane. Yet, I wonder why the writers decided to start with this episode. It's fun to see how Abbi and Ilana met, and to meet a straight Jaime and a surprisingly hot Bevers. Yet it didn't feel like a strong season opener. Fingers crossed for some crazy present day adventures to come.
Episode Grade: B+