Emmys 2017: Back to Back Win for 'Veep'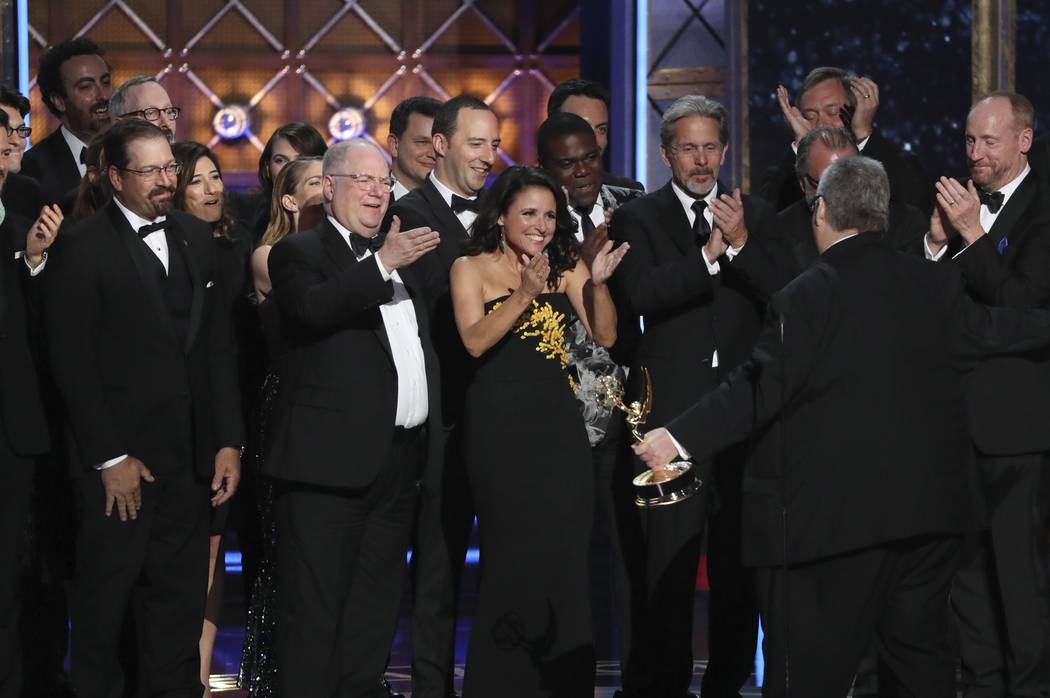 Alejandra Zimmermann '19 / Emertainment Monthly Staff Writer
Warning: the following contains spoilers for the sixth season of Veep.
Right after Julia Louis-Dreyfus accepted her sixth consecutive Emmy for her role of (ex) President Selina Meyer, television legends Norman Lear and Carol Burnett took the stage and presented the award for Outstanding Comedy. Captivating shows like Master of None and Unbreakable Kimmy Schmidt were nominated, but only one show was going to take the title: for the third time in Emmys history, HBO's series Veep surprisingly conquered the category.
After Selina Meyer loses the presidency in Veep, the tables turn for everyone in the series, introducing the audience to season six and leaving us wondering where everyone ends up post-Selina presidency. Turns out, everyone is trying to move from the Meyer White House. We have Amy Brookheimer, played by Anna Chlumsky, running a campaign for her ex-fiance Buddy Calhoun. Danny Egan, played by Reid Scott, is scheming his way to become co-anchor in the fictional 'CBS This Morning.' And most importantly, Jonah Ryan, played by Timothy Simons, has a seat  in Congress. For the audience, it's refreshing to see how each character tries to find other passions in life besides the White House. David Mandel, the show's writer, even takes us on personal and more intimate journeys, especially with Selina Meyer.  
The key to this season's success is the raw human emotion Mandel wrote for these iconic characters. We see Selina try to work out a relationship with a Muslim man she possibly loves, and even witness her break, for once, over a sacrifice she makes. We also see her express anger and rage in a comedic and iconic fashion. The fifth episode of the season, 'Chicklet', showcases one of Louis-Dreyfus' and Matt Walsh's (who plays Mike McLintock), most memorable scenes on television. Between Selina and Mike destroying everything in her MiMa's barn to Selina crashing her father's car while drunk, Veep delivers and wins.
But what lies ahead for the show's final season of the series? Most viewers are skeptical if Selina should even run for president again. Many don't want to see a repeating storyline nor want Selina to end up winning to complete a full circle. It is difficult to see where the show is headed, but one thing that remains sure is that Louis-Dreyfus will do anything and everything to deliver, for one last time, an iconic Selina Meyer season. Plus, who doesn't want to see Louis-Dreyfus break the Emmy record once again for winning lead actress in a comedy series for the same role?