Review: 'The Meyerowitz Stories' Would Have Been Awesome in 1995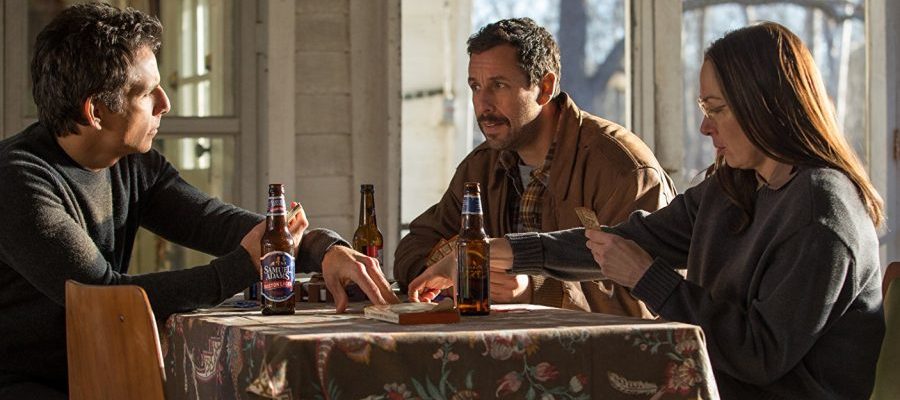 By Christian Ziolkowski '20 / Emertainment Monthly Staff Writer
Another year, another Noah Baumbach movie. Another talky comedy about selfish people realizing that they don't have life figured out. But is it necessary? Has Baumbach's shtick worn thin? In the era of La La Land and Moonlight, is there a place for The Meyerowitz Stories (New and Selected)?
Noah Baumbach exploded into the cultural zeitgeist with 2005's The Squid and the Whale. A funny, personal film, it put a fresh spin on the topic of divorce and snagged Baumbach an Oscar nomination. In 2012, he reached new heights when he made millennial angst seem approachable in Frances Ha. He's been on a hot streak lately, and The Meyerowitz Stories is his first film in three years not to feature his girlfriend and frequent collaborator Greta Gerwig.

The film follows a New York family, led by retired sculptor and patriarch Harold Meyerowitz (Dustin Hoffman), through a time of upheaval. Danny (Adam Sandler) has been a stay-at-home dad for most of his adult life, and he is feeling purposeless as his daughter goes to college and he goes through a divorce. Matthew (Ben Stiller) is a money manager who has recently started his own firm, but is viewed as the black sheep of the family because he isn't an artist. Harold is reflecting on his career with disappointment, as he realizes that he never achieved the same success as some of his colleagues. Everyone's problems collide when the family gathers to see the revealing of one of Harold's sculptures in a museum.

The Meyerowitz Stories (New and Selected) is a very well-crafted film. Which is a high compliment, as ensemble pieces are very hard to pull off. The writing is both witty and sincere, and the story will hold your interest. The acting is excellent. Dustin Hoffman beautifully toes the line as Harold, making him "artsy" enough to be annoying without becoming a caricature. The same can be said for Ben Stiller in his surprisingly-powerful performance as Matthew, the businessman who feels like an outsider in a family of artists. But the performance that everyone will be talking about comes from Adam Sandler.
Yes, you read that right.
Anyone who finds themselves wondering why Adam Sandler has a career—hey, you're not alone—should watch The Meyerowitz Stories. His sweet, layered performance serves as the movie's emotional core. Without Sandler, you'd just be watching a bunch of unlikable New Yorkers push against each other.

But in the end, Baumbach's latest amounts to less than the sum of its parts. He's a competent filmmaker, but The Meyerowitz Stories (New and Selected) is pretty well-worn territory. There have been movies about a parent's illness forcing estranged siblings to come together. There have been movies about businesspeople realizing that they work too hard. Movies that say, "your family may not be perfect, but they're all you have, so you need to be there for them." In an era where filmmakers are constantly pushing the boundaries of cinema, Meyerowitz is a film that belongs at the 1995 Sundance festival. In 2017, literary family dramedies about neurotic artists just aren't cutting it anymore.
Overall Grade: B
Watch The Trailer:
[embedyt] https://www.youtube.com/watch?v=MYzFieit8dI[/embedyt]