'American Horror Story: Cult' is a Bloody Good Time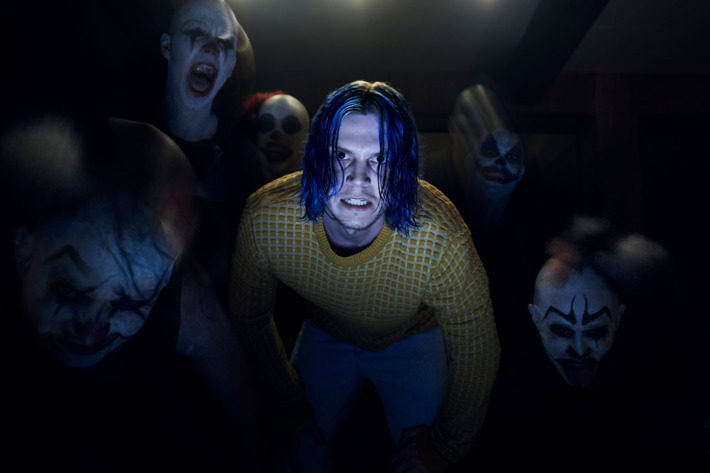 Benjamin Frohman '19 / Emertainment Monthly Staff Writer
American Horror Story is constantly reinventing itself, changing, and evolving, which is why the show has garnered an audience for seven seasons. Some say the show has lost quality each season, but the current season is arguably one of the best so far. After an underwhelming season of American Horror Story: Roanoke comes a more developed and thought-provoking American Horror Story: Cult.
The story takes place right after the events of the 2016 election. Sure, we know how that turned out since we all lived it. Cult, however, takes a look at polarizing reactions from extremes versions of citizens from the made-up city of Brookfield Heights in Michigan. The story centers around Sarah Paulson's character, Ally Mayfair-Richards, who voted for Jill Stein in the election and is so upset by the outcome of this election that her irrational fear of clowns, holes, and blood is heightened intensely. Her wife, Ivy (Allison Pill), and son Oz play an important role in impacting how Ally sees herself and affect her decisions immensely. Enter Kai Anderson, played by the transformative Evan Peters, a calculating and devious man who is empowered by the election and toys with the seemingly perfect life of Ally and exploits her every fear. The cast also includes spunky Billie Lourd, who plays Kai's eclectic sister Meadow, and Cheyenne Jackson, who plays Dr. Rudy Vincent, Ally's therapist. Adina Porter plays Beverly Hope, a newscast reporter.

The show primarily focuses on cults this season, as Kai has formed a group of people that do his every wish and manipulated all of them to believe him. Kai not only drives the story forward, but keeps you guessing as to what he'll do next. The intricacies of the cult are revealed and weaved throughout the story revealing themselves little by little. The acting is stellar as the viewer not only relates to Ally's fear, but also recognizes how fear can be used as a tactic to form an opinion and formulate a belief. This season also includes cameo parts from Lena Dunham, Billy Eichner, Chaz Bono, and Colton Haynes, who add to the mayhem and fear.
This season is completely different from every season before it. The show exploits politics and uses the parties as a way into people's minds and ideologies. The timeliness, relatability, and directness resonates with the audience in a haunting way. The show creator, Ryan Murphy, saw an opportunity and he ran with it, using today's polarity as a way to deliver a deliberate story and a realistic premise. Cult reflects the true nature of the show and is an addicting assortment of crazy to dive into.