Evil Indulgence: Spooky Showtunes for Fun and Frights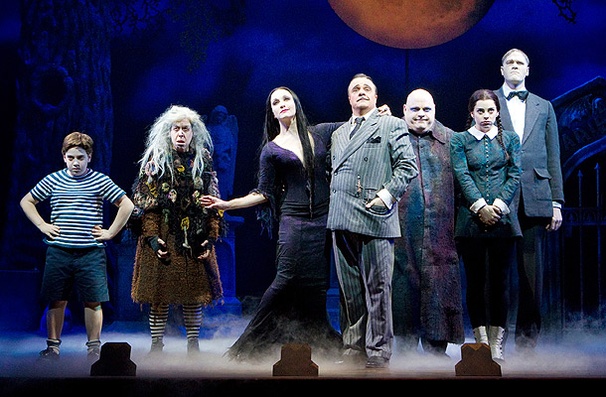 Thomas McCorkle '21 / Emertainment Monthly Staff Writer
It's the time of year for monsters to once again roam the night and relish in the fears of mankind. For ghouls and ghosts alike to rise from the dirt and haunt the dwellings of unsuspecting victims. For the dead to be seen shambling along the skyline, as the darkness of night takes hold of the planet with its malicious embrace.
Yes, if you couldn't already tell from the candy and costumes being sold a month early at your local Walmart, it's Halloween once again. It's time to break out the cobwebs, skeletons, and fake bats in celebration of the holiday dedicated to sending shivers down the spines of kids and adults alike. So, in the spirit of our apparent obsession with scaring the hooplah out of one another, Emertainment Monthly has decided to put together a playlist of spooky showtunes. From Dracula, to Dr. Frankenstein, to even murderous barbers, this playlist will be sure to awaken the spirit of Halloween in your mind, or give you goosebumps whenever things seem a bit too jovial.
To make this list, a showtune had to be somewhat spooky and/or creepy, while also not being so serious that it couldn't have fun with how spooky and/or creepy it is. Additionally songs chosen for this playlist had to be from a live stage production. So, for you Nightmare Before Christmas fans, I'm afraid the Pumpkin King won't be rising from the pumpkin patch tonight.
Anyway, on with the playlist.
"Alive" from Jekyll and Hyde
Credit: Jekyll and Hyde Musical wiki
This wouldn't be a proper spooky showtunes playlist if we didn't include the man who is literally meant to represent pure evil. For those who haven't seen the show, this song takes place after Dr. Jekyll's first transformation into the psychopathic serial killer Edward Hyde, who takes this time to simply enjoy how evil he is. From talking about being Satan's right hand man, to the creepy yet powerful orchestra backing him up, this showtune represents the best ideals Halloween has to offer––being hauntingly creepy and loving every minute of it.
"Cell Block Tango" from Chicago
Credit: Catherine Ashmore
Imagine this. You're sitting in a dark room, headphones wrapped around your ears, complete silence. Then, with a faint and seductive whisper, you hear the words "Pop…Six…Squish…Uh uh…Cicero…Lipschitz!" That my friends is how you begin a song with six murderous women describing how they joyously killed each of their lovers. Mix that with a jazz band having the time of their lives, add a dash of insanity from each of the lovely murderesses, and you'll have a song that not only describes evil actions, but readily justifies them as well. How wonderful.
"Come Look at the Freaks" from Side Show
Credit: Joan Marcus
If you're an up-and-coming songwriter who is wondering how to make your opening song as creepy as possible, this showtune has three primary tips for you. First, have an ensemble made up of people with strange deformities or personalities who sing half of the song in spooky choral "Ahhs!" Second, have most of the lyrics be about exploiting those deformities and personalities in extremely vivid details to make sure you hear the "haunting song of the Siamese twins", and taste the "warm chicken blood" being consumed by the geek. Third, just in case the topic of the song becomes too depressing, make sure to have a lead singer so excitable and greedy that the audience can't help but be drawn into the parade of freaks before them.
"Hello Little Girl" from Into the Woods
Credit: Julie Curry
You might be thinking to yourself, "why is this song here? Isn't this show about fairy tale characters like Cinderella and Sleeping Beauty? Why would any of that be spooky?" Now here is a question for you: does a hungry wolf singing about seducing and then eating a little girl while deceivingly whimsical music plays, sound like a creepy situation? This song from the depths of Stephen Sondheim's mind would be happy to say "yes", along with a number for the FTPD (Fairy Tale Police Department).
"The Time Warp" from The Rocky Horror Show
Credit: Rocky Horror Picture Show wiki
Most of you have probably heard of this song already, and might argue that it is too upbeat to be considered as "spooky". However, there is a light that this song can be illuminated by that makes the atmosphere quite creepy for the listener. While the chorus itself isn't particularly disturbing, the lyrics in between make up for it by transforming the energetic dance of the Time Warp into a controlling melody that hits you with "blackness" and "sedates" your body. Most people tend to place themselves in the shoes of the people singing the song, allowing for it to be more playful. Instead, we encourage you to place yourself in the shoes of somebody watching this strange spectacle of madness and movement called the Timewarp that constantly coerces you into joining its rhythm that never stops.
"Life, Life" from Young Frankenstein
Credit: Paul Kolnik
Think back to a time when you tried really hard to accomplish a specific goal. Think back to a time when you would do anything in your power to accomplish that goal, even dig up a corpse, lose your sanity, and play God by reversing death itself. If you can't think of a time like this, then you might know what it feels like by listening to Dr. Frankenstein (or Fronkensteen) as he unlocks the secret to creating life in this chilling song from the Mel Brooks musical that captures his desperation and relative madness toward the success of his experiment. With each crack of thunder and each note sung from the echoing chorus, you are drawn into a famous scene filled with enough haunting tunes and maddening screams to make you misplace a bit of your own head by the time it's over.
"Music of the Night" from The Phantom of the Opera
Credit: Matthew Murphy
Question: Has the term seductively spooky been coined yet?
The Phantom of the Opera: Yes, and I put a copyright on it.
Beside the primary theme of the musical, this song might be the second most well-known tune in the show created by Andrew Lloyd Webber. It does share some content similarities with "The Time Warp" in that they both try to lure you into a strange and creepy world. This number, however, holds nothing back with long, melancholy chords, created by The Lord Webber himself, accompanied by lyrics constantly trying to have you give up your mind to the everlasting darkness. Whether sung by Owen-Jones, Crawford, or the legendary Colm Wilkinson, each version makes sure that, by the end of the song, you will turn away from "the garish light of day" and embrace the Music of the Night.
"No Good Deed" from Wicked
Credit: Matt Crocket
There's not a creepier way to start a song than having an evil witch recite unknown incantations and curses. When you combine that with a character finally turning into one of the most evil and well-known witches in both cinematic and musical history, while also declaring that all good deeds must be punished, you get a sinister concoction that is truly unnerving. This song from the Stephen Schwartz musical, while being a bit less fun and more tragic than other songs on this list, does manage to capture a generally spooky tone in its beginning. Then the song drives it home with powerful lyrics and music as Elpheba is finally pushed over the edge in order to save the one she loves by becoming The Wicked Witch of the West that we all know and despise.
"Spooky Mormon Hell Dream" from The Book of Mormon
Credit: genius.com
A nightmare can be a powerful thing. While many scary things in life usually have to stick within the realms of reality, a nightmare can bend, twist, and throw reality right out the window so that any scary situation is possible. Beside the fact that it has the word "Spooky" in the title, this song from The Book of Mormon capitalizes on that fact by shoving the main singer in a paranoia filled Hell Dream where the only limit is his imagination. From the fast paced and demonic music, to a chorus made up of demons and souls doomed to eternal damnation, this number has the ability to frighten and offend you at the same time.
"Sunset Boulevard" from Sunset Boulevard
Credit: Joan Marcus
This song contains no monsters, no frightening creatures, and no haunted settings. So, what makes this song creepy, you may ask. Reality. Yes, this song might seem odd to put on a spooky showtunes playlist, but we find that realistic spookiness can be just as effective as dramatized spookiness. In many ways, this song even manages to evoke a creepier atmosphere than a few of the other songs on this list. Not because of the music, which is rather grandiose, or because of the singer who sounds more tortured than creepy, but because of the way it describes this place where dreams apparently go to die. The song describes Sunset Boulevard as being twisted, secretive, alluring, deceitful, frenzied, the list goes on and on. There always appears to be something sinister happening beneath its surface, as the singer describes, allowing for the song to take on an unsettling nature that carries through till the final "lethal" note.
"Sweet Transvestite" from The Rocky Horror Show
Credit: SNAP/REX/Shutterstock
Yes, there are two songs from The Rocky Horror Show on this list. However, if a song is legitimately spooky, it will be put on this list. While it does carry an upbeat tone similar to "The Time Warp", this song is made approximately five times as creepy namely through the lyrics delivered by the Sweet Transvestite. Once those first notes introduce the number, this character completely takes control of the scene for at least the next four minutes you're listening to them. While you're bobbing your head to the energetic score, you might notice the lyrics always possess a possibly sinister undertone. As if there is something else going on in this spooky mansion you find yourself in with the main characters who are as helpless as you are now.
"The Ballad of Sweeney Todd" from Sweeney Todd: The Demon Barber of Fleet Street
Credit: Peggy Stuart
Mr. Sondheim, we meet again. This time, with a song from one of the most widely recognized horror dramas in musical history. The story of a vengeful barber named Sweeney Todd and how he lured unsuspecting patrons into his shop only to slit their throats with his trusty blade, is recounted in this song. It sets the demonic atmosphere of a two hour and forty-five minute show in only three minutes. With an opening this hauntingly good, you know you're going to be squirming in your seat when the initial chords of that organ hit your ears. With a silent and slow beginning, a powerfully tortured ensemble that causes your body to jolt in its seat, and the disturbing repetition of the word "Sweeney" that only get louder and louder as time goes on, this opening number causes you to both shudder in fear and question why Stephen Sondheim has an apparent attraction to shows with cruel murderers.
"The Master's Song" from Dracula, the Musical
Credit: Graham Rowat
It wouldn't be a spooky showtunes playlist if we didn't include the musical based around the most terrifying and satanic monster to ever grace the earth through books, movies, and now, the stage. The song from the Frank Wildhorn musical does not even come from the Lord of the Night himself, but rather from his obedient servant Renfield who is shown to be locked up in an insane asylum. Initially, this idea might seem a little less spooky compared to having a song sung by Dracula. However, it actually works toward the number's advantage as the audience is told the ways in which the Dark Master will feed on those unaware of his presence and show the traumatizing effects of being almost a slave to such a fiend. Even though everybody is telling Renfield that Dracula doesn't exist and the audience knows he isn't lying, it is quite disturbing how committed Renfield is to a Master who abandoned him for several years. All in all, it's a spooky number for an equally spooky King of monsters.
"The Phantom of the Opera" from The Phantom of the Opera
Credit: Joan Marcus
Question: Has the term controllingly spooky been coined yet?
The Phantom of the Opera: Yes, and I put a copyright on that too.
Just listening to the famous line "The Phantom of the Opera is there, Inside your/my mind" makes a person realize the kind of man and ideas this show revolves around. Whereas "The Music of the Night" secretly lulls you into the Phantom's seductive clutches, this song goes ahead and states how the Phantom appears in your dreams and how his sinisterly melodious voice can be heard in your deepest thoughts. The music that the song produces radiates throughout almost the entire musical, haunting every scene with its gripping spookiness. What makes the song even more disturbing is something similar to "The Master's Song", in that both Renfield and Christine––the female lead of Webber's musical––showcase their undying subjugation to a dark and mysterious force whose presence you might even feel by your side while listening to this number.
"When You're an Addams" from The Addams Family Musical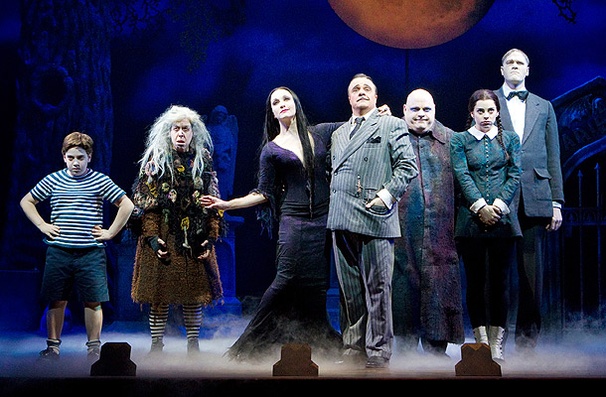 Credit: Joan Marcus
To finish this playlist, let's visit one of most iconic horror families on both television and the stage. Like the show, the Addams Family simply sings about fun and spooky nature of what being an Addams is like in this song. With references to graveyards, the undead, poison, blood, potions, shadows, and all with a kid-friendly tone, it's as stereotypically Halloween as you can really get.
Did we miss any showtunes you find particularly spooky? Well then post it down in the comments section below so that other might find even more frights for the month where there's always something lurking under your bed.