Best Non-DC or Marvel Comics On The Shelves Now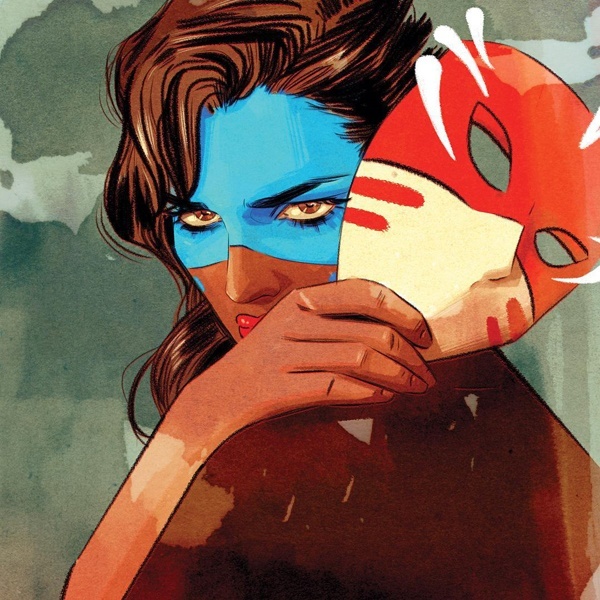 Jonah Puskar '20 / Emertainment Monthly Comic Books Editor
With all the attention DC and Marvel constantly get people seem to forget the other companies putting out some amazing books right now. This short list is going to highlight a few of such books that deserve more attention than they're getting.
---
The Wicked + The Divine
Writer: Kieron Gillen
Artist: Jamie McKelvie
Publisher: Image Comics
This story follows a young teenage girl, Laura, as she interacts with the Pantheon, a group of twelve people who discover that they are
reincarnated
deities from various mythologies. They gain fame and
supernatural
powers, but they will die within two years as part of a ninety-year cycle known as the Recurrence. Laura discovers that she is Persephone, a previously unknown thirteenth member of the Pantheon. Author Kieron Gillen's main themes are of life and death.
Character inspiration came from pop music and various pop idols, with each member of the Pantheon being based on pop idols. Gillen has created a playlist of songs to accompany the comic book. The book has also been praised for its diverse portrayal of race, sexuality and gender identity.
---
Paper Girls
Writer: Brian K. Vaughan
Artist: Cliff Chiang
Publisher: Image Comics
Paper Girls
is set in 1988 and follows a group of 12-year-old girls
(Erin, MacKenzie, KJ, and Tiffany)
on their early morning paper route in the f
ictiona
l suburb of Stony Stream. During their route on the morning of Halloween, their town is invaded from a mysterious force from the future. Described as a mix of
Stand By Me
and
War of the Worlds
,
Paper Girls
won two
Eisner Awards
in 2016 for Best New Series and Best Penciller/Inker and one in 2017 for Best Colorist. Paper Girls breaks the mold by focusing on four girls' friendship without the need for sexualization or other conventional troupes imposed on female characters.
---
Lumberjanes
Writer(s): Noelle Stevenson
                   Grace Ellis
                   Shannon Watters
Artist(s):  Brooke A. Allen
                  Brittney Williams
                  Aimee Fleck
Publisher: BOOM! Studios
Lumberjanes
is a comic book series published by the
Boom Box!
imprint of Boom! Studios. The story follows a group of girls named Jo, April, Molly, Mal, and Ripley who are spending their summer in the Roanoke cabin at Miss Qiunzella Thiskwin Penniquiqul Thistle Crumpet's Camp for Hardcore Lady Types. Throughout their time there they encounter strange beings and supernatural phenomena.
Lumberjanes
was planned as an eight-part mini-series, but the comic was made an ongoing series after strong sales and a growing popularity amongst readers and critics. Currently there are 41 issues of Lumberjanes, including two specials. Each issue ends with a track listing for a mixtape made by one of the characters. In 2015,
Lumberjanes
won two Eisner Awards, for Best New Series and Best Publication for Teens and was nominated for a GLAAD Media Award for Outstanding Comic Book. The series has received praise for it themes of female empowerment and trans-inclusivity.
---
Ladycastle
Writer: 
Delilah Dawson
Artist:
Ashley A. Woods
Publisher: BOOM! Studios
A 4-part series that wrapped earlier this year with a recently released trade paperback,
Ladycastle
follows the women of a kingdom taking charge when the men are gone.
When King Mancastle and all but one of his knights are killed by a dragon, t
he women take up arms. The blacksmith's wife Merinor becomes king, Princess Aeve is the new captain, and the only remaining knight, the incapable Sir Riddick, is tasked with teaching the ladies of the castle how to fight for themselves and defend the castle.
---
Extremity

Writer:  Daniel Warren Johnson
Artist: Daniel Warren Johnson
Publisher: Skybound and Image Comics
Written and drawn by Daniel Warren Johnson, well known for creating the webcomic Space Mullet, Extremity follows teenage Thea in a post-apocalyptic world full of advanced machines and ferocious monsters. After a violent clan attacks her family Thea loses her hand in the skirmish. This results in her one passion, art, being taken from her, and she is out for blood. This adventure follows her as she seek out revenge alongside her warrior father and mild-mannered brother. With 10 issues out so far, including one trade paperback collecting Extremity #1-6, readers can quickly catch up with a series described as "…the beauty and imagination of Studio Ghibli meet the intensity of Mad Max."