Review: 'Mudbound' Is Impactful in Its Harrowing Realism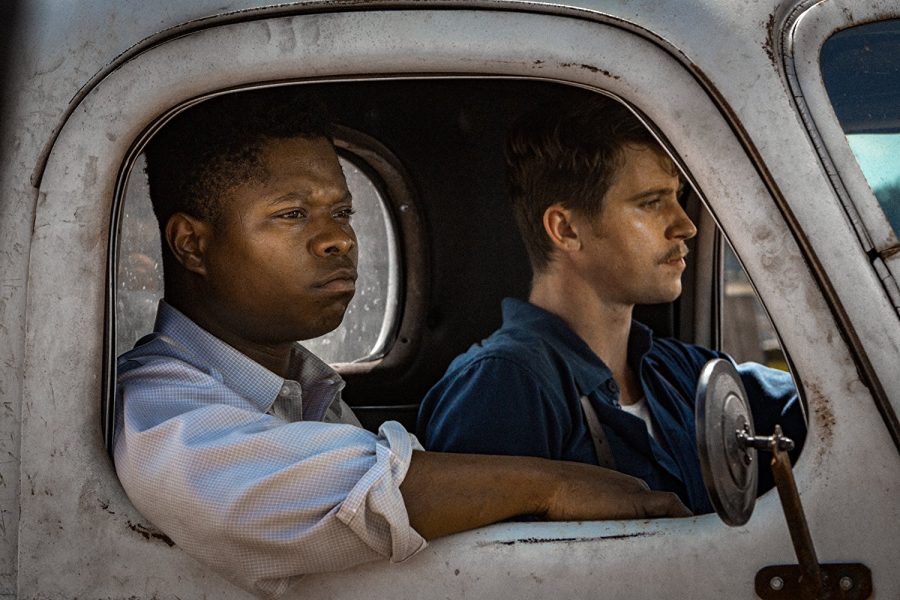 Kaly Connolly '19 / Emertainment Monthly Staff Writer
Mudbound is not a comforting story—but it feels like a necessary one, especially in our current political landscape.
With an ensemble cast and six rotating narratives, there's a lot more to the story than the dismal, muddy farm that plays as the backdrop for the majority of the film. Set during and after WWII, half of the narrators are from a white family, the McAllans, who own the land while the Jacksons are an African-American family of tenant farmers. Though the power dynamics of the film are quite clear—the McAllans have the upper-hand on the farm—the storytelling is much more balanced. 
Director Dee Rees, whose former directing credits include Pariah and Bessie, shared with the New York Times how Mudbound pinpoints racial issues still relevant today:
"You can't separate out threads of history and race as economic construct. Mudbound makes it very plain. Race is about commerce; it's not an actual thing. It's a fiction that was created to basically divide resources unequally."

The interconnectivity of the lives of the McAllans and the Jacksons is the driving force behind this powerful drama. From a storytelling perspective, neither point of view is mutually exclusive. The audience is allowed to view both the triumphs and struggles of the McAllans and the Jacksons. When Henry McAllan (Jason Clarke) informs his wife, Laura (Carey Mulligan) that they are going to move to the country so he can fulfill his dreams of being a farmer, she obliges. When the McAllans arrive at the farm with the entirety of their family in tow—two daughters and Henry's blatantly racist father (Jonathan Banks)—the Jacksons have to oblige to the new order.
What connects them, other than the struggling farm, are their family members overseas. Ronsel Jackson (Jason Mitchell), their eldest son, and Jamie McAllan (Garrett Hedlund), Henry's charming brother, bond upon their return from the war. Ronsel has to face being a veteran in America, in which he is regarded no higher than before he left—whereas overseas, race didn't seem to nearly as dividing. Jamie, on the other hand, is struggling to deal with the atrocities he saw while at war—and copes with a bottle in hand.

The friendship that forms between Ronsel and Jamie is one of Mudbound's strengths. The movie picks up in pacing once the two of them fall into step with one another, though it drags slightly beforehand when they're still off at war. Rees' pacing may be intentional, however, to showcase the slow-moving life on the farm and the movie's other greatest strength: the treatment of the woman.
Laura McAllan, a city girl, had no input in being moved to a desolate farmland. However, loyal to her not-so-romantic husband, she settles. She is miserable on the farm, bored, dirty and desperate. Florence Jackson (Mary J. Blige) doesn't want to care for another woman's children, but she agrees to care for Laura's children so that she can bring in extra money for her own family. Both Mulligan and Blige have a strong presence throughout the film and the scenes in which they narrate their own characters' thoughts are often the most alluring. Their formal relationship is softened by the fact that they both understand the hardship of being a woman, each in their own world.

Of all things, Mudbound clings to two things: realism and the desperation of each character, hopeful for something better.
The depictions of the Jim Crow South are not sugarcoated. There are scenes in the movie that range from uncomfortable to sickening. Part of it may lead to this being a film that never begs for a second viewing—one time around being enough. Its impact feels palpable, leaving a feeling close to the desperation felt by each character on the mud-covered farm.
Overall Grade: A
Watch The Trailer:
[embedyt] https://www.youtube.com/watch?v=xucHiOAa8Rs[/embedyt]