Review: Prepare to Gear Up with the 'Justice League'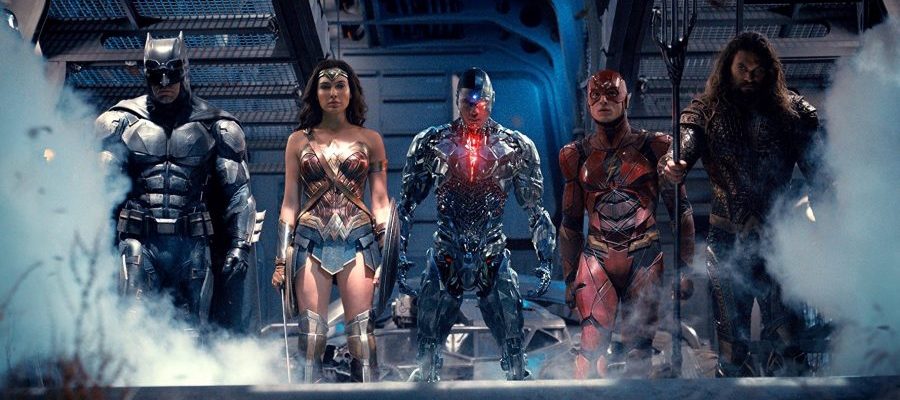 Natalie Benoit '21 / Emertainment Monthly Staff Writer
It's the DC Extended Universe and you're just living in it. The newest installment in the DCEU checks off a lot of the boxes that make for a spectacular superhero team-up. While it's an upgrade from 2016's Batman v Superman: Dawn of Justice, it certainly falls behind Wonder Woman. But rest easy, Justice League is still worth watching. It excels in fulfilling every fan's comic book dream with great CGI and characters who have been long overdue for a silver screen appearance. The movie meets expectations while also throwing in some unforeseen twists; specifically, after the closing credits.
Director Zack Snyder creates the on-screen origin story for how the odd band of misfits, with their respective skills, unite to form the beginning of the Justice League. But what Warner Bros. fails to do is develop a more comprehensive script that introduces a complex villain. Viewers meet a new antagonist who seems to appear out of thin air. Wonder Woman does well to explain enough background details on who and where the alien invader is from, but his agenda is basic and lacks individuality.The script could have also dialed back on some of the cornier lines, but it doesn't diminish the characters either.

The visual effects successfully tell the fantasy story and help make the superhero movie genuinely "super." The cast creates meaningful interactions between their characters, while also portraying the appropriate attitudes necessary for each role. It's the back-and-forth bickering and bonding between the heroes that gives the audience an enjoyable experience.
Throughout the film, each hero's background is briefly explored, which consequently sets up future solo stories and sequels. Their narratives serve for character development and contribute to the overall plot of Snyder's film: superheroes from different "worlds" fight side by side to defend humanity from an alien invasion.

So, who exactly are these world saving, apocalypse ending superheroes? Batman (Ben Affleck) recruits the other members by relying on his billion-dollar tech and, of course, Alfred (Jeremy Irons). The audience watches wide-eyed as Bruce Wayne's first attempt to recruit Aquaman (Jason Momoa) ends with a less than friendly confrontation. It isn't until later in the film, during a life-or-death situation, do audience members see Aquaman save the day and accept Batman's invitation. Prior to Aquaman's reappearance, the Bat travels to Central City and easily convinces the quirky, eager Flash (Ezra Miller) to enlist. Although the brooding Dark Knight started the Justice League, Gal Gadot's Wonder Woman is the one who keeps the team together. The Amazon Goddess of War reaches out to a bitter and lonesome Cyborg (Ray Fisher), who eventually agrees to join the group. Once the league of five unite, they decide to reawaken the world's only chance of survival against Steppenwolf (Ciarán Hinds) and his army of "nightmare creatures." But when the plan backfires, Lois Lane (Amy Adams) emerges as the team's last hope; she becomes a hero among heroes.
Fast forward to the end of Justice League and viewers can anticipate the direction of the next film. The two-hour blockbuster acts more of a continuation of the DC Extended Universe than a stand-alone beginning to the Justice League. The movie is great for avid superhero lovers because of the action-packed scenes, inside jokes, cameos, and not one, but two end credit scenes. Fans will want to stay until the very last second; there may be more than one league in the works.   
Overall Grade: B+
Watch The Trailer:
[embedyt] https://www.youtube.com/watch?v=3cxixDgHUYw[/embedyt]