Review: Pixar's 'Coco' Sings from the Heart and Broadens the Mind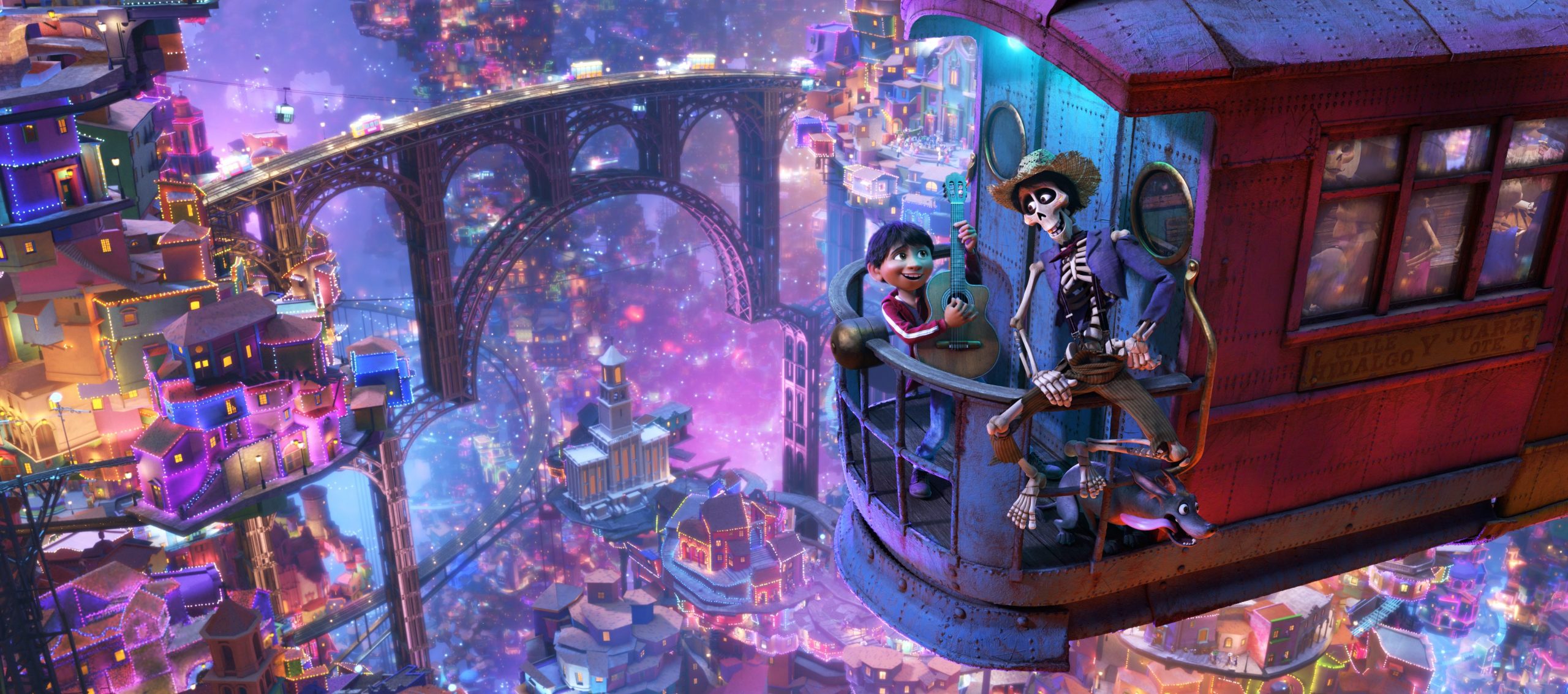 Ben Zacuto '19 / Emertainment Monthly Film Editor
Not often do we encounter popular art that is as accurately tuned to a specific culture as acutely or detailed as with Pixar's 19th feature film. Directed by Toy Story 3's Lee Unkrich and Co-Directed by Adrian Molina, Coco vibrantly captures the story of a 13 year-old Mexican boy who longs to become a musician like his great grandfather. Coco boldly examines a culture generally unexplored in popular Hollywood fair, and does so with grace and care. Although not a perfect film, the craft of storytelling is truly put on display in Pixar's Coco. From the vibrant music, to the detailed Land of the Dead, and history and heritage of Miguel's hometown, Santa Cecilia, Coco takes audiences on an imaginative journey through the beauty of the Mexican holiday of Dia de los Muertos.

Coco tells the story of Miguel Rivera (Anthony Gonzalez), a young boy set on becoming a musician. His only hurdle, however, is a familial curse on music. Through a series of events, Miguel is thrust into the Land of the Dead, where he must gather the help of his ancestors and a charming trickster named Héctor (Gael Garcia-Bernal) to restore his body to the Land of the Living before the next morning when Dia de los Muertos ends. Coco's story is rather straight-forward and often feels derivative of other mainstream fair. Although frustrating considering the level of detail and care put into the rest of the film, the simple story structure allows for the artists at Pixar to delve deeper into interesting character development and explore themes generally uncharted in family entertainment.
The film is at its best when audiences are allowed the opportunity to understand the meaning of the Mexican holiday of Dia de los Muertos. Coco explains how celebrating the lives of the people who have come before us can enable us to grow as individuals in ways we could never have imagined. Exploring the death of loved ones and revisiting our memories of their lives is the main thrust of Miguel's character arc. To put the theme in context, Miguel's hero, Ernesto de la Cruz (Benjamin Bratt), is made popular by his famous song "Remember Me," written by Frozen songwriters Kristen Anderson-Lopez and Robert Lopez, which is quite literally about remembrance.

Coco is not only bold in its theme, but in how it represents Mexican culture in our politically charged climate. Director Lee Unkrich is unafraid, thankfully so, in exploring a people and culture that has unfortunately been targeted by our current President. One can only hope that Coco can begin a new conversation of celebrating and embracing the people of Mexico or of Mexican heritage, rather than our current bigoted and racially-charged conversation. What better way to understand a people and culture than through the power of film, storytelling, and excellent music. Speaking of which- the music of Coco, that of Oscar-winning composer Michael Giacchino's score as well as the musical set-pieces written in part by the Lopez's and Co-Director Adrian Molina, is truly spectacular. The songwriting is daring, yet memorable, and the score utilizes classical Mexican instrumentation to further delve into the world of Santa Cecilia and the Land of the Dead.

Although the story especially in the second act feels rather formulaic and derivative, the vibrant setting and characters drive the action forward. Set alongside an emotionally riveting soundtrack, Coco takes audiences to places conventional family films wouldn't dare to go- an exciting and welcome deviation from recent Pixar fair (Cars 3 and Finding Dory come to mind). Coco dives unapologetically into unexpected themes, stories, characters, and worlds that cement the film as a new Pixar classic. Take sometime this Thanksgiving to celebrate those who we love and cherish, and maybe, just maybe, share Coco together.
Overal Grade: A-
Watch the Trailer:
[embedyt] https://www.youtube.com/watch?v=xlnPHQ3TLX8[/embedyt]