Netflix's 'The Punisher' is the Best Adaptation Yet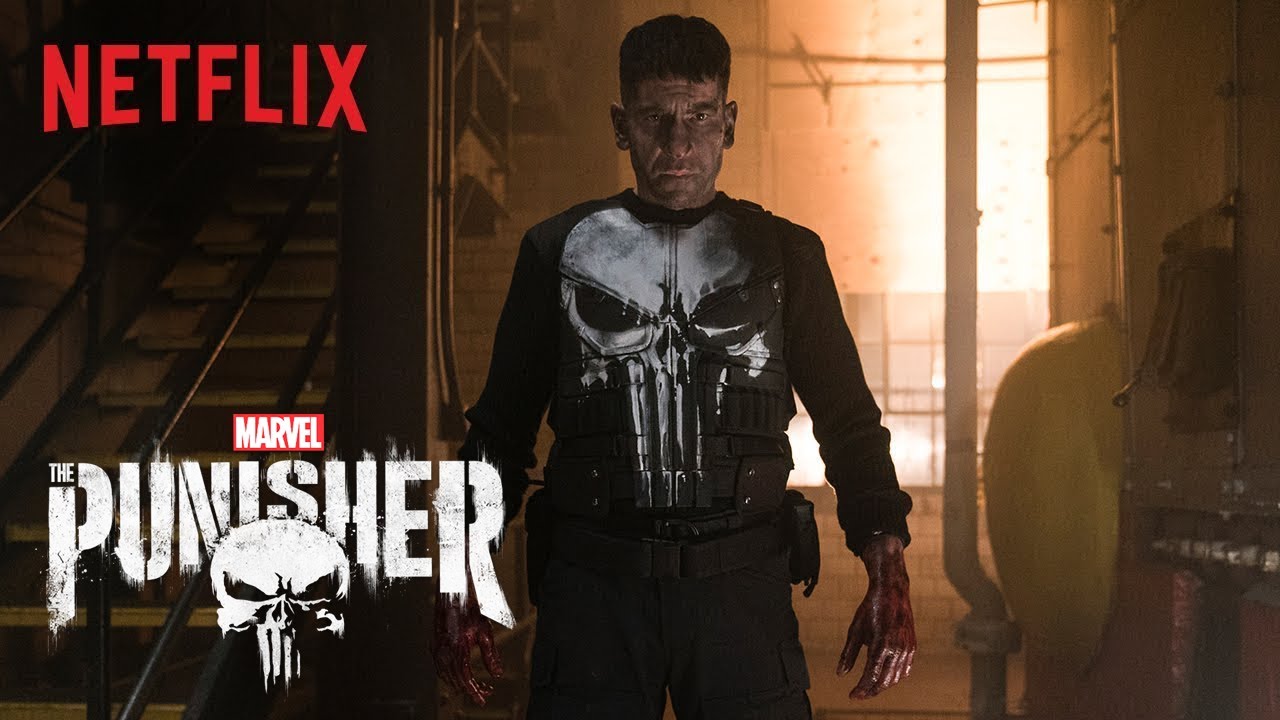 Ross Fodera '20 / Entertainment Monthly Staff Writer
One week after Veterans Day, Netflix released the long-anticipated Netflix's The Punisher series starring Jon Bernthal, reprising his role of Frank Castle from the second season of Netflix's Daredevil as a veteran of the War in Afghanistan turned anti-hero/vigilante. When Daredevil season 2 teased The Punisher as a main antagonist for the show fans were excited. Since Daredevil was known for its brutal action scenes fans knew they would do the character justice, especially with a well-known actor like Jon Bernthal. After the season was well received Netflix greenlit a season of The Punisher. Being the fourth adaptation of the character in film and TV, how does it stack up to its predecessors?
The first time the Marvel superhero was adapted to the big screen was in 1989 starring Dolph Lundgren as a cop turned vigilante hell-bent on eradicating the mob. The second Punisher adaptation came in 2004 starring Thomas Jane going against a crime syndicate led by none other than John Travolta. The story pulls from the origin story from Marvel Comics. When Frank Castle's family is gunned down by criminals he takes to the streets killing anybody responsible.The Punisher: War Zone was the reboot of the franchise in 2008 recasting Thomas Jane for Ray Stevenson.

These movies pale in comparison to Netflix's The Punisher. Since it was released online there are not many restrictions Netflix has on what kinds of violence they can show. The series does a great job depicting Frank Castle's PTSD or posttraumatic stress disorder, showing disturbing nightmares of the death of his family. The characters of the show are all very well written and get a lot of development, with some other characters from Daredevil showing up. A lot of the characters in the show are veterans, which Netflix gave a lot of attention to. A significant part of the show deals with how soldiers are left behind or abandoned by the government once they come home. The story builds off of what was seen in Daredevil actually starting with Frank Castle retiring his punisher alter ego once he believes he has killed everyone involved with his family's death. Yet, when he finds out that the conspiracy goes a lot higher than he thought, he vows to kill every last one of them. The Punisher series gives a lot more opportunities for the story than the movies in every way. It allows for villains and side characters to be fully developed, more plot twists and a generally more expansive plot. Since the series had a whole season on Daredevil to set itself up much of the audience have a preexisting connection before watching the show making the main focus on him more compelling than any other Punisher before.