Review: 'Jumanji: Welcome to the Jungle' is Rated "A" for Adrenaline Filled Fun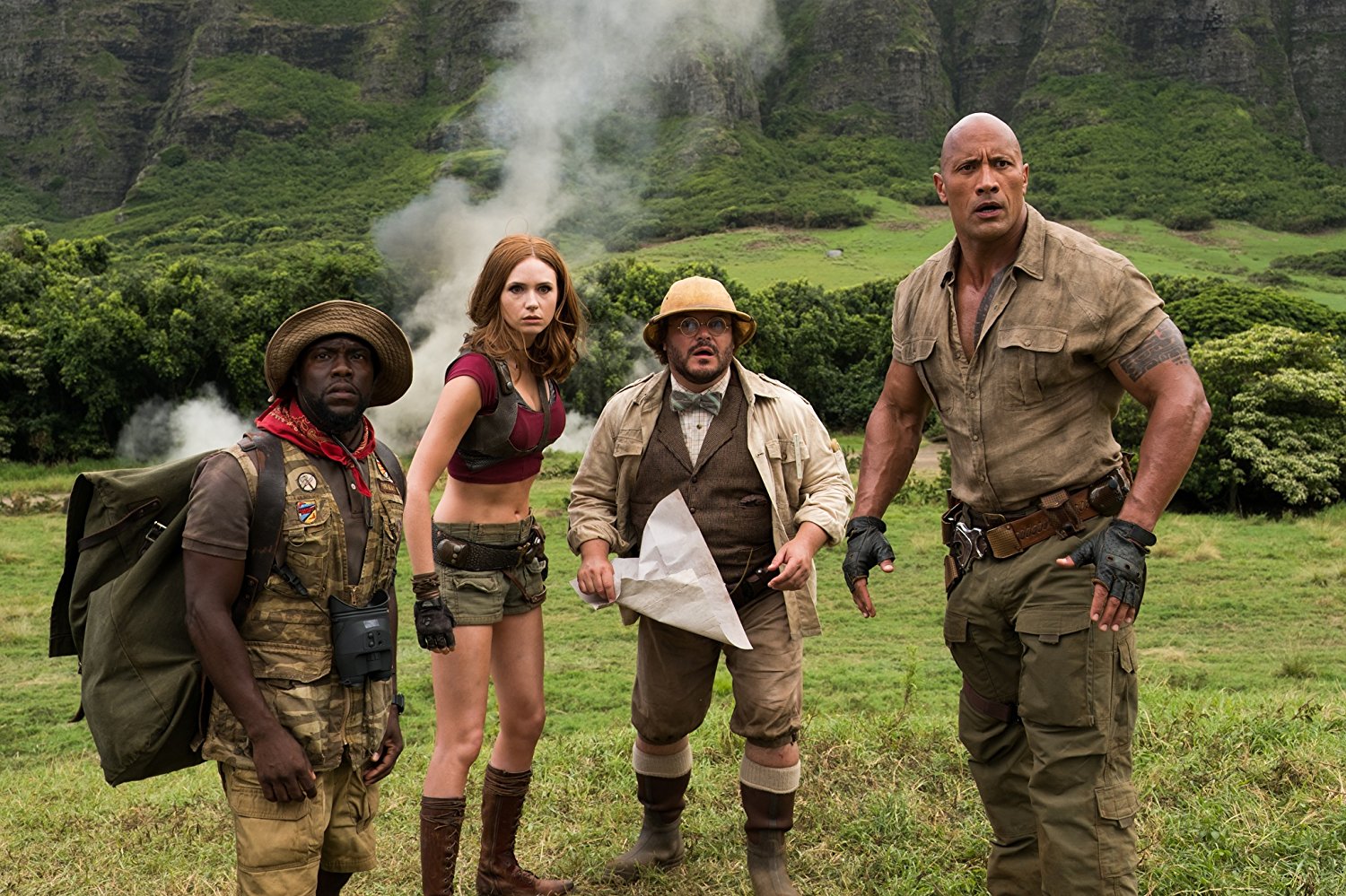 Amadeus Jones '21 / Emertainment Monthly Staff Writer
In 1995, a movie named Jumanji graced the planet earth with its presence. It had suspenseful action, compelling characters, and starred the late Robin Williams. Thus, as the years went by, it slowly became viewed as a classic action-adventure film for kids and adults alike. Then, in August of 2015, Sony Pictures announced that they were going to produce a remake of the 1995 film which would come to be called Jumanji: Welcome to the Jungle. With director Jake Kasdan at the helm, known for his previous work on Walk Hard: The Dewey Cox Story, New Girl, and Fresh Off The Boat, the film soon amassed a star studded cast including Dwayne "The Rock" Johnson, Kevin Hart, Jack Black, Karen Gillan, and Nick Jonas (just to name a few). With such an incredible line-up of people trying to deliver a more modern sequel to a film starring one of the most legendary comedians of all time, one would expect the film to be filled to the brim with amazing moments of both action and humor.
And boy…did they deliver.

Take a look at the film still above. Yes, that is indeed Dwayne "The Rock" Johnson holding an active flamethrower while riding a motorcycle through the deadly jungles of Jumanji as a character named Dr. Smolder Bravestone. With just this one shot, a person can readily grasp the level of intense, testosterone-building action and ideas that take place within this film. A brief list of these awesome yet rather odd ideas include rocket launches mounted atop motorcycles, helicopters being chased through a canyon by stampeding albino rhinos, uppercutting someone so hard that they fly thirty feet into the air, and exploding cake. If that weren't enough, when these ideas aren't on the screen, they are replaced by the charismatic banter held between the protagonists. With these two elements combined, the movie becomes an exciting romp through dangerous terrain, similar to the feeling held within many video games the film emulates.
However, that's not to say that the movie was all action and comedy. In fact, some of the character development was actually pretty good considering the film's genre. When the film starts off, the audience is introduced to a group of four kids named Spencer (Alex Wolff), Fridge (Ser'Darius Blain), Bethany (Madison Iseman), and Martha (Morgan Turner). As the film progresses, these kids find the game "Jumanji," which has since transformed from its board game counterpart into a video game of some sort. When they turn it on, they are each whisked into the bodies of the avatars they choose. Even though these kids are soon overshadowed by such larger than life performances from Johnson, Black, and Hart, they each seem to be fairly well developed and don't really submit to the common error of being generic teenage kid stereotypes. Yes, they each have their own quirks, but those are just a part of their individual personalities, which grow throughout the course of the game; their quirks are not their entire personality.

Does this mean the movie is a masterpiece? Absolutely not. While the physical setting of Jumanji is beautiful to look at (the majority of on-location film shooting was done in Honolulu, Hawaii), the rules of said setting sometimes don't make much sense. For example, why is the audience able to see what the villain is doing apart from the heroes when video games really only let the gamer experience a story from the viewpoint of a single character? Sure one could make the argument that the world of Jumanji has a mind of its own, as Nick Jonas describes the location as being "almost a character in the film" during a recent interview with Emertainment Monthly, but the film itself never explains this. This ends up leaving a lot of the game's rules kind of up in the air and never readily defined. Furthermore, some of the banter, while for the most part entertaining, can sometimes drag on and involve too much of the male… lower region.
However, even though the film isn't perfect, it doesn't seem like it's trying to be. Jumanji isn't trying to set any new high scores, it's just trying to be a fun ride filled with lovable characters, great action, and small homages to its 1995 predecessor. If your looking for intense social commentary, you're not going to find it here. On the other hand, if you like the idea of exploding cake being in your film, then Jumanji might just be up your alley.
Overall Grade: B
Watch the Trailer:
[embedyt] https://www.youtube.com/watch?v=2QKg5SZ_35I[/embedyt]