Review: 'The Greatest Showman' Is an Entertaining and Thoroughly Original Musical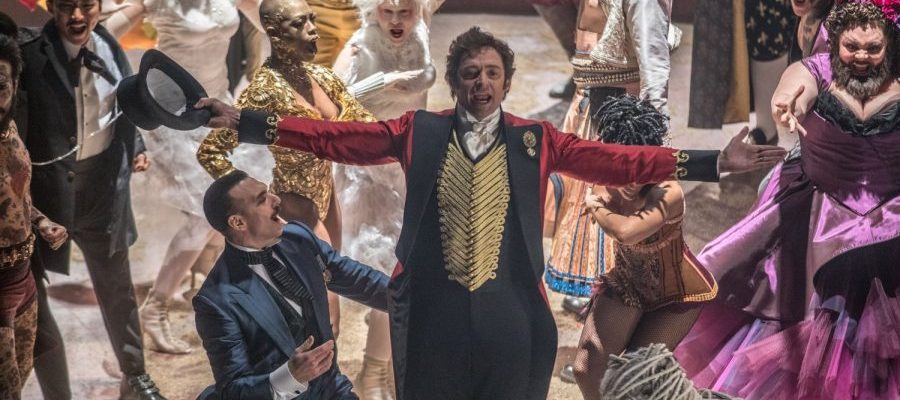 Toni Gangi '21 / Emertainment Monthly Staff Writer
High School Musical meets a Renoir painting? Two separate love songs featuring moonlit dancing on rooftops and romantic trapeze acts? Energetic singing about self-empowerment? The Greatest Showman, Twentieth Century Fox's newest original musical, brings it all to the table.
Director Michael Gracey's directorial debut shines with a screenplay by Jenny Bicks and Bill Condon with original songs by duo Benj Pasek and Justin Paul. Gracey brings together newbies and veteran musical makers alike to create a pleasantly entertaining and visually stunning film that is perfect for the holiday season.

Partially inspired by his desire to do right by his family, partially by his own ambition, P. T. Barnum (Hugh Jackman) goes from rags to rags before finally finding his riches in the most peculiar way. He decides to start a live show, a circus of unusual people.
An orphan with a heart of gold, Barnum met the love of his life, Charity (Michelle Williams), the daughter of members of New York City's high society, when they were children. Having grown up and married his love, he aims to show her parents that he can do just as well as them, despite where he started. In his pursuit of curious people, Barnum gathers together a true stunner of an ensemble cast, including a bearded lady (Keala Settle), brother and sister acrobat duo (Zendaya and Yahya Abdul-Mateen II) and star performer (Sam Humphrey).
After success finds him and his circus, Barnum begins to be drawn into the temptations of life as a rich and famous man. He must remember himself and the family he created—or risk losing everything.
All the while, Barnum's band of misfits must learn to find and proudly take their places in the world. This may prove to be most difficult for Barnum's new show business friend, Philip Carlyle (Zac Efron), who, unlike the others, stems from high society.

Heralded as Jackman's dream project since 2009, the film was worth the wait. It melds together musical makers and current stars, new music and old clichés, giving the classic rags to riches, friendship and family-centered story a new twist. When rewatching Disney movies grows tiring and La La Land is a little too bittersweet—or not dance-y enough—The Greatest Showman will be there to pick up the slack.
The songs take on a Hamilton taste, being more modern than most musicals. There's no Sondheim or Menken here. Simple and catchy, the original songs have the same ability to immediately get stuck in audience member's heads, just as the duo's La La Land originals did. The dance numbers themselves are full of energy and much more substantial than recent attempts at such scenes. They are toe-tapping, fun to watch and will certainly appease the dancer in everyone.
Perhaps the most interestingly good part of the film is the relationship between the musical numbers and editing. Throughout the film, rather than following a character in real time as they sing, the filmmakers chose to montage through different points in time, conveying incredible amounts of information through only the visuals.

At worst, the songs seem a little sudden at times, adding to the age-old joke of characters in musicals breaking out into song in the real world for no reason. Perhaps this is due to the juxtaposition between modern-style songs and an almost magical-feeling period setting. They are thoroughly entertaining nonetheless, serving to get across the character's general thoughts and emotions in the lyrics while valuable plot information is presented in the images themselves.
Almost inevitably with such a large and interesting cast of characters, each with their own individual problems to face, one wishes their stories were more fleshed out. The film's attempts at focusing on characters other than Barnum seem tacked on or simply incomplete. Perhaps it is just the mark of good characterization and an example of the perils of a large cast in a short film, almost making it more disappointing. Still, it does not detract too much from the overall story.
The Greatest Showman is exactly what it proclaims to be. It is a wonderfully modern musical and mini-escape from reality. Though safe and familiar story-wise, it is beautiful, heartfelt and was clearly made with care. It will not disappoint this holiday season.
Overall Grade: A-
Watch The Trailer:
[embedyt] https://www.youtube.com/watch?v=AXCTMGYUg9A[/embedyt]