Review: 'Call Me by Your Name' Is a Rare Piece of Art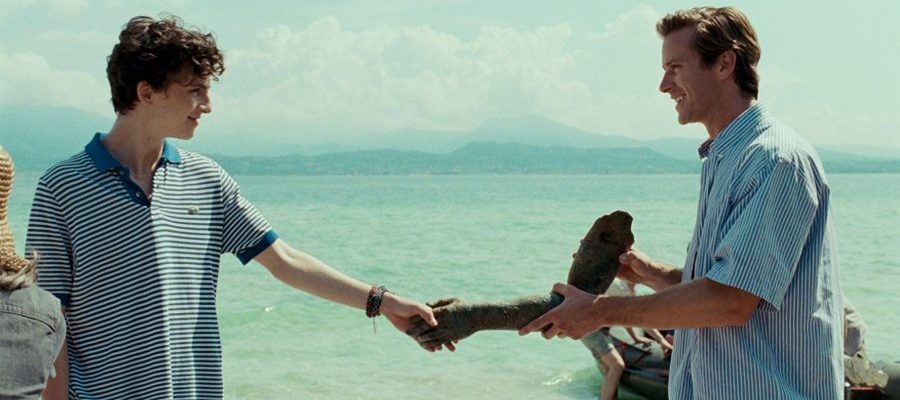 By Cameron Lee '20 / Emertainment Monthly Staff Writer
It's rare to find a film whose beauty matches its intelligence and its craftsmanship. Call Me by Your Name is one of only a handful of films this decade that achieves a perfect blend of heart, sensual beauty, and an outstanding use of structure and characters to create a beautiful tale of romance and longing that is mesmerizing from start to finish.
The basic story is simple; Elio (Timothée Chalamet) is a teenager living in his family's Italian estate in the summer of 1983. His father (Michael Stuhlbarg) is an archeology professor who invites one of his students Oliver (Armie Hammer) to spend the summer with his family and to help him with his work. At first, Elio and Oliver show no interest in each other but as the Summer goes by they start to bond and eventually start to have feelings for one another.

This film wouldn't work if the two leads didn't have amazing chemistry but thankfully Chalamet and Hammer are electric when they are together. A simple scene which involves Elio gleefully changing the tune to a classical piano piece in order to mess with Oliver is somehow riveting and sensual at the same time. Their romance is realistic but it's also subtly realized and slowly drawn out in a way that makes sense and is never frustrating. On the contrary, the built up for the inevitable relationship is part of the film's many strengths. The sexual encounters are pure and never excessive or overly graphic by any means. They simply are a culmination of parts of the narrative and, because of that, it feels natural. You understand that good things can't last forever but you don't want this romance to end. And when it does have to end at the end of the Summer it's heartbreaking and brutally realistic.
Chalamet has already given us one great performance this year in Greta Gerwig's amazing Lady Bird but his performance as Elio is simply phenomenal. Not only does he speak two different languages, English and Italian, but he also showcases a wide range of emotions and heartbreak that is way beyond his years. Hammer gives his best performance to date as Oliver; as does Michael Stuhlbarg who delivers a tear-jerker of a monologue very late into the film that will leave anyone with a soul feeling the desire to give it a standing ovation.

Italian director Luca Guadagnino fully understands how to capture the beauty of the Italian countryside. His camera paints a portrait of Italy that will leave anyone feeling nostalgic and full of unfulfilled desires—eat your heart out Before Trilogy. His period music choices, which consist of classical pieces and songs that came out in 1983, feel tailor-made for this film. It's as if this music's density was to appear in this very film. The other songs were created by famed singer-songwriter Sufjan Stevens. These three songs are so great and are perfectly used in the film that it would be a crime if not one of these songs doesn't win for Best Original Song at the Oscars—even if that category is, arguably, completely useless.
This story and the film itself should serve as a template of how to make a compelling romance that doesn't rely on cliches or gender conformity. This is a pure expression of love and life that few films have been able to even comprehend. And that's something to cherish for hopefully a very long time.
Overall Grade: A
Watch The Trailer:
[embedyt] https://www.youtube.com/watch?v=Z9AYPxH5NTM[/embedyt]