Five Books to Inspire Activism in 2018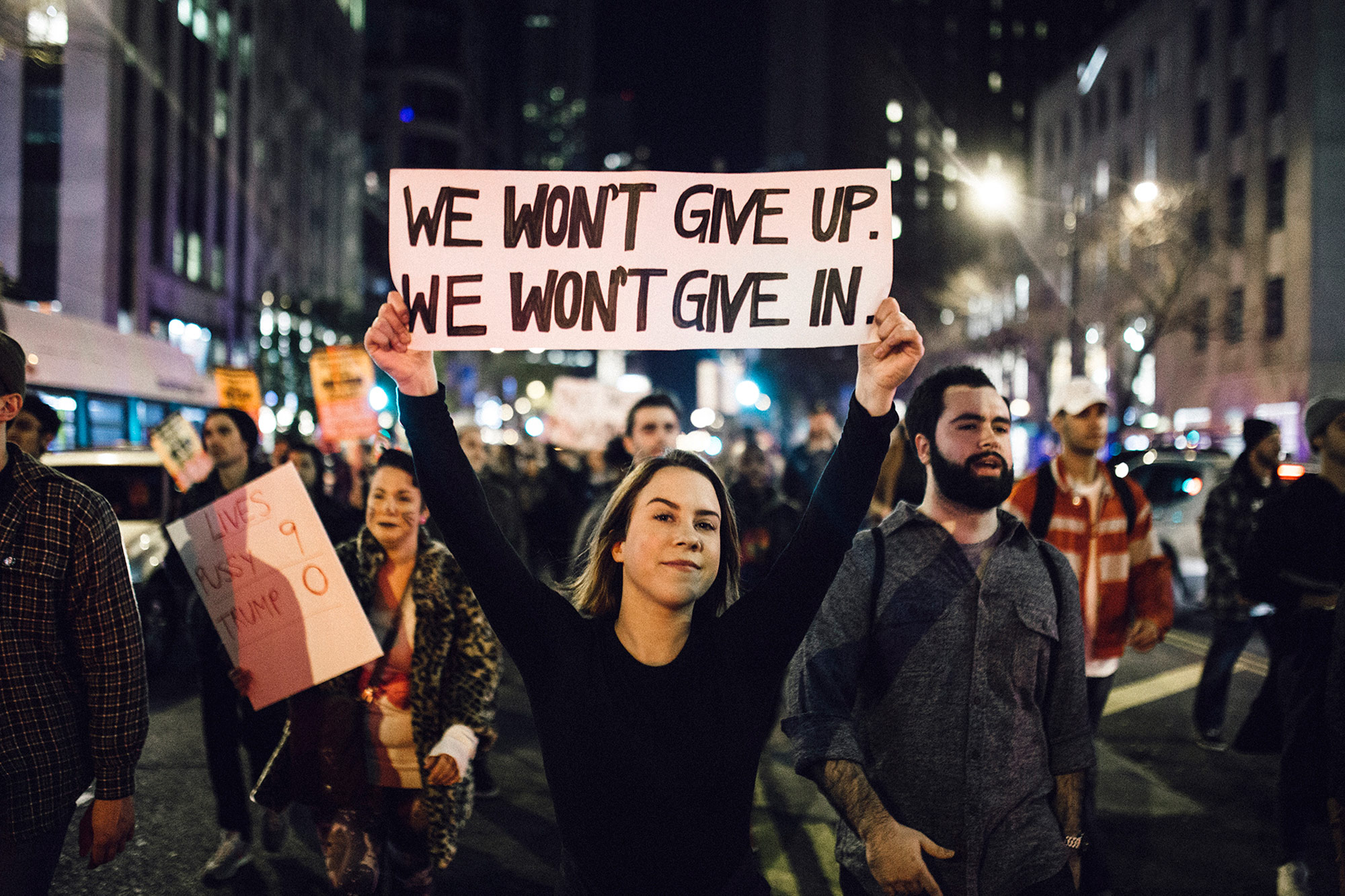 Jocelyn Pontes '18 / Emertainment Monthly Staff Writer
In many ways, 2017 was a truly exhausting year. Since the presidential inauguration last January, an array of social movements across America has suffered repeated assaults from the Trump administration, which has sought to restrict or entirely demolish many of the rights that social movements have achieved in America. The administration has attempted to unravel the progress of people of color, women, LGBTQ+ folks, immigrants, Muslims, and many others. Each day's news blitz was often demoralizing and draining as we watched our country being incrementally dragged further backwards in time. While 2017 was a year of surviving the siege, 2018 is the year to fight back. The five books below, written by activists of various movements and social issues, serve as starting points for learning about and joining the battle. In 2018, everyone's New Year's Resolution should be activism.
The New Jim Crow: Mass Incarceration in the Age of Colorblindness, by Michelle Alexander
The New Jim Crow, by Michelle Alexander, explores the often ignored truth that Jim Crow has not really ended, but has merely been transformed into the mass incarceration of people of color today. The groundbreaking book, which has helped the Black Lives Matter movement grow, disputes the idealized hope that Barack Obama's presidency signaled an end to racism in America once and for all.
On the contrary, the ever-growing mass incarceration of people of color has resulted from the racial profiling by the War on Drugs—a war that the Department of Justice continues to pursue today under the control of Attorney General Jeff Sessions and the Trump administration. The justice system's oppression of people of color into second-class citizenship still permeates American society, and The New Jim Crow serves as an energetic call to action on the issue of mass incarceration and racism in America. Author Michelle Alexander is a renowned civil rights lawyer and legal scholar, and she has dedicated her life to civil rights advocacy, serving as the director of the Racial Justice Project for the ACLU of Northern California. Her book The New Jim Crow is a must-read inspirational work on how we can end this form of systemic racism in America.
Dear Ijeawele, or a Feminist Manifesto in Fifteen Suggestions, by Chimamanda Ngozi Adichie
In her book Dear Ijeawele, bestselling author and feminist advocate Chimamanda Ngozi Adichie responds to a letter from a childhood friend, who asked how she can raise her daughter as a feminist. With sincerity and humor, Adichie outlines various ways to dismantle gender roles, become independent as a woman, and transform old perceptions of feminism into a new awareness which addresses intersectionality. Dear Ijeawele, as well as Adichie's We Should All Be Feminists, starts a crucial conversation about the feminist movement in the 21st century.
This is especially relevant now; the Trump administration has attacked the feminist movement on many different fronts, including abortion, sexual assault, and equal pay. Meanwhile, Trump himself is a self-admitted and unabashed sexual predator and yet he has ascended to, and still remains in, the office of the presidency with no consequences. This era in history is an especially crucial moment for the feminist movement to combat this administration and to gain more momentum in American society. Dear Ijeawele gives readers the tools they need to change their perceptions of feminism, make everyday changes in their own lives, and help educate both adults and younger generations to achieve equality for all.
The Right Side of History: 100 Years of LGBTQ Activism, by Adrian Brooks
The Right Side of History, by activist Adrian Brooks, chronicles the development of LGBTQ+ activism in the last one hundred years. Though this movement has gained mainstream attention only in the last decade or so, the movement itself has existed for much longer. Brooks' book portrays key activists who have been instrumental in working toward acceptance and rights for LGBTQ+ people. From the founding of the Society for Human Rights, to Stonewall, to the AIDS crisis, to marriage equality, The Right Side of History delves into both well-known and lesser-known events and activists in the movement's history, portraying how far the country has come and revealing the work that still lies ahead.
The 2015 Supreme Court ruling that determined same-sex marriage as a right was a landmark act of legislation, yet it now faces uncertainty during the Trump administration. In July of 2017 Trump suddenly declared by tweet that transgender people can no longer serve in the US military (though luckily a federal court has blocked this ban). Trump's appointment of Betsy Devos as Secretary of Education has also imperiled the progress made by LGBTQ+ activists in the American education system; Devos has insisted that the education department should have no responsibility for protecting LGBTQ+ students' rights and safety at school; Devos also supports discrimination against LGBTQ+ students, regarding private school admission, the bathroom bill, and other issues.
Though Trump has claimed to support LGBTQ+ people, his actions have, time and time again, proven the exact opposite. The movement for LGBTQ+ rights faces many challenges during the era of Trump, but as The Right Side of History proves, activists have been fighting for these rights long before Trump gained power, and the movement will only continue to gain momentum from here onward.
The DREAMers: How the Undocumented Youth Movement Transformed the Immigrant Rights Debate, by Walter J. Nicholls
Walter J. Nicholls' book The DREAMers discusses this immigration movement's origins in the early 2000s and its growth over the past two decades into a prominent social issue that is now debated nationwide. Nicholls utilizes interviews, news articles highlighting the movement's development, and words from activists in the movement to create a wide-sweeping presentation of the movement with multiple perspectives. He describes the activists' strategies for protecting undocumented immigrants who were brought here as children, and their methods of counteracting the anti-immigrant sentiments in America.
The Trump administration has brought this movement to the center of current political debate. In September of 2017 Trump rescinded DACA, the program that protected DREAMers, thus plunging roughly 800,000 people into a state of limbo regarding their legal status. Trump's racism, and his overt opposition against immigrants from Mexico and other predominantly brown nations, has turned the DREAMers into pawns as part of a deal to build Trump's wall along the Mexican border. The fight to protect the children of immigrants in America has grown more urgent now than ever before, and Nicholls' book is a great resource to start learning about the movement and to become involved.
The People Are Going to Rise like the Waters Upon Your Shore, by Jared Yates Sexton
Beginning first as a Twitter thread by journalist Jared Yates Sexton, who was reporting on a 2016 Trump campaign rally in Greensboro, North Carolina, his resulting book The People Are Going to Rise like the Waters Upon Your Shore captures the unsettling zeitgeist of the most controversial election in recent history. Detailing various events of the 2016 campaign, Sexton employs thoughtful analysis to dissect the reasons why Trump unexpectedly won the electoral college. Sexton points toward ever-growing political polarization, the influence of social media, the growing inclination towards populism here and around the world, the far right's prejudice-motivated resurgence following Barack Obama's presidency, and many other factors. Sexton's book is a crucial read in 2018; by unraveling the reasons for Trump's seemingly impossible ascent to the presidency, Sexton has unearthed some of America's overarching political and social trends that will continue to develop in the coming years. Revealing an ominous side of America that many had been unaware of before the election, the book helps readers understand how America arrived at this moment, and where it may be going from here.
This year it is especially important to enact positive change during an era of darkness and uncertainty. Even small, everyday actions make an enormous difference in the fight to fulfill America's promise of freedom and equality. Writing a letter to your representative, subscribing to and supporting a legitimate news source like the Washington Post or New York Times, donating to a charity, or even a simple act of kindness can counteract the Trump administration's destructive actions and can snowball into a powerful movement. Look to these and other books about social activism for inspiration, and make 2018 the year that we fight back.