The Influence and Impact of Black Superheroes in the Mainstream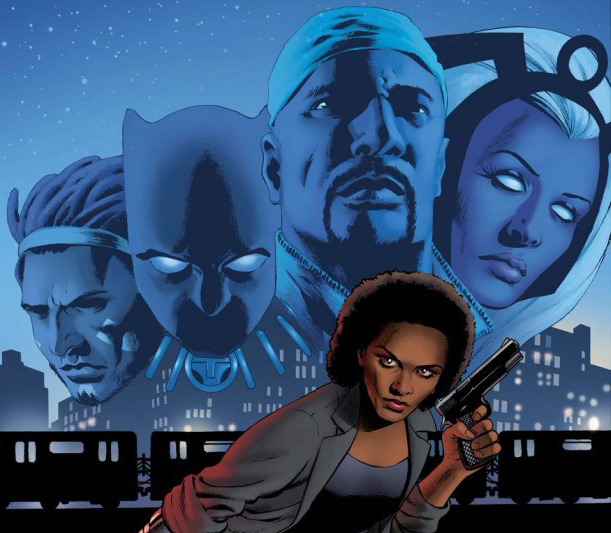 Jonah Puskar '20 / Emertainment Monthly Comic Books Editor
As we look back at Black History Month and recognize the importance it serves our world now more than ever, we at Emertainment want to shine a light on the relevance of popular black comic book superheroes and the impact they've had on culture in and out of comics.
---
Black Panther
Created by: Jack Kirby and Stan Lee
Publisher: Marvel Comics
First Appearance: Fantastic Four #52 (July 1966)

A character with a lot of focus right now in the media for the upcoming movie starring this hero, Black Panther is the first African superhero in American comics. In Marvel lore, The Black Panther is the mantle given to the king of the futuristic and advanced African nation of Wakanda. The bearer of the Black Panther title, who in main continuity is King T'Challa, has a connection with the mystical Panther God. This gives Black Panther abilities including heightened senses, superhuman reflexes, enhanced speed, strength, healing, and endurance. In addition to these granted abilities, T'Challa is a trained acrobat, gymnast, and martial artist. T'Challa is also one of the smartest people in the Marvel Universe, with a PhD in physics. With his vibranium infused weapons and suit, T'Challa has been a solo hero in addition to being a member of the Avengers, Fantastic Fours, Defenders, and Ultimates.

As a character, Black Panther has always been a figure steeped in politics. Upon his first introduction, Lee and Kirby were attempting commentary on Americans' views of black people. Yet, this was only a small step forward. They showed T'Challa as a strong and capable leader and Wakanda as an advanced nation, but steeped the story in stereotypes. Additionally, creating black character from Africa as opposed to one from America allowed for them to distance T'Challa from the ongoing politics of civil rights at the time. This continued further, when Marvel temporarily changed the character's name to Black Leopard to lessen a connection to the Black Panther party. Black Panther was beginning to be rounded out as a cultural and political icon around the 70s, especially in the story The Panther vs. The Klan, which should self-explanatory. Since then, Black Panther has grown as a major player in the Marvel Universe, and one who frequently tackles the issues of racial violence and discrimination. This is especially evident in the recent run of Black Panther by acclaimed author Ta-Nehisi Coates. His run is steeped in myth-making, philosophy, and politics. The three offshoot series from this run, Black Panther & The Crew, World of Wakanda, and Rise of the Black Panther are all well-received and are recommended. And with the current success of the just released film starring the hero, people are able to see the necessity and importance of a character as noble, hopeful, and inspiring as Black Panther, especially for a new generation looking for a hero to see themselves in.
---
Luke Cage
Created by: Archie Goodwin and John Romita Sr.
Publisher: Marvel Comics
First Appearance: Luke Cage, Hero for Hire #1 (June 1972)

Another popular Marvel character in the media landscape right now, Luke Cage might best be known for his Netflix series of the same name. Cage, who sometimes uses the alias of Power Man, has powers of superhuman strength, an accelerated healing factor, and unbreakable skin. These powers were given to Luke Cage when he was experimented on in prison, where he was serving out a sentence for a crime he didn't commit. In the comics Luke is best known as a member of Heroes for Hire, a partnership with his best friend Danny Rand, aka Iron Fist. Luke has also been a member of the Avengers, Defenders, and Thunderbolts.
The character and idea of Luke Cage through the years can be seen as always having been political in some form or another. The inception of Luke might be viewed as a less positive result of the era however, as he came about during a time of "blaxploitation" in which black men were seemingly idolized but only in the light of violence and aggression. However Cage was a groundbreaker for the time, not only was he the first black superhero to have his own solo title, but one of the first to not have "Black" in his name (Black Panther, Black Lightning, etc.) Cage can also be seen as breaking different steroetypes and bringing black issues to light. Cage was in prison, but he was not guilty, rather he was framed by a vengeful former friend. Portraying the main black character as a prisoner who was in fact innocent was huge for the time. Additionally, Cage was shown to be a subject of racism in the penitentiary by guards, showing the brutalization in the prison system and how race played a role. Luke is used as a subject for experiments done in the prison, and since his comics were released at the same time that the news broke about the Tuskegee syphilis experiments on black men in Alabama, which caused public outrage and swayed public opinion against non-consenting or coercive human experimentation, it can be inferred that Luke Cage's story influenced some of the aforementioned public opinion.

In recent years, Cage has had just as much of an impact on issues of racial tension within the realm of comics. Cage married Jessica Jones, creating one of the most well-known interracial marriages in comic books. And when the Netflix show about Cage came out, many saw it as commentary on the issues of racially charged police shootings that have dominated the media these past few years. For many, having a black hero whose main power was his invulnerability to bullets was cathartic, representative of the irrepressible spirit of a community. Cage has for years, and now more than ever, been a hero fighting against a societal mold.
---
Black Lightning
Created by: Tony Isabella and Trevor Von Eeden
Publisher: DC Comics
First Appearance: Black Lightning #1 (April 1977)

With his own television show currently, Black Lightning seems to be gaining popularity and recognition by the minute. The character of Jefferson Peirce is an important one, being the first black DC character with his own book. Pierce breaks preconceived notions of what a black character has to be at the time, being both an Olympian and a teacher. The character moved back to his home of "Suicide Slum" in Metropolis to be a school principal, but was drawn into being a hero after witnessing the crime tearing apart his neighborhood. In doing so, Pierce donned the name Black Lightning and utilized his meta powers. Black Lightning is able to shoot extremely powerful lightning bolts, usually using them to scare or stun his enemies. He can also create quick charges of electricity in his fists, and can turn himself into electricity to become almost invulnerable. Pierce has used these powers not just to protect his neighborhood, but to serve as a valued member of both the Justice League and the Outsiders, each through various incarnations.

For DC, Black Lightning seems to be their most popular black character in the mainstream. While Cyborg did appear in the recent box office flop Justice League, he was hardly featured. Meanwhile, the CW show Black Lightning has to date received generally positive audience and critical reviews. The show address the racial issues going on in America right now, not shying away from issues of discrimination and prejudice against people in the black community. Tackling such issues isn't a far leap for DC Comics' first headlining black superhero. Black Lightning was created at DC specifically to have a headlining black character, something Marvel had beaten them to with Luke Cage. Black Lightning was created by Luke Cage, Hero for Hire writer Tony Isabella after DC scraped another possible character called Black Bomber, which was a racist white man who turned into a black superhero under stress, after DC realized that character would be met with criticism. And when Black Lightning debuted, he seemed to be breaking stereotypes. However, he played into quite a few as well, with the persona of Black Lightning wearing an afro wig and using exaggerated "Harlem jive" vernacular to protect his identity of educated, professional Jefferson Pierce. Black Lightning ran for 11 issues, eventually being cancelled due the the DC Implosion of '78, when DC suddenly cancelled more than two dozen ongoing and planned series. Black Lightning continued to pop-up over the years, being offered a spot on the Justice League, and after turning that down, a spot on Batman's black ops team The Outsiders. Over the years, Black Lightning has dropped the afro wig and accompanying persona and blurred the lines more between man and hero. Especially since being joined in the field by his daughters, who have adopted the names Thunder and Lightning. A black superhero who breaks the stereotypes and is an accomplished, educated family man is what those that read comics wanted and needed to see. And putting this character on the small screen is a great way to introduce new fans to a fantastic character to look up to.