Review: Fresh and Funny, 'Love, Simon' Is the Movie We Need Right Now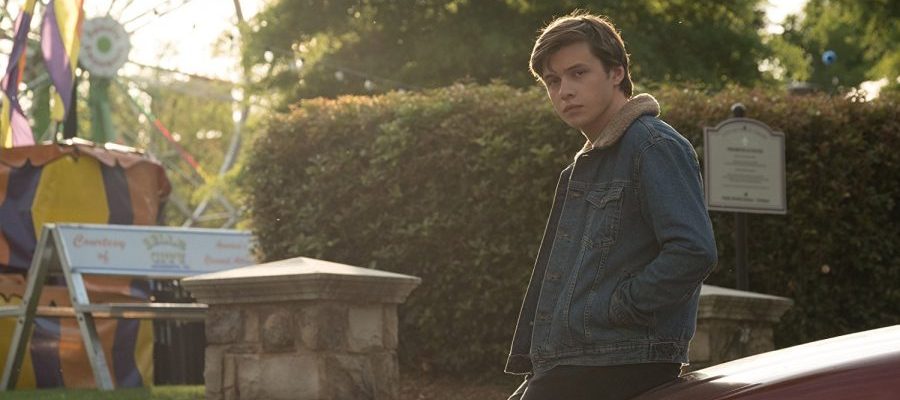 Rachel LaBonte '18 / Emertainment Monthly Staff Writer
High school movies have been a staple of Hollywood ever since John Hughes directed Sixteen Candles. They can be counted on to feature an attractive young cast of twenty-somethings pretending to be sixteen, a rocking soundtrack, and plenty of teen angst. Romances are frequent plot points, and they often feature a boy and girl from different social circles. However, the latest entry in the genre, Love, Simon, decides to switch up that last part to great success.
The first major studio-fronted film to feature a gay main character, Simon tells the story of Simon Spier (Nick Robinson), a teen with, as he says, a perfectly normal life. He has well-meaning, but embarrassing parents, a younger sister he gets along with, and a great group of friends. The only thing that's amiss is the fact that he's hiding a big secret from them: he's gay.

The only person who knows this is Blue, an anonymous classmate with whom Simon strikes up an email correspondence with, using the pseudonym Jacques. Blue is also gay, and the two boys confide in each other about their struggles with their sexualities and their fears about coming out. It's interesting to see how director Greg Berlanti stages their emails. He's smart to put in some fantasy sequences to keep things moving.
The plot thickens when a classmate of Simon's, Martin (Logan Miller), finds his emails. Martin is far from a cruel person, but he still chooses to use this piece of information to his advantage, and he blackmails Simon into helping him get closer to Simon's friend, Abby (Alexandra Shipp). Needless to say, it does not go well.

Simon is based on the 2015 novel Simon vs. the Homo Sapiens Agenda by Becky Albertalli. While there are notable changes in the plot and characters, the heart and feel of the novel remain the same, which will come as a relief to fans who have read it. It's still funny, sweet, and utterly heartwarming. Plus, it's got a great soundtrack.
Lovable and relatable, Robinson is a perfect Simon. He knows how to make each facial expression count, and you can't help but feel for him when his dad makes a tasteless joke about gay people, or when he walks in on his crush kissing a girl. By the time the big romantic moment, in the end, has come around, you're rooting for Simon to find his happiness.

The supporting cast is filled with excellent, familiar faces as well. Katherine Langford from 13 Reasons Why plays Leah, Simon's best friend, and Keiynan Lonsdale from The Flash is the adorable Bram, another one of Simon's friends. They both do well with the smaller parts they have, as do Shipp and Miller. Standouts among the adult cast include Tony Hale as the vice principal and Natasha Rothwell as the drama teacher. Both earned lots of laughs during the preview screenings.
Press for this film has emphasized the importance of a story like this being told for a mainstream audience, and it can't be overstated. Some critics may complain that the positive tone is misplaced for a movie about a gay character, but that's Simon's strength. It's exactly what the world needs right now. It does have some moments and lines that are corny, but what teen movie doesn't?
The film's central messages are that everyone deserves a great love story, and that straight shouldn't be the default. In today's evolving world, they ring especially true, and all the people involved with the movie clearly took it to heart. With a great cast and excellent direction, Love, Simon is a big win. It might have taken years for a movie like this to be made, but that makes it no less special. Now that the barrier has been broken, hopefully, more diverse stories will be told, and it won't be such a big deal that a mainstream movie features a gay character. It'll just be a fact of life.
Overall Grade: A
Watch The Trailer:
[embedyt] https://www.youtube.com/watch?v=ykHeGtN4m94[/embedyt]