The Book Behind the Film: "Love, Simon"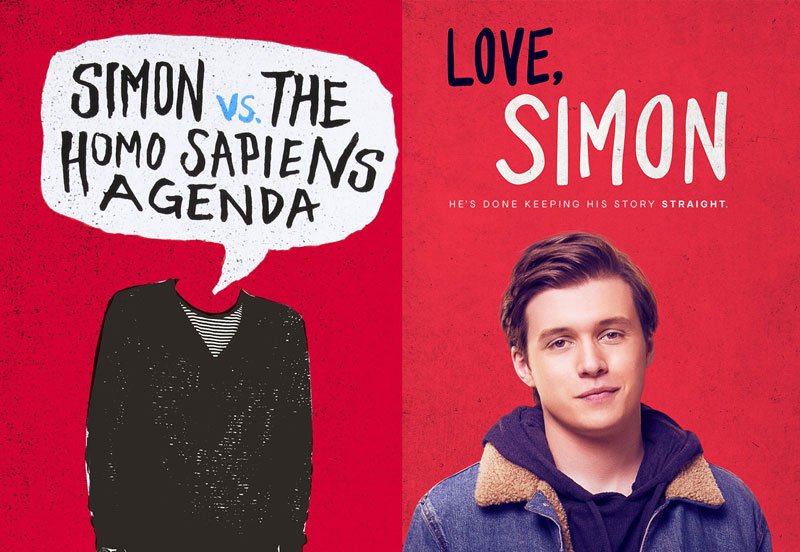 Marissa Secreto '18 / Emertainment Monthly Editor
The Internet has been buzzing about this year's new teen romantic comedy about high schooler and not-so-openly gay Simon Spier (Nick Robinson). Love, Simon hit theaters on March 16th and has received overwhelmingly positive reviews from both critics and moviegoers alike. The film has inspired many to come out, and older fans in the LGBTQ community wish this movie had been out when they were younger.
But before Simon captured our hearts on the big screen, he hit the bookshelves in 2015 in Becky Albertalli's Simon vs. the Homo Sapiens Agenda. While the film does the book justice, Simon's story comes to life on the page in a way that cannot be translated exactly the same way onscreen.
Simon vs. the Homo Sapiens Agenda tells the story of Simon Spier, a seventeen year boy who is struggling with the prospect of coming out. While his family and friends would be supportive, he still hasn't figured out the right way to do it. This begins to change when he sees a blog post by a boy from his school under the pseudonym of Blue, who is also keeping the fact that he is gay a secret. Simon and Blue start to exchange emails with Simon assuming the alias of Jacques to hide his identity as well. Simon obsesses over who this mysterious Blue is, and he finds himself falling in love with the boy behind the screen. However, this relationship is tested when Simon's emails are discovered, and he is blackmailed into eventually coming out.
The film does an excellent job at capturing the mystery of Blue. While Simon in the book cannot seem to figure out who Blue is, Simon in the film follows a steady trail of suitors. Could Blue be Oreo-loving Bram (Keiynan Lonsdale), Waffle House waiter Lyle (Joey Pollari), or theater geek Cal (Miles Heizer)? In the novel, Bram lingers on the outside of Simon's friend group, Cal plays a major part in Simon's theater life, and Lyle is a new character for the film.
Even though the film emulates the heartwarming and endearing aspects of the novel, it still cannot fully grasp the unique narrative voice of Simon. Albertalli's quick wit and hyperbolic sentences perfectly create Simon's well-rounded character and give him a voice unlike any other. While Robinson gives Simon poise, Simon's written stream of thoughts give him a personality that shines right off the page. Subtle nods in the film point towards Simon's quirks, but readers would know just how much he loves Oreos and Elliott Smith and how hard he works to be both kind to his friends and kind to himself.
As is typical with adaptations, the film makes changes to the plot, but it does do a delightful job with the addition of new characters. Mr. Worth, played by Veep's Tony Hale, shines on the screen as the high school vice principal, and a new classmate Ethan (Clark Moore) helps show Simon the highs and lows of coming out. The theater director, Ms. Albright (Natasha Rothwell), also stars as one of the main comedic points in the film. The development of Simon's parents, however, is the highlight of any change made from the book. Jennifer Garner, who stars as Simon's mom, has an impassioned speech that has been likened to Michael Stulhbarg's award-worthy moment in last year's Call Me By Your Name. Josh Duhamel also has audiences cheering with his role of Simon's dad.
Even with these wonderful additions, the full story of Simon cannot be brought to justice without the novel. Moviegoers miss out on remarkable scenes of the novel like Simon's trip to a gay bar and Simon and Blue's first date. The novel also dives more deeply into the emails between Simon and Blue, and readers get more of an understanding about why Blue is afraid to reveal his identity to Simon. The film glosses over this aspect as something Blue just decides to do while Blue in the book has more of a struggle accepting who he is and feeling comfortable with himself to fully be with Simon.
Albertalli's research into the hearts of teenage boys and their trials with coming out can be seen through Simon's endearing story. Love, Simon's critical success can be directed back towards Albertalli whose tale inspired many to be more true to themselves. While the film pays excellent homage to it, Simon would be nothing without the book.
So as Simon would say, read the freaking book!