Friday Night at Boston Underground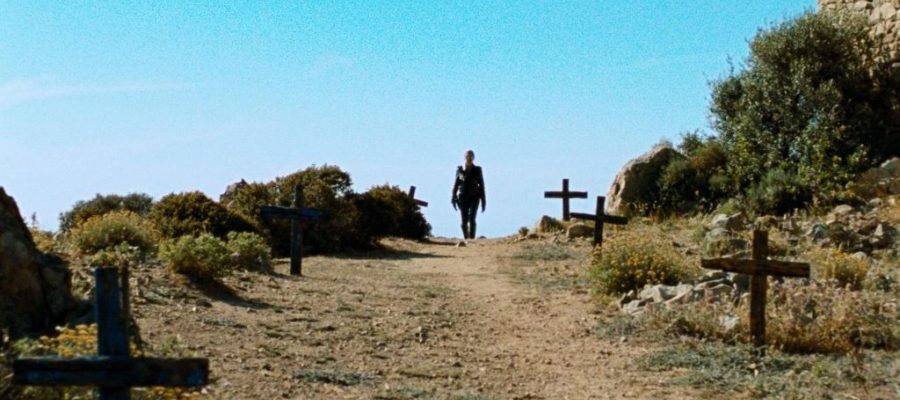 Christian Ziolkowski '20 / Emertainment Monthly Staff Writer
The Boston Underground Film Festival is in its 20th year of delivering weird, twisted cinema to the Brattle Theater, and Friday night's first showing proved that it's still going strong.
The world premiere of The Queen of Hollywood Boulevard, written and directed by Emerson alum Orson Oblovitz, is a promising—if uneven—debut for a filmmaker with a clear voice and excellent sense of humor.
Set in the neon-tinged underbelly of Los Angeles, The Queen of Hollywood Boulevard follows Queen Mary (Rosemary Hochschild), a strip club owner, who is forced to make morally questionable choices on her 60th birthday. What begins as a normal day becomes a journey through murder, drugs, and prostitution, all in search of the American Dream. Oblovitz's portrayal of the shady side of Hollywood is reminiscent of Nicolas Winding Refn, but with a more humorous touch.

The film excels in its world-building, with a strong supporting cast that includes the late Michael Parks making Queen Mary's life seem believable. The decision to confine the events of the film to one day was a smart one. The story never lags, and the film brings the excitement of a grindhouse revenge flick. Complete with a great soundtrack, The Queen of Hollywood Boulevard makes for a very fun 90 minutes at the movies.
This is an underground film festival, so violence and moral relativism are to be expected. As Queen Mary falls deeper into the world of crime, her choices become darker and the consequences more real. All great news for audience members looking to see some blood!
However, the only moments when the film truly falls short are its attempts at social commentary. Oblovitz is a much better director than writer, and it never turns out well when he abandons blood and laughs in favor of something more. The film revolves around loan sharks threatening to take Queen Mary's club away and attempts to use this as a critique of capitalism largely fall flat. But Oblovitz's voice as a director is strong, and there was no doubt in the theater that he will continue to evolve. An excellent debut from an artist with Boston roots, The Queen of Hollywood Boulevard bodes well for Orson Oblovitz's future.
The other Friday night feature, Let the Corpses Tan, hailed from more established artists, but failed to reach the heights of Queen. Directed by film geek favorites Hélène Cattet and Bruno Foranzi, the Mediterranean thriller borrows heavily from the Giallo and Spaghetti Western genres. Employing a rapid editing pace that would make Edgar Wright's head spin, the visually dazzling film is largely a case of style over substance.
Let the Corpses Tan follows a gang who has recently stolen 250 kg of gold bars, and is hiding out in an artist's compound in Italy. Their plans to escape are complicated by the arrival of the police. What follows is a daylong shoot-em-up that makes The Queen of Hollywood Boulevard feel like a Pixar short.

But no plot description could possibly do this movie justice. If you're on the fence about seeing it, note the following dream sequence. A man burns alive, then sees a naked woman standing above him. She attempts to urinate on him, but egg whites come out instead. The eggs fry on the man's burning corpse.
Yeah.
Let the Corpses Tan has a promising premise, and could be a fun movie in the hands of more straightforward directors. But its rat-a-tat pace and obsession with the absurd end up burying the story in a barrage of camera tricks. The filmmakers deserve to be congratulated for taking risks, as does the Boston Underground Film Festival. But it's hard to call this one a winner.
All in all, the Boston Underground Film Festival is more than living up to its motto of "strange and unusual cinema." From exciting debuts to ambitious misfires from established directors, its curators are pushing boundaries. A night at this festival is never dull, and Friday was no exception.
Overall Grades:
The Queen of Hollywood Boulevard: B+
Let the Corpses Tan: C-