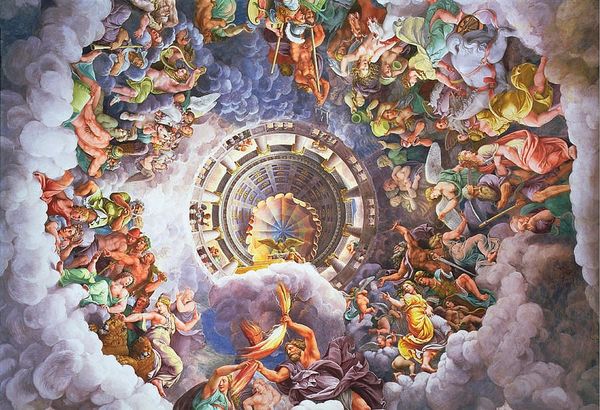 Emelie Mano '20 / Emertainment Monthly Staff Writer
Mythology has given a unique interpretation to both fictional and cultural beliefs. The structure offers an insight to different worlds and gods which has only continued to rise in popularity as their intricate flaws and whimsical, sometimes dark, universe offers a nice escape from the traditional boundaries of modern belief. Here are a few different takes on mythology that make the experience to learn more about them all the more enjoyable.
Percy Jackson And The Olympians by Rick Riordan
Rick Riordan's take on mythology serves as a childhood classic that's popularity continues to stretch through the adult age group. Percy Jackson and the Olympians, his main series, offers a fun and hilarious way to learn about the Greek gods, their flaws, their mishaps, and their intervention in human affairs. Its modern twist gives readers a new take on Greek mythology. Though it is indeed aimed at a younger audience, its wit and humor manages to engage readers of any age group as well as provide an engaging route to learning about Greek myths. Riordan's retellings are displayed in a simple yet humorous way that stays with readers longer than an academic text.
Norse Mythology by Neil Gaiman
Though the mythology genre has often been shadowed by the popularity of Greek mythology, Neil Gaiman puts Norse mythology on the map through his informative, yet clever collection of short stories, Norse Mythology. He retells the tales of Thor, Odin, and everyone's favorite god of mischief, Loki. He weaves stories of millenia-old gods that are accessible to today's readers. Gaiman retells fifteen Norse myths, from the creation of the Aesir to Ragnarok, the twilight of the gods, in a modern and timeless style to capture readers into the origin stories of some of their most beloved pop culture heroes.
The Odyssey by Homer
For those looking for a more literal take on mythology, The Odyssey provides the traditional Hero's journey through the eyes of Odysseus. Though Homer's story is by no means a short one, it nevertheless provides an in depth and detailed experience of the realm of the Greek gods including their relationships with the mortal world, however aggravating they may be. Readers get introduced to minor gods such as Calypso and Circe while also being taught the flaws of both humans and the divine. The Odyssey can be best read not under the pressure of course requirements, but the comfort of a chair on a rainy day.
Zeus Grants Stupid Wishes: A No-Bullshit Guide to World Mythology by Cory O'Brien
This interpretation takes various world mythology, including Greek, Roman, Norse, African, Sumerian, Mayan, Asian, and Native American. However, the perspective is through the lens and language of what sounds like a modern era college student drunkenly raving about mythology. It is both as hilarious and raunchy as it is informative. Though the tone is less intellectual, the ideas and thoughts that are tied together at the end of each story are thought provoking and leave an underlying message that contrasts against the explicit voice of the piece. Cory O'Brien uses an ideology that today's mythologists shy away from as they are far too concerned with dissecting myths; instead they should enjoy them for what they are.
Mythology: Timeless Tales of Gods and Heroes by Edith Hamilton
For those who do enjoy a more intellectual standpoint on mythology, Edith Hamilton provides a range of countless myths while delving deeper into their multiple interpretations. Before giving each mythical story's highlights, she details the different writers who created a version of it and explains the qualities of each one. She includes the tales of Jason and the Golden Fleece, Cupid and Psyche, King Midas, as well as the origins of the names of constellations. Though it is a bit heavy to read in one session, readers may choose to read as many myths as they desire in one sitting or multiple sittings. Hamilton uses a variety of sources to accumulate a large group of popular retellings in the most informative way possible through her collection.
Though mythology has been circulating around our society through countless centuries, the interpretations that follow these myths remain ever-changing. Their truths may vary depending on their presentation through fiction, literature, or academic text, but the enjoyment remains present. There will always be a love and need for mythological texts as they bring in new beliefs, magical worlds, and divine figures into the everyday lives of their mundane readers.