Becky Albertalli Missed a Beat with 'Leah On the Offbeat'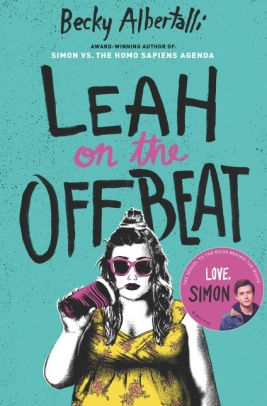 Anthony Rodriguez '21/ Emertainment Monthly Staff Writer
The publishing industry is showing more diversity in the books they are releasing, especially books that deal with topics of sexuality. From Adam Silvera to A.S King, there are many amazing and talented writers who handle these topics. Including Becky Albertalli, who wrote the critically acclaimed novel Simon vs. the Homo Sapiens Agenda, which was recently adapted into the film Love, Simon. The novel and film follow Simon Spier, a closeted teenager, as he navigates his love life with his anonymous pen-pal named Blue and his unexpected journey of coming out.
Readers and audiences alike fell in love with Simon and his love story, so fans of the book were excited to learn that HarperCollins/ Balzer + Bray would publish the sequel. It would follow Simon's best friend Leah Burke in Leah on the Offbeat. Leah was released on April 24th, 2018.
Now with Leah, Simon, and co. entering their senior year, they all have to deal with going off to college and leaving each other. While everyone around Leah is getting into their dream colleges far away from Creekwood, Leah is happy with going to the state college. Leah is also figuring out how to navigate her love life, the confusion of falling for someone, and how to come out as bisexual to her friends.
Albertalli's writing isn't her strongest in this novel. However, she does have a couple of high notes in this story, especially with the relationship between Leah and her mother. One scene in particular stands out where Leah and her mother have in argument about Leah always being rude to her, knowing Leah wouldn't be that rude to her friends. Most readers can relate with this scene because it can be safely assumed we all had that kind of fight with our parents. This is the one time the angst works in this story, because relationships with parents can be rocky at times. This can happen even if they have a loving relationship but can also happen during times of transition, like going off to college. However, some scenes fell flat and felt rushed. There were scenes that readers would've loved to see, in the ending especially, like graduation and going off to college.
The theme of this book was addressing Leah's bisexuality, and this struck a sour note. First, the fact is that we now learn that Leah is bisexual, without really any solid evidence in Simon vs. the Homo Sapiens Agenda.
The author even states this in her dedication which reads: "For the readers who knew something was up, even when I didn't."
Reading that could put the reader in an awkward bind, because although this story is canon, it could've easily been written as a fanfiction. Secondly, another major character, Abby Suso, comes to terms with being bisexual. She still isn't sure, so she considers herself "low-key bi." This could've been a strong opportunity to address the stigma around bisexuality and how one can be bisexual and prefer one sex over the other, which shouldn't discredit their bisexuality. However, our main character Leah argues with Abby and says she should either just identify as bisexual or not all, which is very toxic.
Although this book hit some sour notes, that shouldn't discredit Becky Albertalli as an author. She made strives with Simon vs. the Homo Sapiens Agenda which delivered the message of "never let anyone make you feel like you should come out if you're not ready, or vice versa." This message that Simon gave can resonate with a lot of readers, which is what Leah On the Offbeat really lacked. It lacked a strong, clear message for readers.
Becky Albertalli also has another book out titled The Upside of Unrequited which follows Abby Suso's cousin Molly. She is also co-authoring the forthcoming novel What If It's Us with Adam Silvera.