Review: 'Atlanta' Season Two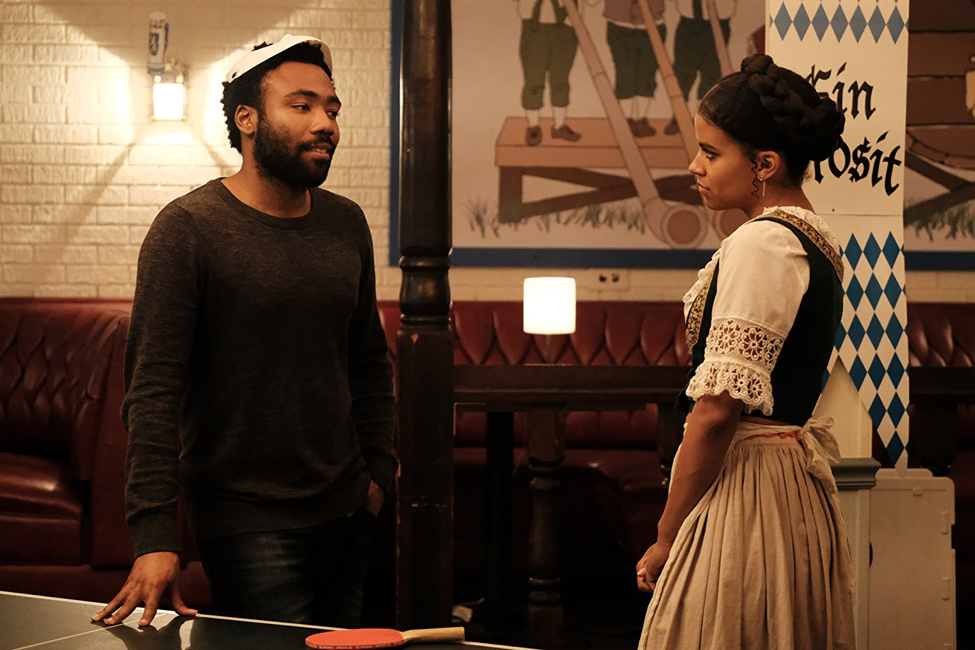 Cameron Lee '20 / Emertainment Monthly Staff Writer
Spoiler Alert: This review contains spoilers from season two of Atlanta.
Donald Glover is having something of a moment: he's the only thing people are talking about due to the new Han Solo movie as the young and sly Lando and his new video for the single "This Is America" (directed by frequent collaborator Hiro Murai) blew up the internet with its allegory on race and violence in America. He even had time to voice Simba in the upcoming live action Lion King. But Atlanta, and especially this season titled "Robbin' Season", is his crowning achievement. That subtitle has more meaning than just referring to the time in Atlanta before Christmas where the amount of robberies dramatically increases; it's really about our four main characters struggling with their own identity, society's view of them, racism, fear, the media, and so much more. This season, like the previous season, refuses to fall under one kind of classification. It's funny, heartbreaking, deep, and–especially this season–quite terrifying.
Earn (Donald Glover) is still trying to figure his life out all while struggling to be his cousin, Paper Boi's, (Brian Tyree Henry) manager. Paper Boi is struggling with his burgeoning rap career while also trying to keep things real. Darius (Lakeith Stanfield) continues to contemplate reality while also getting into some crazy shenanigans. And Van (Zazie Beetz) struggles with her identity and her relationship with Earn. These four characters have a complete arc by the end of the season, especially Earn and Paper Boi. Earn, a Princeton dropout, struggles to fully accept the hold that racism has on his life. He doesn't know what kind of person he is or should be. Paper Boi wants to keep things real, but after a traumatic event he learns he has to accept the media's image of him and lean in on it to succeed. Earn is notably absent from much of the season, only mentioned indirectly or shown for a brief second. This absence is spent wisely developing the other characters and fleshing out their storylines. The show widely shifts tone rather suddenly from episode to episode. One episode may just be a hilarious adventure with Paper Boi trying to get his haircut from the most accident prone and insane barber and then the next to the legendary episode "Teddy Perkins".

Glover is clearly enamored by the blockbuster phenomena Get Out, as this season is laced in the kind of dread that made Get Out so frightening. Darius delivers a piano to an old mansion only to be greeted by a pale white man, Teddy Perkins, played disturbingly by Donald Glover in white face that harkens back to Michael Jackson. Things get more and more creepy and eerie until the bloody finale which leaves the viewer in shock and horror. Airing without commercials, this episode, directed by Hiro Murai and written by Glover, is beautifully shot, expertly paced, and laced with enough social commentary to fill an analysis video. It's the standout episode that Atlanta will be remembered by unless Glover can find something that can top it. Other highlights includes the episode "Helen" where Earn's and Van's relationship gets pushed to the breaking point at a Fasnacht celebration that invokes Get Out while also being incredibly funny, yet sincere. The flashback episode "FUBU", which was directed by Glover, traces back Earn and his cousin's relationship to middle school and shows the very nature of their relationship in the process.
From an alligator infested house, a disappointing party at Drake's mansion, and a terrifying trek through the woods, Atlanta is clearly focused on what every character fears in every episode this season. It's not about the destination, it's about the journey and that saying couldn't be more appropriate for this season. By the end Earn realizes who he needs to be in order to succeed in his life as do all the other characters. Glover has said in interviews that he wanted viewers to understand what it means to be black. This season showcases that idea in many different ways and even genres. It's introspective, terrifying, yet funny. What show in history has accomplished such a feat? Donald Glover can really do anything!
Season Grade: A