Review: 'Upgrade' Is Violently Satisfying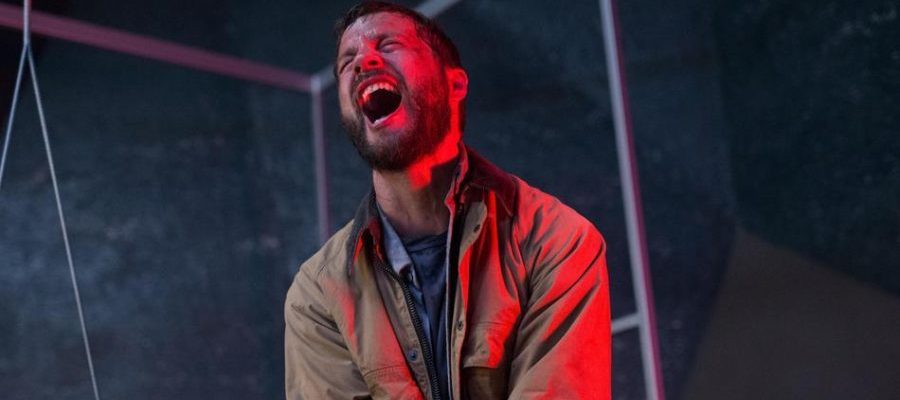 Benjamin Frohman '19 / Emertainment Monthly Staff Writer
Upgrade is a science fiction and horror hybrid, that invigoratingly bends the genres. In a heightened futuristic society, technology seems to be encroaching on every facet of life. Grey Trace (Logan Marshall-Green) is a middle-aged man who has an inclination to reject technology. Grey is happily juxtaposed and married to Asha (Melanie Vallejo), a woman who works for a successful tech company. Grey is able to continue his anti-technology lifestyle as he works on cars for a living.
When Grey decides to bring Asha to the house of one of his customers, things spiral out of control. On the way back, Grey and Asha's car malfunctions and they are attacked. The mercenaries kill Asha and paralyze Grey. Grey has no function from his neck down, while also battling severe depression and PTSD from the event.

Enter STEM, the electronic technology that allows Grey full mobility, high tech skills, and top grade fighting skills. Grey is conflicted on how he feels about STEM as the technology has no moral standing and has a knack for violence. Gary has the ability to let Stem have control of any situation, but has trouble stomaching the violence Stem carries out. Police Detective Cortez, played by Betty Gabriel from the film Get Out, tries to keep up with Grey's antics as he tries to enact revenge on the men that ruined his life.
On paper, this film sounds outlandish, but the special effects and carry through are enthralling. As well as the relevant nature of the topic at hand. The world that is set up, is intricate, with little complexities that mirror the world we live in today. The addition of virtual reality, self driving cars, as well as surgical implants are advanced examples of the technology we have today.
The discussion of technology and these tendencies to accept or reject it are on full display. The film begs the question of how much technology is too much technology. In many cases, technology is hypnotizing and transfixing in its functions and abilities, which is why it draws so many people. Grey struggles with the inability to refuse technology. The film is extremely character driven, but one wonders throughout if Grey or STEM is really in control.

The violence in the film is extreme and graphic. It's not for the faint of heart, and is comparable to extreme video game level violence. However, the emotional impact and heart is powerful and moving, and allows for the audience to be invested in the ferociously gory storyline.
The film was not as expected, and includes a number of twists and turns, that throw the viewer for loop after loop. The writing is fun and biting, and the creativity is felt throughout the film. The acting is dramatic and the plot is full of depth. While the intensity is juxtaposed against the hectic ever present danger. The ending does leave the viewer wanting more, but also entraps them with a sense of warped fulfillment. This film is for anyone who is an adrenaline junkie, as Upgrade gives off an urgent and blunt feeling of crippling satisfaction.
Overall Grade: B
Watch The Trailer:
[embedyt] https://www.youtube.com/watch?v=36PDeN9NRZ0[/embedyt]