SDCC 2018 Panel Recap: Voltron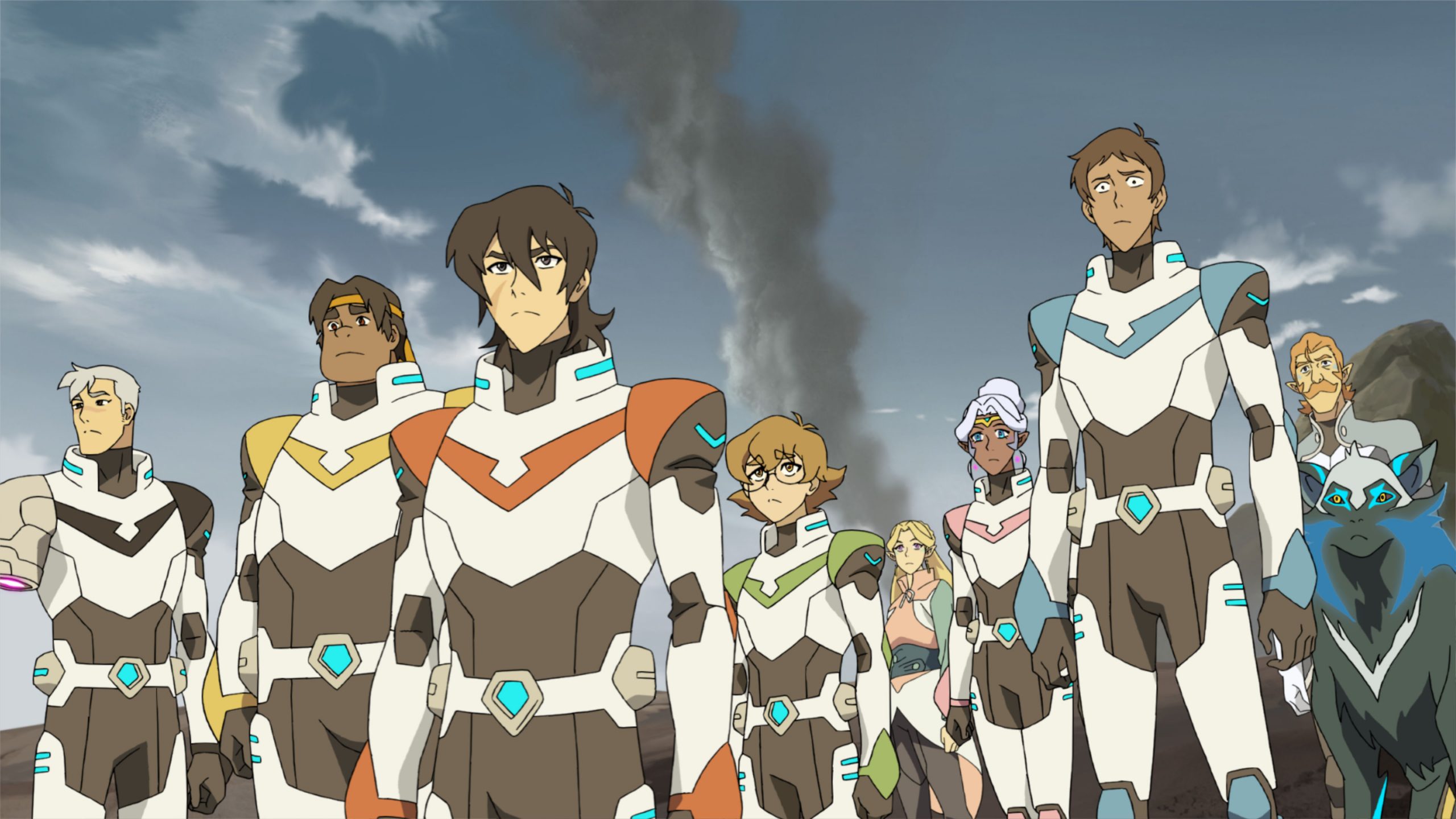 Jonah Puskar / Emertainment Monthly Comic Books Editor
Form Panel! Netflix's Voltron: Legendary Defender made an appearance at this year's San Diego Comic Con and had some big reveals.
[embedyt] https://www.youtube.com/watch?v=X-yHuoOEIHE[/embedyt] The panel was hosted by Nerdist's Kyle Anderson. Anderson kicked off the event by introducing the panel of cast and crew. For the cast, Bex Taylor Klaus (Pidge) and Rhys Darby (Coran) were present, and for crew there was executive producer Joaquim Dos Santos, co-executive producer Lauren Montgomery, and story editor Josh Hamilton.
Anderson pointed out that it was Darby's first time at San Diego Comic Con, though Darby was distracted as he jokingly started live streaming the panel. Anderson also noted that it was Hamilton's first Voltron panel, something that excited the editor. Dos Santos interjected that he was very happy folks turned out in such mass for their panel and to support the show.
Darby again fooled around a bit, pointing towards the large projection displays of the panel, stating "If you haven't seen us we're on the big TVs as well!" He also said "Technology, we don't have this in New Zealand."
Anderson asked Dos Santos how it felt to wrap up the character Lotor's arc, something the EP seemed enthusiastic to talk about "He's an incredibly complex character," Dos Santos said, "His motives were true. His actions and moral compass were skewed."
Going off of the discussion of Lotor and his treachery, the question was raised of how Allura was feeling and how she'd be going forward after the betrayal. Montgomery noted how Allura was trying to judge Lotor not for his family but who he was, which was growth from her experiences with Keith "It's not in your DNA, it's your actions going forward." She also stated how Lotor seemed like he had good actions, so it was understandable Allura believed what she did. The rest of the team was tricked too, and they will be supportive of Allura.
After taking a few moments to admire a Coran cosplay in the front of the panel hall, Taylor Klaus and Darby were asked what some of their favorite moments were for their characters.
Taylor Klaus replied "Honestly everything about the Monsters and Mana episode." They also said that defeating Shiro in the season 6 finale, while bittersweet, was great to watch. "Im biased but I love those Pidge moments." Darby commented that season 6 was a complex, heart wrenching story, while also saying that "…at the end of the day it was really all about Coran becoming a dragon at the end of that game."
When asked about the villainous Haggar's motives this season, Hamilton wanted to make something very clear. "Haggar had this one motivation, it's her son." Hamilton went on to say he believed it was more about Lotor for Haggar, and not just about watching the team.
The panel was asked about their feelings on the finale, and Dos Santos jumped in for a chance to discuss the climactic fight between Keith and Shiro. "I think the fight only served to strengthen their bond." Dos Santos felt that it was an important moment for the two, and a test for both. Darby followed up that the finale made him emotional, having cried a bit when the Castle of Lions was destroyed.
Anderson then revealed to the audience that they didn't need to wait long to see the after effects of the finale, the audience was going to be shown the first episode of season 7. The episode is called "A Little Adventure" and some important details are revealed about several characters.
SPOILER ALERT
When revealing Shiro and Keith backstory before the start of the show, it is revealed that Shiro not only had a medical issue that made the Galaxy Garrison weary to send him on the mission, but he also had a boyfriend named Adam that didn't want him to go. Adam's reveal elicited a large, excited response from the audience.
When the episode was finished, Jeremy Shada (Lance) surprised the audience and joined the panel.

Dos Santos and Montgomery used the panel to make some announcements on premiere dates and other show details. As Netflix had previously announced, season 7 will premiere August 10. However, one surprise the producers revealed was that the season will be 13 episodes, a departure from the typical 6 or 7 episode seasons as of late. Another surprise was that season 8 will also be 13 episodes, and will premiere before the end of the year. However, Dos Santos told the crowd that those will be the last episodes of Voltron and that the show will end with season 8. He noted that 78 total episodes for a show is really good and he was proud of their work, while Montgomery added that it's important to wrap a show before it goes on too long, and that Voltron is a show that is ending when it felt right to end.
The panel then pivoted more towards addressing details about the episode that was just screened. Dos Santos revealed that the backstory details for Keith and Shiro were planned early on, as early as season 2, and the crew had been waiting patiently to reveal those details. He added it was important to have because "[backstory] helps reinforce the bond and helps viewers."
When Adam came up, Montgomery made a point to confirm that he was, in fact, Shiro's significant other. She added that they were incredibly close, possibly even on the road towards marriage before Shiro's decision to go on the Kerberos mission. It was also revealed the two met while training at the Galaxy Garrison, with Hamilton stating they were "the two coolest guys in the garrison."
The cast was then asked on what the felt about the season going forwards, which Darby responded to by saying he'd be making plenty of animal calls and demonstrating into the microphone. Klaus Taylor noted that without the castle, the group dynamic would change a bit due to the lack of space and room, with Shada adding "It's cramped space, those lions."
When asked about the relationship between Lance and Allura, Shada only said "We'll see what happens" before making an obvious smirk.
Hamilton took a moment to reveal details about one upcoming episode he was excited for called "The Feud" which will be a gameshow style episode in the same vein as "The Voltron Show" and "Monsters and Mana" episodes
A question arose of who the villain is for our characters now that Lotor is gone, with Dos Santos offering that Haggar is still out there, as well as the dangers of traveling home back to Earth without the Castle. Dos Santos quipped that with the Lions the Paladins are in "floating winnebagos out in space."
Time came for a quick audience Q&A. One question was on Keith's two year time jump and what reasons might be for that besides his growing closeness with his long-estranged mother. Dos Santos answered that the relationship was part of it, while also being about having Keith grow as a person so that he could grow as a leader and gain the responsibility needed to lead.
Another question was on why the other Paladins constantly dismiss Lance as just a goofball when he's shown large growth and ability? Dos Santos stated he believed that while the other Paladins can roll their eyes at Lance, they do see that he's grown. He also offered that fans don't need to worry about Lance for long, "We're gonna give Lance love."
The panel ended with a special teaser trailer. While it was short with quick snippets, there were some interesting things for viewers to be on the lookout for in this upcoming season, such as Shiro getting a new arm, some new cadets coming in to play that seem to be possibly be based off the cadets from the original Voltron, and that Voltron might now have two swords.

Plenty for fans to be on the lookout for August 10th.