SDCC 2018: Breaking Barriers: "Better Call Saul" and "Breaking Bad" Together at Last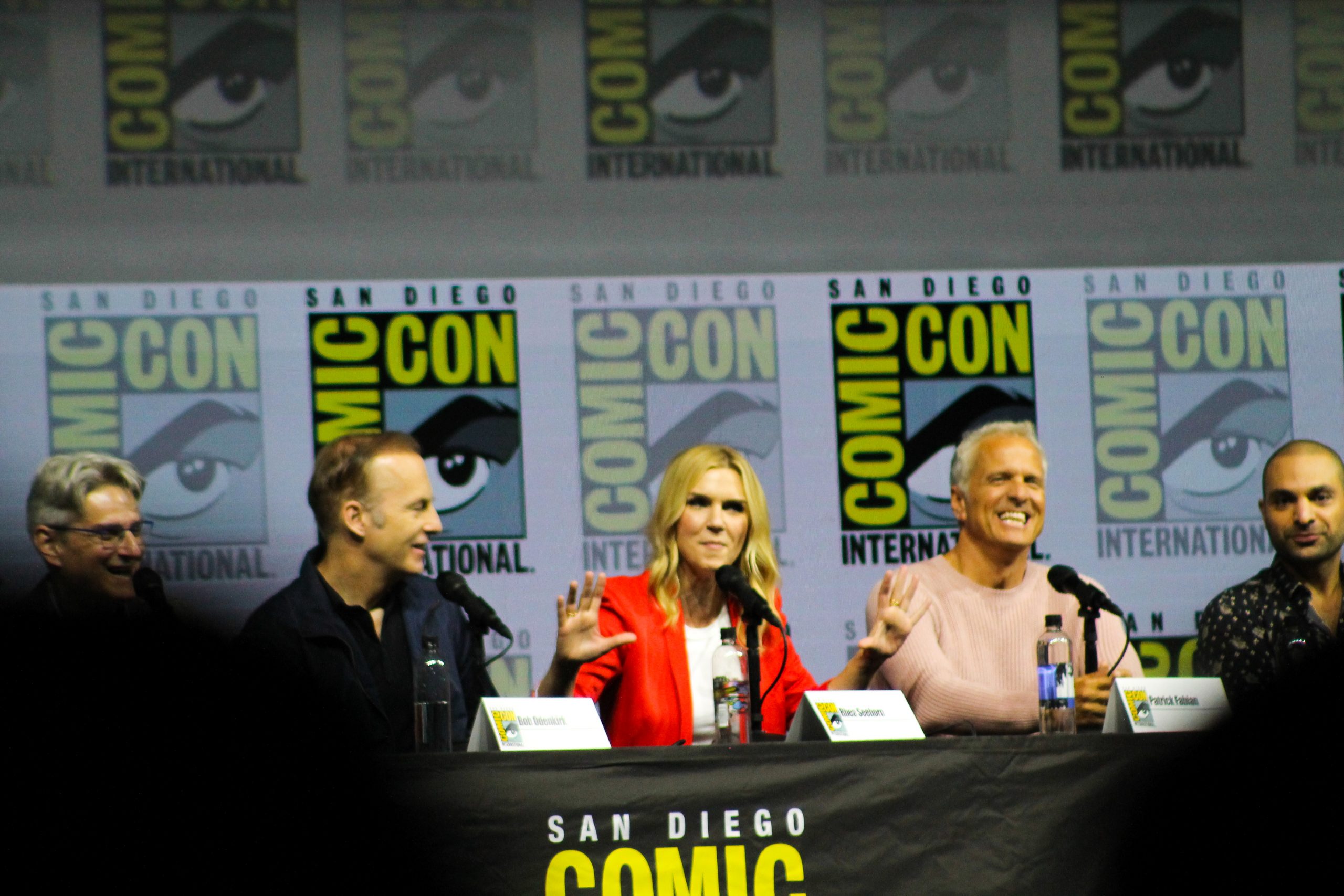 Erin Graham / Emertainment Monthly TV Editor
"You want [your character] to make the nicer, upbeat choice," Bob Odenkirk expressed in a sentiment that he would repeat throughout the Better Call Saul and Breaking Bad 10 Year Anniversary panels on Thursday in Hall H. "But Jimmy is a bad guy. It breaks my heart a little to see Jimmy become Saul."
Unlike a lot of San Diego Comic Con panels, the AMC panels moderated by Bill Burr didn't drop a massive bombshell on fans. Of course, Breaking Bad has nothing else to give besides a nostalgic panel, but Saul has always been a narrative of quiet revelations and emotional payouts. The panel was no different.
Despite Jimmy's charisma, fans and creators alike begrudgingly admit Jimmy needs to become Saul in the near future. To quell the misery of loveable Jimmy's transformation, creators Vince Gilligan and Peter Gould revealed with joy that Saul's timeline will finally interact with Breaking Bad's in the upcoming season. This intersection comes at a time when Saul's tone matches Bad's at its peak: Gilligan said that season four scenes seem like they came directly from Breaking Bad, partly due to their more violent nature, diverging from Saul's modest, juridical origins.

The ties between the two shows will manifest in new characters. The creators said audiences "will meet people referenced in Breaking Bad that [they've] never met," displaying the Bad clip of Saul's first appearance, where Saul blurts out the name, "Ignacio." Gilligan and Gould then talked about audiences meeting "Lalo," a name at which Patrick Fabian (Howard Hamlin) overtly shuddered.
Both Giancarlo Esposito (Gus Fring) and Rhea Seehorn (Kim Wexler) discussed acting through the dualities of character arcs; Esposito, having played Gus to his bitter end, said he enjoys acting as Gus' younger self, particularly taken with his first script's scene direction: "He is hiding in plain sight." Knowing who Gus becomes, Esposito said, helps him play a more vulnerable, younger Gus. Seehorn discussed the difficulty of being a Bad fan and knowing who Jimmy ultimately becomes, and having to play a character that only knows Jimmy as he is now. "Kim didn't watch Breaking Bad," she laughed, before sharing her favorite fan conspiracies (like that Kim works at the Claire's next door to Saul's Cinnabon store in Saul's pilot).
When the rest of the Breaking Bad cast slid comfortably into their chairs for the anniversary panel, the zeitgeist on the stage shifted to a neighborly round of nostalgia. Gilligan reminisced about Bryan Cranston's (Walter White) Emmy win for Bad's first season in 2008 as being the point where he knew Bad was going to be big. Cranston, with a humble smile, remembered accepting the fame of the show when fans started stealing parking signs for the cast and crew.

Burr turned his nostalgia on Aaron Paul (Jesse Pinkman), lovingly admitting that Jesse reminded him of a clever but not "book smart" summer school punk. Paul grinned, and in the same vein as Odenkirk talked about Saul, muttered, "I miss Jesse."
Gilligan pulled the audience back to the present with a firm "no" to speculation that Jesse Pinkman and Walter White would appear on Saul season four, but was quick to say that there was an "excellent chance" that one of the people on stage could be in Saul one day. Odenkirk perked up with a cheeky grin and reminded audiences that Hank Schrader (Dean Norris), the DA officer from Bad, knows Saul, more likely a red herring than a season four spoiler.
Burr then brought the conversation to Anna Gunn (Skylar) who recalled her audition story of demanding to know her character's fate, learning early on that Skylar would delve into the world of crime. Gould and Gilligan praised her wit and said they wrote Skylar to be smarter because of Gunn's intelligent performances.
The cast, a group of actors who collectively played meth dealers, murderers, cartel members, sleazy lawyers, and money launderers, glowed with warmth, thanking fans between every question for their loyalty. In true fan spirit, they seemed as grateful for their characters as they were for the people behind the phenomenon, wistfully recalling their times with their personas.
When the question of how the actors deal with facing the threat of having their character killed off, the cast was as bubbly as ever. Cranston chuckled and told the story of how he pretended to read episode scripts before Paul and then give his condolences to his oblivious co-star just to make Paul think Jesse had died, only for Paul to realize Cranston hadn't read the script either. Paul feigned anger and said to Cranston, "You always said, 'It's been fun, Aaron.'" The cast laughed.
Cranston, remembering, put on his best acting voice. "It's been fun."

Better Call Saul season four airs August 6th at 9 p.m. on AMC.