SDCC 2018 Panel Recap: DC Batman Family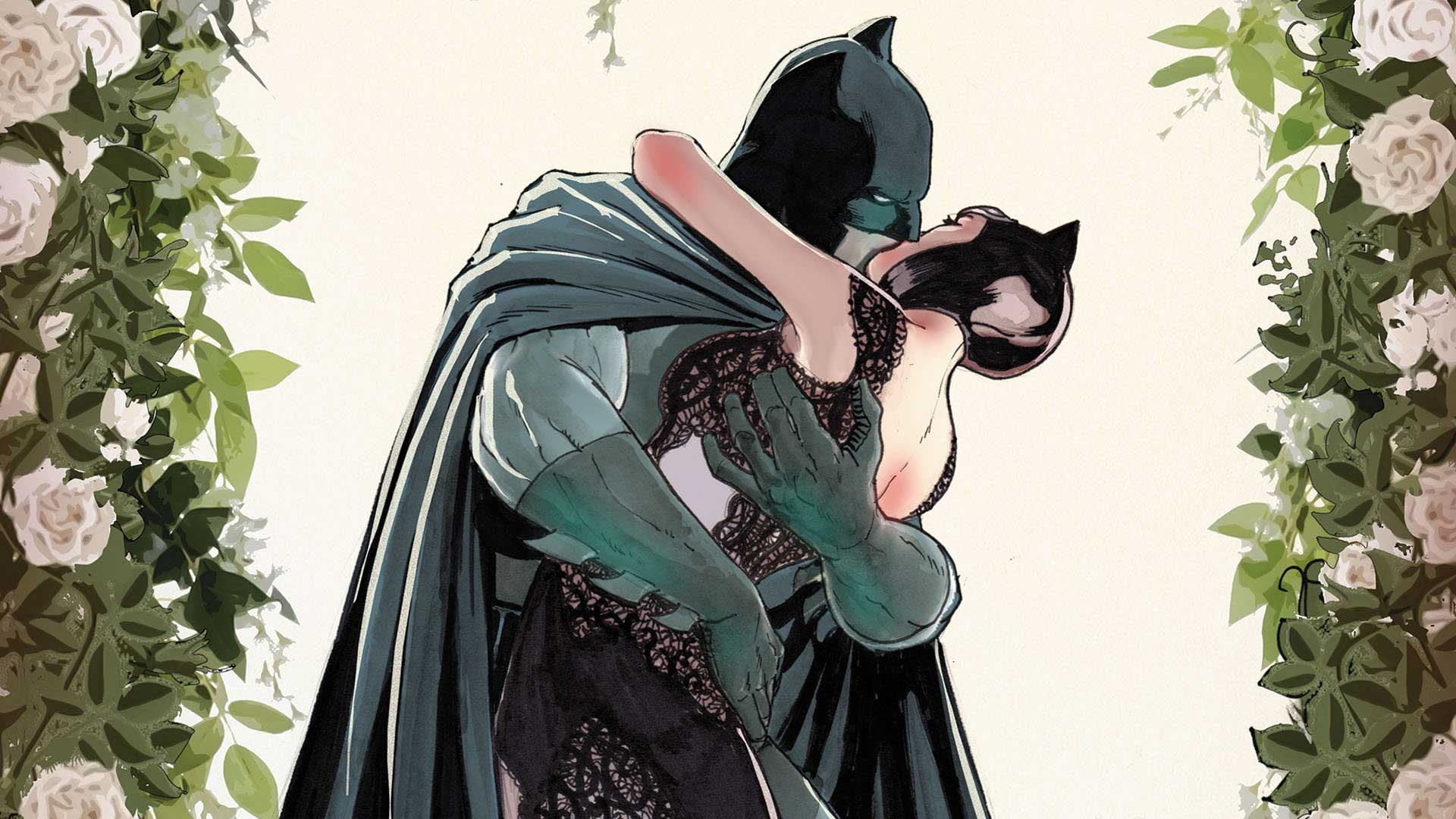 Jonah Puskar / Emertainment Monthly Comic Books Editor
At this year's San Diego Comic Con DC Comics brought out fan favorite Batman family writers and artists to discuss the current state of Batman books and where we'll see them go in coming months.
The panel was hosted by Batman group editor Jamie S. Rich and featured Tom King, Joëlle Jones, Enrico Marini, Bryan Hill, Clay Mann, Mitch Gerads, Pete Tomasi, and Mairghread Scott
Rich kicked off the panel by welcoming Scott to the Batman family, she is the new Batgirl writer, with the upcoming Batgirl #25 being her first issue. Scott said she looked forward to sharing her vision of the character's story, which she felt combined Babs Tarr's fun and bubbly Batgirl with Gail Simone's more dark version of Gotham. Scott also said she was excited to explore Barbara's "other half", her brother James Gordon Junior. She said it was "if Silence of the Lambs had, like, a family vibe." Scott also used the panel to discuss Barbara's recently revealed new costume, explaining it was a prototype from Batgirl's earlier superhero-ing days.
Attention was then brought to Bryan Hill and the fact that while he isn't typically a Batman writer, he did pen the most recent arc of Detective Comics featuring a team-up with Black Lightning. When asked what it was like to be given that opportunity, Hill discussed how it was "pretty chill" as he was hanging around the set of the upcoming Titans live-action series which Hill was a writer for. He also quickly clarified that he wasn't the one who wrote the "Fuck Batman" line from the Titans trailer which has been making the rounds online. Hill also stated that while his arc was short, he wanted it to have real consequences and real risk, "I don't want this to be a filler arc."
Next up was Marini, who was asked what his exposure to Batman was like having been from Italy. Marini said how although he worked mostly with European publishers, he was always a fan of Batman, and had influences like Denny O'Neil and Neal Adams. He felt lucky to be able to write and draw his stand-alone story, Batman: Dark Prince Charming. Marini described it was a more intimate Batman and Joker story, and that he used the opportunity to present a more fun Joker rather than just a creepy one. "I had a great time with this Joker, I miss him already."
Going off the Joker comments, Rich asked the writers if they had ever struggled with writing villains, Joker or otherwise. Tomasi replied that when he wrote the Joker "I just smiled and I wrote and it all came out." He did say, however, that he had never written the Penguin and wondered if that was because he was subconsciously worried to. King responded that he felt the Penguin was the "least interesting Batman villain."
Rich then addressed the artists, asking how it felt to work on those books lately and with those writers. Mann joked about having to deal with King and being given only one page to draw in Batman #50, who responded by complimenting Mann on the liberties he took in his art and the detailing with his page in Batman #50 which depicted Batman, Catwoman, Superman, and Lois Lane flying by a baseball game. Gerads noted a tonal shift for what he was asked to draw, "I went from military guy in comics, then I met Tom, now I'm the relationship guy."
The most anticipated panelist of the group for many might have been Tom King, writer of Batman, who had to have a bodyguard at the convention due to death threats received for his story choice in Batman #50 which SPOILER ALERT broke up Batman and Catwoman who have been engaged for about a year now. King stated that "It was painful for me to write, it was painful for you guys, and thank you for staying with me." He said that he wanted to celebrate this relationship with such a special issue, and he wanted to do so by bringing in definitive Batman artists from over the years (21 in total worked on the issue). "Thank for coming on on the ride." King remarked.
The remarks on Catwoman then transitioned the conversation to Jones, who is the newest writer and artist for Catwoman in her new solo series. Jones said that while she is excited to play around with Catwoman, she has no immediate desire for specific ideas she's had in mind for the character. Jones did say she was happy to have created an interesting new villain for the series, citing a "deficit of irredeemable female villains." She also said it was fun for her to draw a grotesque villain, with Rich chiming that he was excited for audiences to get to see all the interesting and creepy art that Jones had put on his desk. King also added that Jones was a "modern day Frank Miller."
Conversation turned back towards King's Batman series, where the character is now, and where he is going. King said his story decision came from the fact that "you can't break Batman physically" and the character had dealt with that before, especially from the current antagonist Bane. King further said that Batman had dealt with dead Robins before, with the panelists joking that is what the Robins exist for. "Bane broke his heart" King explained, and that was what the writer need to explore a differently fractured Batman than readers had seen before. King said he wanted to explore Bruce rather than Batman, and this new story will explore Bruce Wayne versus Batman. King revealed an upcoming story in which Bruce Wayne publicly doubts Batman and it isn't an act, he truly doubts his own actions. It was also revealed that Dick Grayson would appear and take some time under the Batman cowl while Bruce healed. "It's like when you break up with your significant other and your best friend moves in on the coach to make sure you're okay." King joked.
Rich then asked the artists on the panel what the worst thing Tom King had asked them to draw was. Jones remarked that King had previously tasked he with drawing armies and mobs. Gerads chimed in that there was a birth scene in one of the other books they work on, Mister Miracle, which was incredibly unique to draw.
The panel then featured a surprising announcement that starting with Detective Comics #994 Peter Tomasi will be the new writer. Tomais said he looks forward to embracing the "Detective" aspect, as well as to work with Doug Mahnke, who Tomasi claimed "is killing it" as artist for the series. Tomasi also said he was especially excited as the series reaches issue #1000.
It was also revealed from some of the latest art that Batman will return to a more vintage costume. King offered an in-universe explanation that "Batman needs to rebuild himself" and to do so he couldn't do so in the costume he wore as he was was torn down. King then added that the writers' explanation for the change was to connect and embrace the history of the character's costumes and what they mean to fans. The panelists then quipped that embracing history meant embracing the classic Batman trunks. Rich pointed out that Marini's Batman donned a classical looking costume as well, though Marini joked that while classic inspired, there were no trunks.
Jones was then asked about her recent Catwoman redesign. Jones explained how her Catwoman ditched the goggles and has the classic cowl mask. She also explained that the costume featured cut outs around the armpit and down a pit of the torso to allow for better flexibility.
At this point the audience Q&A began:
The first question asked the writers what it was like working with characters without much history and how much freedom they had with those, with King's recent usage of Kiteman being a good example. Scott quickly jumped on the question and explained that she loves working with existing, obscure characters because while people might be familiar with them they often aren't fleshed out all the way so there is plenty of liberty.
The next question was for King specifically, how he made the decision to have the wedding fall  apart, and when did he make it. King said it was his plan since Batman #1, he knew he needed to take on some simple concept he knew, "Batman loves Catwoman and Bane is bad. That was the whole plan," then adding "It's my sad decision to make people sad." King then mentioned that it was an upsetting decision for a lot of people, "My wife's mad at me!"
A question was asked about Oracle and if Barbara Gordon might ever don that identity again. Rich quickly stated that "there's discussions" while King added that he missed that character, and that she was great for narratives where concepts of a villain or problem need to be introduced quickly and without much need for transition. Scott then said that as Barbara's current writer, she would only do it if it stuck around for a while, as a brief return wouldn't have any lasting impact.
An audience member asked the panelist if there was ever an emotional beat from a story they worked on that stayed with them. King said that often because he writes the stories, it's a little less real with a lesser impact on him. He did note that when he did get the art back for a death scene he wrote for Batman Annual #2, it cause him to have to take a seat as he got teary-eyed.
The last question of the panel asked what the most important qualities for Barbara Gordon are when writing Batgirl stories. Scott answered that Barbara has a unique perspective because she's been disabled and thrived during and after that writers need to be mindful of in the stories. Scott said that "she's a survivor" and that she's always had her mind to keep her going, she could always utilize that aspect of herself. She then stated that Barbara's worst fear is to lose that, for someone to take away her mind, and that would be something the writer would be exploring in the near future.
That was the panel, plenty of things for Batman fans to look forward to over the coming weeks and months!