SDCC 2018 Panel Recap: Marvel Rising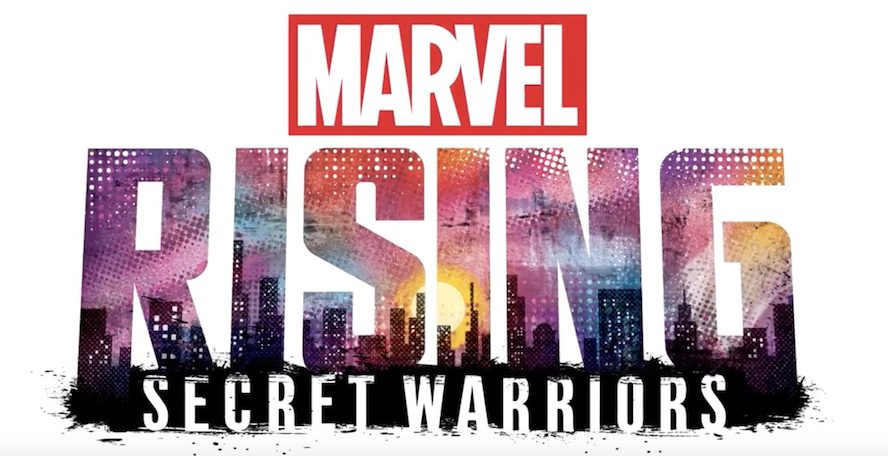 Jonah Puskar / Emertainment Monthly Comic Books Editor
This year at San Diego Comic Con, Marvel introduced fans to the newest class of up-and-coming superheroes. With the upcoming show Marvel Rising: Initiation and follow up movie Marvel Rising: Secret Warriors, Marvel is adding a brand new wave of diversity and freshness to it's superhero media.
The panel, moderated by Lorraine Cink, kicked off with a trailer for the show, followed with an introduction of the cast and crew. The cast included Dove Cameron (Ghost-Spider), Chloe Bennet (Quake), Milana Vayntrub (Squirrel Girl), Kathreen Khavari (Ms. Marvel), and Kamil McFadden (Patriot) Crew consisted of SVP of Animation and Family Entertainment Cort Lane, VP of Animation Current Series and Development Marsha Griffin, writer Mairghread Scott and VP of Content and Character Development Sana Amanat.
"She has this very complex relationship with her father," Dove Cameron said of her character "She wants to be the hero she sees him as." In the show, Ghost-Spider will deal with the issue of her father, an NYPD police captain, attempting to arrest the vigilante for a crime she didn't commit, a fact her father doesn't know in addition to the hero's true identity.


When asked how this show's interpretation of Quake is different than her long standing role as the character on ABC's Agents of Shield, Bennet quickly remarked  "She's more purple!" in reference to the character's differing hair style. She elaborated, "She's younger, she's a teen Quake." Bennett noted this version was more of a punk, which is a departure from her more mature live-action version.
Squirrel Girl voice actress Milana Vayntrub was quick to react positively to mention of her character being a fan favorite over the past few year, remarking how she love's Doreen's "huge, fluffy tail. Vayntrub added, "The thing I think makes her special is she is unabashedly goofy while also smart and strong." When asked Cink about the character's relationship with her squirrel Tippy Toe, Vayntrub remarked he was the "best sidekick you could want"
Khavari discussed how Ms. Marvel is presented differently in this show than in other animated Marvel programs as of late, with this show being "…her and a bunch of heroes who are coming into their powers." This difference is evident to those that might have seen the character in recent seasons of the Avengers animated series.
"Not all heroes are super," McFadden said of Patriot. "He doesn't have a superpower… He has to work 10 times harder" McFadden felt that this underdog attitude and concentration allowed him to understand and relate with his character, "I connect with him with his determination."
When the crew was asked where the idea for the show arose from, Cort Lane explained citing a growing market of young women viewers, "There's been this exponential growth of fandom between women and girls." Lane said that the team had asked girls and women what they wanted to see and what they could connect with and built from there.
Building off that, Amanat mentioned what it was like to see a character like Ms. Marvel on screen. "Nothing I could really ever imagine," she said "Girls like powerful characters that look just like them."
A question was asked about why this select group of characters were chosen, and Griffin answered what drove the specific choices "Sometimes characters get lost," claimed Griffin "We wanted to focus on the characters" She stated that the creative team wanted a small, diverse group to represent the "world outside your window" and so that young people get to see themselves on screen. Vayntrub added to this, saying "When you can see yourself in someone not like you, it creates a sense of community"
Once Cink finished her question she introduced two previously unseen Initiation shorts. The first featured Ghost-Spider fighting the police, and footage of said fight being viewed by Quake and Patriot with Captain Stacy. The second showed Gwen playing with her band, discussing the loss of her best friend, and then fighting Patriot.
After the clips were shown, the panelists discussed details of Marvel Rising: Secret Warriors. The film was revealed to feature many new cast additions, such as: Cierra Ramirez as America Chavez, Tyler Posey as Inferno, Booboo Stewart as Exile, Kim Raver as Captain Marvel, Dee Bradley Baker as Lockjaw and Tippy Toe, and Ming-Na Wen as Hala
After film talks, Vayntrub and  Khavari played up the lack of their characters in the film's poster, a segway Cink used to introduce two more unseen short clips. The first showed Squirrel Girl meeting up with Ms. Marvel for a team up, eventually fighting Ghost-Spider by having Tippy cut her webs. The second featured the three heroes fighting heavily, with Kamala growing huge, and eventually taking Ghost-Spider down.


After these two clips, the floor opened for an audience Q&A. One audience member asked Cameron if she struggled to shift into voice acting from typical live action acting. Cameron responded that she had some troubles, and that she was very facially expressive as an actress, but not always spoken aloud.
Another audience member asked Bennet if she could address any similarities and differences between her two Quakes. In turn, Bennet revealed that some elements of Marvel Rising Quake that might bleed into Shield's Quake, and somewhat vice versa.
The panel ended with a huge group selfie, each audience member having received a foam fist featuring Ms. Marvel's hand and the caption "EMBIGGEN"
Marvel Rising: Initiation premieres Monday 8/13 at 7:30 pm on Disney XD. Marvel Rising: Secret Warriors premiered this fall on Disney Channel.