SDCC '18: Castle Rock and the Rise of the Extended Universe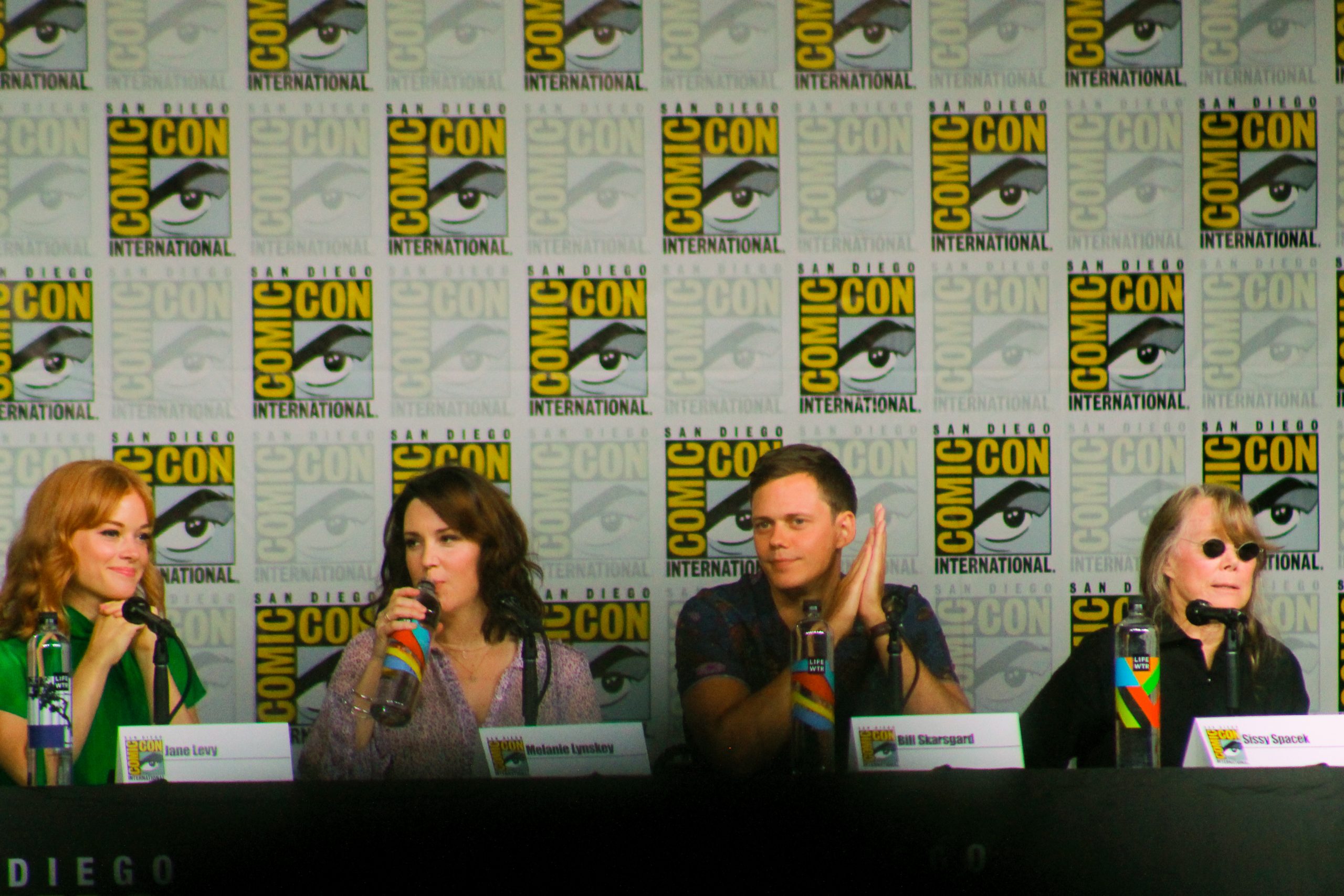 Erin Graham / Emertainment Monthly Staff Writer
If there hadn't been a 45 second intro video from J.J. Abrams, or a title card with Stephen King's name plastered on it appearing before the panel, it would've been easy to sniff out Hulu's Castle Rock content creators quickly. Within the first ten minutes of the pilot, there was a dash of infamous Abrams lens flares and a heaping of King's gory exposition, and the two unique styles meshed immediately.
The pilot only picked up pacing from there, intertwining King universes faster than fans could tweet out all of the Easter eggs. The titular setting refers to the location of the infamous Shawshank State Prison in Castle Rock, Maine. André Holland plays Henry Deaver, a death row lawyer suddenly wrapped up in a suicide case, corrupt prison administration, and a mysterious young man (Bill Skarsgård) who bears a striking resemblance to Pennywise the Clown.
Those looking for a fresh Stephen King story will find that the pilot falls back on B-movie horror tropes. In the first few scenes of the pilot, a young prison officer wanders off down a dark hallway in an abandoned prison ward alone for no justifiable reason. He does this only to stumble upon the quiet, gruesome vestige of prison abuse in a surprise so dull that it was unexpected. Yet fans seeking a show with a penchant toward special winks at the audience might be disappointed as well with Abrams' love of keeping secrets without much payout at all.
It was tantalizing to realize the most interesting scene wasn't a jump scare or a "you'll find out later" sequence, but a modest dialogue-heavy moment. Deaver sits down with the new warden trying to cover up what happened to mysterious teen's childhood, their two motivations at a foil with one another, revealed craftily through edified dialogue. It made the audience yearn for the cleverer sides of the creators, the part of them deep down that knows the show won't sail on the back of The Shining references, but instead the spiders in the middle of the vast web: the characters.
Yet, with great pride, the writers, Sam Shaw and Dustin Thomason (and King) announced that the greatest "tribute to King is starting to give answers." It's an interesting concept, connecting the dots in what was otherwise a jumble of loosely connected narratives, but not necessarily an innovative one. The idea lands as another pebble on a growing heap of Hollywood's latest trend: the extended universe phenomenon.

The cold open of the pilot featured Lost alumnus Terry O'Quinn, jumpstarting the inevitable visible presence of a producer's touch. Abrams projects are known for their unique casting of unknown actors, yet Castle Rock boasts big name talent. The moment the actors appear on screen their past works immediately flash to mind, and this is no accident for the next step of the King extended universe. Sissy Spacek headlined the original Carrie movie and is now Ruth Deaver, the lawyer's mother. Skarsgård, the actor behind the disturbing and stunning portrayal of Pennywise in 2017's highly popular It, returns as a prisoner lost in the basements of Shawshank, speculated to be the perverse boy who would become Pennywise. Their mere presence in the show invokes a King-brand horror ambience.
This isn't to say that every time an actor takes on a new role the meta of their oeuvre ruins the experience; we don't all constantly see Daniel Radcliffe as Harry Potter anymore. But these actors already had ties to the King universe; in a world of mystery and suspense, their stories are already known.
Star Wars, Marvel films, DC media, and now Hulu's Castle Rock are tapping their toes on the thin line between fan service and world-building. Yet many of these franchises are on the vanguard of media these days, so perhaps they're onto something; maybe their trailblazing will make intertwined media and overlapping narratives the norm. The creators of Better Call Saul boasted at Comic Con that the timeline would overlap with Breaking Bad. Maybe it's the new normal already.
Cynicism would dictate extended universe building as exclusively a money-making device. But there shouldn't be inherent shame in pleasing audiences with nods and homages throughout connected narratives. Extended universes can fall short, like stuffing too many big personality superheroes into Avengers: Infinity War in which even a one-liner from wisecrack Tony Stark isn't satiating. But there is something intricate and intelligent about painting various characters together in an amalgam with brushstrokes pleasing to the eye from both far away and up close. It's smart to know what audiences crave; in fact, it is the backbone of the industry.
But succeeding in this format takes as much care as an inmate planning an elaborate escape that involves pinup posters and a long tunnel, or a group of kids orchestrating a certain clown's demise. You can see for yourself if Castle Rock triumphs with this task when it premieres on Hulu on July 25th.
Watch the show's trailer here.
Pilot Grade: B-