SDCC 2018: Duff Goldman and the Flavor of Fandom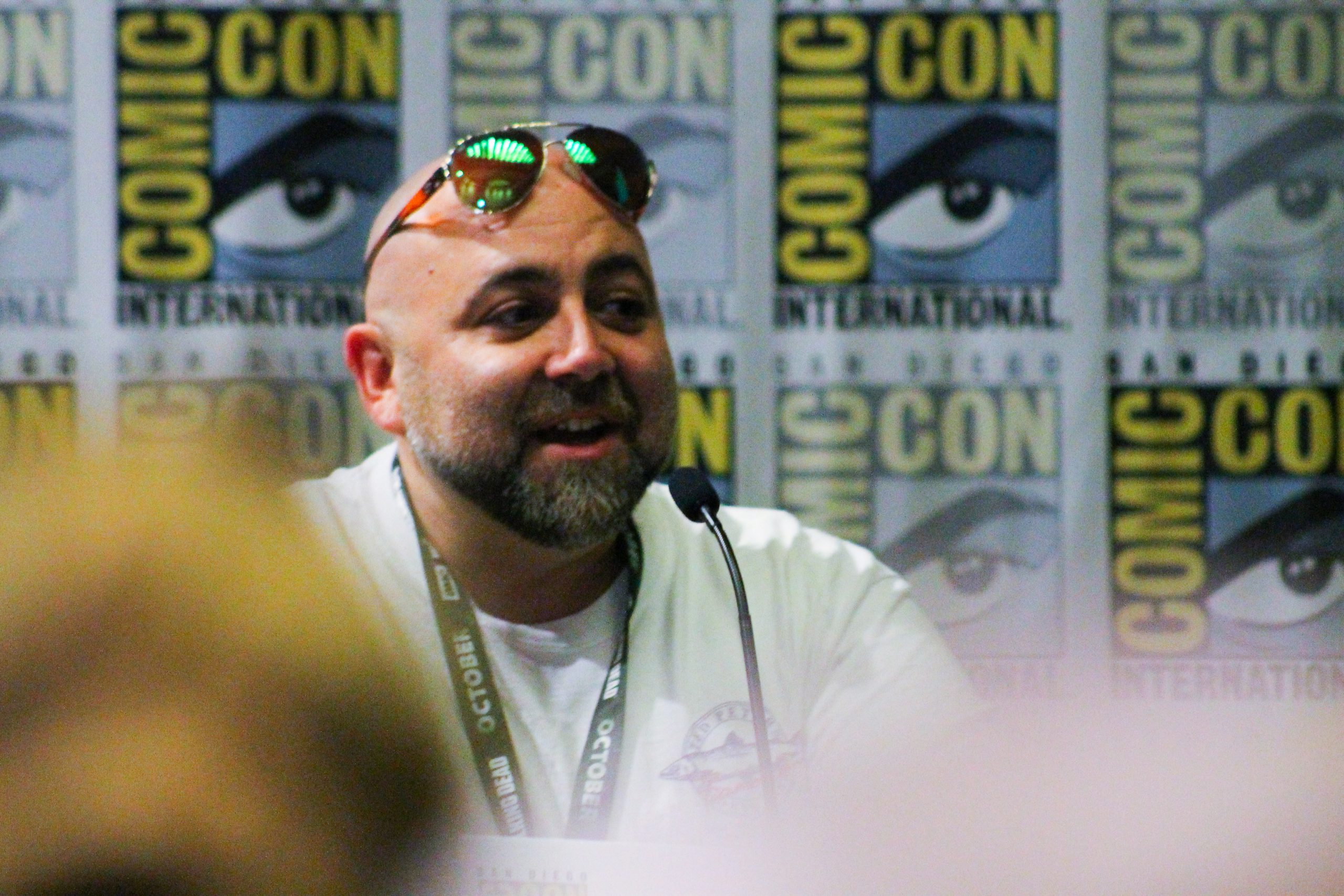 Erin Graham / Emertainment Monthly TV Editor
Duff Goldman, clad in bright orange floral shorts and aviator sunglasses, bounded into his panel discussing the flourishing intersection of baking and fandom. Everyone in the intimate room couldn't stop returning the Ace of Cakes star's infectious grin as he took a seat next to Jessica Tseang, a famed comic book historian.
The panel was less of a call-and-response between Tseang and Goldman and more like an open dialogue. Goldman spent half of the panel time watching the displayed slideshow of his previous cakes, and wistfully recalling stories about the different cakes he's made and who he has met along the way. His comments were interspersed with conversations with fans in the audience.
At one point, he nervously asked his assistant if he could talk about something without "getting in trouble." After begging from the room, Goldman shared that he has a new show coming in January: a one versus one baking competition, Goldman versus "some guy" for six episodes. It's hard to call someone with such a toothy grin "tight lipped," but he didn't dish much on his show past that.
He spent a good amount of time asking fans how they've liked the new Star Wars movies, and demanding that the audience watch certain movies as "homework" for next year's Comic Con. The famous cake master couldn't express enough much that he loved seeing people excited at San Diego Comic Con each year, pointing out that he "loves seeing people eat and be happy."
He fondly told the story of when Lucasfilm asked him to make an R2-D2 cake, and Goldman requested that he build the cake on location. They let him stay at Lucasfilm for 5 days, and the Star Wars super fan agreed quite eagerly. George Lucas himself showed up at the cake reveal.

When fans lined up for questions, some of them kids, his Kids Baking Championship persona shined through. A young girl asked when he started baking, and Goldman that he first started cooking when he was 14. He was a humble McDonald's fry cook who grew up to become the fan-favorite famous baker that he is today, with presences on dozens of Food Network shows.
At the end of the panel, Goldman said that he spent many hours making enough cookies for everyone at the panel and even the overflow line outside. He pointed at the audience and promised to meet every single fan there and give them a cookie. And he did.
Before the crowd rushed into the hallway, an aspiring baker asked for advice on how to be successful. Goldman answered the question with ease, and a smile from ear to ear.
Enthroned before a panel of adoring fans, a slideshow of pictures with the world's biggest slideshow shifting the glow on his face as one impressive image shifted to the next, he said,
"Don't be me. Be you."
You can see Duff Goldman on Food Network this fall season as a judge on the Holiday Baking Championship, and see his impressive works on his Instagram here.