SDCC 2018: "The Good Place" Brings Ethics Back to Hollywood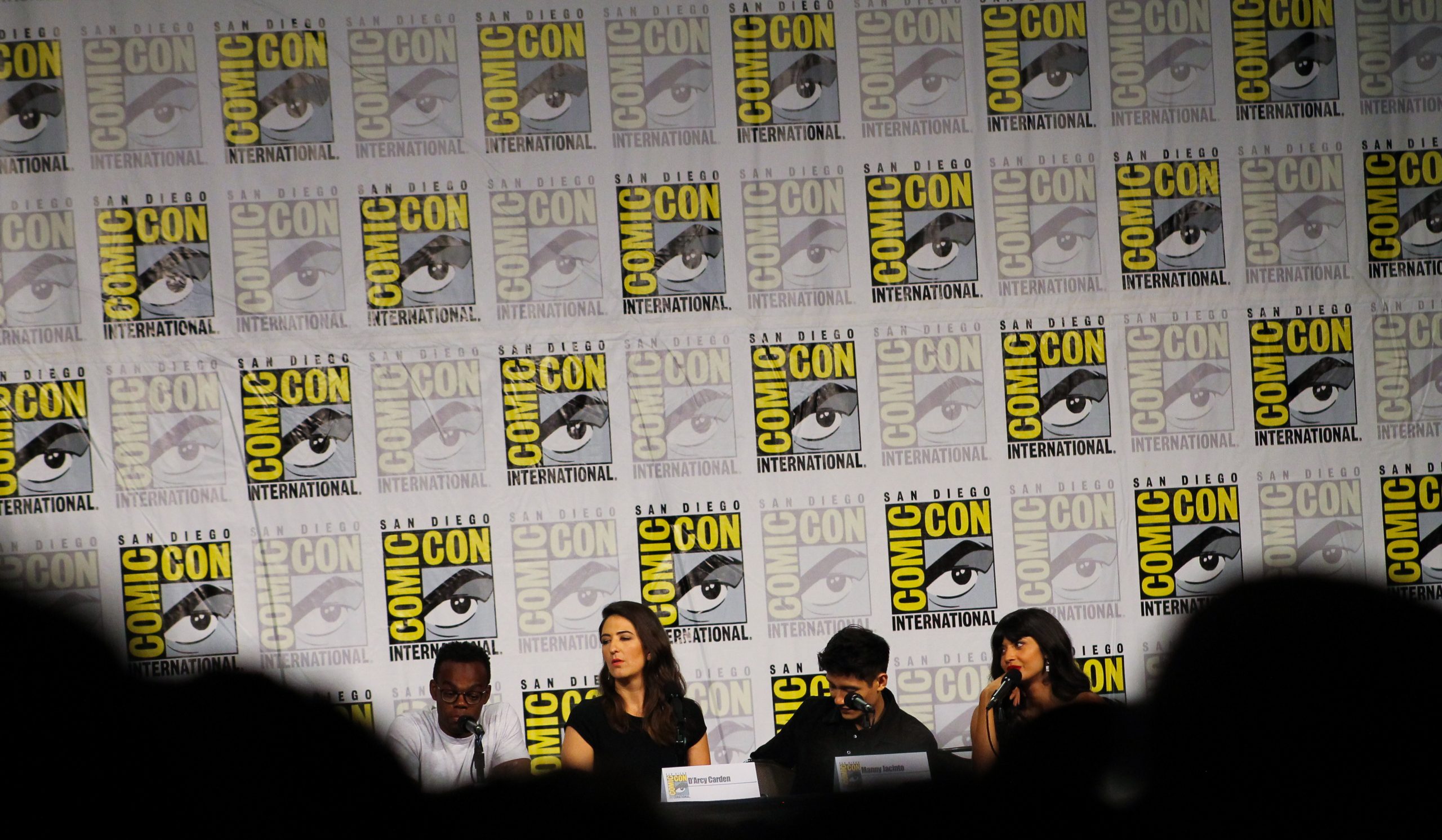 Erin Graham / Emertainment Monthly TV Editor
It was a strange sight to see sports jerseys at Comic Con's Indigo Ballroom on Saturday, likely the only place sports memorabilia would be found at a comic convention, but they were no typical Jaguars jerseys. They were all Blake Bortles jerseys, worn in tribute to Jason (Manny Jacinto), the loveable and air-headed character on that afternoon's panel, The Good Place.
With the Good Place podcast underway with its first 8 episodes already released, host Marc Evan Jackson fit perfectly into the role of panel moderator. His cadence as drab and even as his omnipotent demon character's, Sean, he started the panel by introducing fans to the "smartest, dumbest show on television."
The questions and answers jumped around a bit, with the cast heaping praise on the taciturn executive producer Morgan Sackett for allowing such a weird show to flourish as it did, especially with such strange visual effects. Michael Schur, the head writer for The Good Place as well as a writer for Parks and Recreation, fondly recalled pitching Parks and Rec to Sackett as a show where there's a big ditch and local politicians try to fill it. Sackett shrugged and said, "Okay." His eye for potential hits hid behind a thin veil of meekness that the cast desperately tried to break through by praising him.
Jackson prodded Ted Danson (Michael) and Kristen Bell (Eleanor) to discuss what pulled them to the show, and their answer was the same: each other. Bell respected Danson deeply, she said, and with the promise of a friendly cast and clever scripts, the decision to jump on the project was easy. Jackson agreed, calling the set a strictly "no jerks" zone.
D'Arcy Carden (Janet) stole the show with her bubbly presence. At times during the panel she would emote strictly through Janet's mannerisms: the slightly agape smile, the wide-eyed blinking. She recalled a deleted scene between her Janet and Eleanor in which Janet explains that in the Good Place you can drink as much as you want, but the moment you think about being drunk is the moment you become inebriated. The audience whooped at learning another quirk about the Good Place universe.

Jackson's nuanced panel moderating left room for Bell to admit that Eleanor says and does all of the things Bell secretly wishes to do. She spoiled the magic of Eleanor's obsession with shrimp by explaining that she's a vegetarian and that the shrimp is actually a revolting vegetable coagulation. William Jackson Harper (Chidi) smiled tightly and chipped in a story about fake blood spattering down his throat during the show's infamous trolley scene.
For being one of TV's hottest new shows, the panel was modest. Danson took time to sincerely thank the crowd rather than bask in the fact that Jackson exclusively referred to him as "Emmy-nominated Ted Danson". Carden couldn't stop applauding the various cosplays she saw in the audience.
It has modern origins: writer Michael Schur explained that The Good Place stemmed mostly from a personal interest in ethical philosophy. He wanted to make a show that made ethics accessible, and explored the human psyche not dichotomously but as a force for both good and bad, often at the same time.
In an age of violent and dark TV, the ever-iridescent setting of The Good Place stands out. The show is focused on people that are bad at being good. What makes Good Place unlike other television arcs is that these people want to better themselves. There are many wild turns and failures and cringe-y Eleanor stories but underlining it all is a desire to improve, and the show's plot twists often center around an act of self-sacrifice or kindness. The creators made the radical decision to highlight goodness in this show, and it works.
The panel ended with a fan asking actors to give a thumbs-up if they think they will end up in the Good Place and a thumbs-down if they will end up in the Bad Place. Nearly everyone except Bell and Danson admitted they were going to the Bad Place, the two grinning at each other.

You can see where their characters end up this September when The Good Place is back for season three on NBC September 27th.