Review: While 'A Boy Called Sailboat' Shines, 'The Etruscan Smile' Seems Unpolished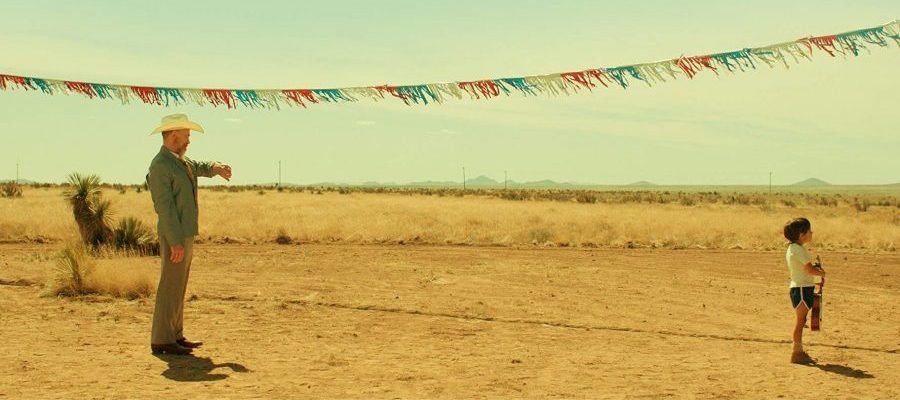 Lauren Miller '22 / Emertainment Monthly Staff Writer
The Boston Film Festival showcases a wide variety of feature films, documentaries, shorts, and special TV presentations from all around the world, usually followed by Q&As with members of the production team and cast. On Friday night, the 34th Boston Film Festival offered up two solid showings about the healing powers of family and love.
The first, The Etruscan Smile, directed by Oscar-nominated team Mihal Brezis and Oded Binnun, follows Rory MacNeil (Brian Cox) as he journeys off his home island in Scotland to San Francisco to visit his son Ian (JJ Feild) and hold off his death for as long as possible. While there, he bonds with his ten-month-old grandson, begins to repair his relationship with Ian and finds a little romance along the way.

The Etruscan Smile feels like a top of the line Hallmark Channel movie. The script often reaches for unearned emotional moments and epiphanies that just leave you feeling shallow. Flat, unnatural lighting in outdoor scenes, made especially odd because San Francisco is famously overcast, brings a sense of artificiality to a movie grounded in reality. The generic, melodramatic piano score that sounds like it was taken from a public domain catalog certainly doesn't help. There were long stretches in the middle where I thought I was watching a made-for-TV Christmas movie.
Which is not to say that it's not enjoyable. Breathtaking landscape shots in Scotland bookend the movie with a strong artistic eye, and there are wonderful moments in San Francisco, particularly on the beach, that purposefully call back to the freedom of those scenes. The much-awarded and legendary Brian Cox brings a wonderful balance of stubborn old-man grumpiness and terrified loneliness to what could have been a typical man's-man Scottish caricature. Similarly, JJ Feild brings a strong presence to Ian that hangs over the movie even when he's not in a scene. You actually miss him for the stretches of time his character is absent.

As much as The Etruscan Smile hits you over the head with the demand to feel something, there are moments when Feild and Cox succeed in doing just that. And ten-month-old Jamie is played by one of the cutest babies ever seen on screen; it's worth it to see the film just for Jamie's adorable smiles.
The Etruscan Smile has a lot on its mind: about mortality, about love, about family, about home, about the promise of future generations. It gets bogged down, particularly in the middle, by too many subplots that don't tie as neatly together as they could and ramble for a little too long without cutting back to the core. The Disney Channel-esque lighting and staging of some scenes, coupled with a score that demands you feel overwhelmed with every possible emotion undercuts what could have been a more naturalistic family story. And the abrupt ending is, well, abrupt. But it works well for what it is and boasts a few genuinely touching moments that make the whole uneven film mostly worth it.

The real success of Friday night was Australian actor-turned-director Cameron Nugent's first feature film, A Boy Called Sailboat. Set and filmed entirely in New Mexico, A Boy Called Sailboat is the story of a young Hispanic boy, named Sailboat, played by Julian Atocani Sanchez, who was discovered at the elementary school where they filmed. After he discovers a little guitar in a junk pile one day, he sets out to write a song for his abuela that transforms his drought-ridden town.
It's worth noting, right off the bat, that this film is dedicated to Nugent's late wife, Skye. In the Q&A afterward, he got choked up telling the story of their trip to New Mexico scouting locations. It was her, ultimately, that had made the decision for where to film. Unfortunately, she had already passed when they returned to shoot the film.
It's a wonderful tribute, about how love and art and family bring joy to our lives. You don't need lots of money or a big house or the most picturesque hometown to be happy. Sometimes all you need is your family, your friends, and a little guitar.

Of course, A Boy Called Sailboat is a picturesque movie. Nugent frames scenes with a proto-Wes Anderson sensibility for symmetry, beauty, and theatricality especially. The warm, desert-colored cinematography gives even the most artificial shots a beating heart beneath them. It also allows for some excellent in-frame gags, like a recurring joke with a soccer ball bouncing through wide shots, seemingly appearing from nowhere.
Like Wes Anderson, Nugent's script has stylized idiosyncrasies and heightened dialogue to elevate the entire film to some magical realism. It doesn't always land; some dialogues, particularly with Noel Gugliemi's character José, come out just stilted enough to pull you from the film.  But in others, like J.K. Simmons's exceptional monologue early in the film, it creates some great scenes that balance comedy and introspection very well.

A Boy Called Sailboat is a relentlessly charming movie, with all the childhood wonder and optimism you'd expect from a movie so clearly inspired by films like Moonrise Kingdom. But it's deeply personal too, which only adds to the sense that, magical as this world may be, it's not so different from our own. To quote the film: "Sometimes you make a thing for someone, and it turns out to be for everyone."
A Boy Called Sailboat doesn't have a U.S. distributor yet, but, hopefully, it'll be picked up soon. Keep an eye out for it at more film festivals. If you get the chance to see it, do.
Overall Grade for The Etruscan Smile: C
Overall Grade for A Boy Named Sailboat: B+
Watch the Trailer for The Etruscan Smile:
[embedyt] https://www.youtube.com/watch?v=lWX-gS5fhuI[/embedyt]