Review: 'BoJack Horseman' Season 5 Delivers Searing Satire Yet Again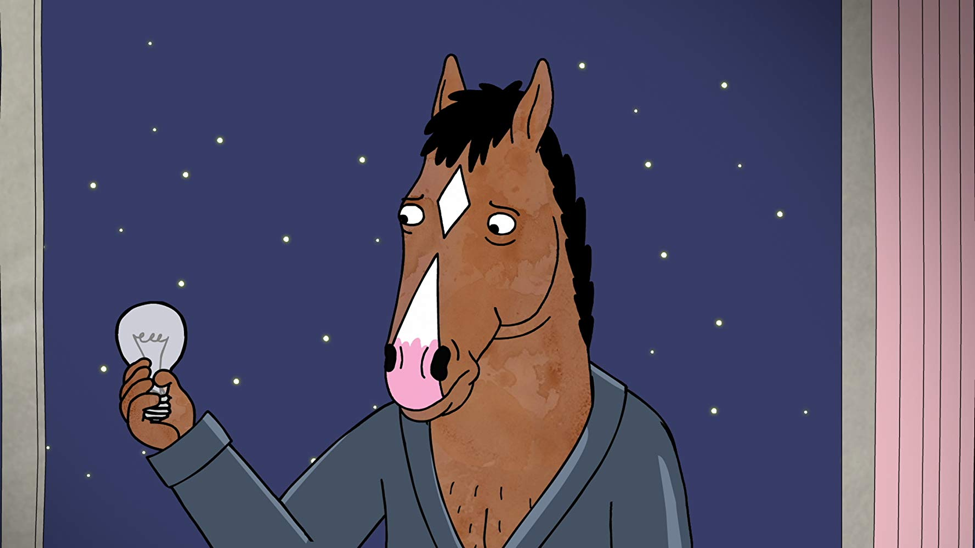 Cameron Lee '20 / Emertainment Monthly Staff Writer
Spoiler Alert: This review contains spoilers for season 5 of BoJack Horseman.
 BoJack Horseman is secretly Netflix's best and most consistently excellent series currently streaming. It's a dark, smartly written satire that, if not for it being animated and featuring anthropomorphic animals living with humans, would be called one of the most depressing, existential, and deepest shows ever made. Truth be told, the show being animated and the concept alone has driven many people away which is truly a shame. If Charlie Kaufman made an animated show, BoJack Horseman would be the end result. This season of BoJack continues to innovate what a TV show can do and continues to excel in satirizing our current culture and climate.
At the start of the season, BoJack (Will Arnett) is the star of a new streaming cop show, Philbert, but continues to struggle with alcohol and drug abuse. Diana (Alison Brie) has just gotten a divorce from Mr. Peanutbutter (Paul F. Tompkins) and flies to Vietnam. Todd (Aaron Paul) continues to come to terms with his asexuality, and Princess Carolyn (Amy Sedaris) gets caught between her career as an agent and adopting a child from her hometown, which brings up many bad memories. Every episode brings its own unique style: it may follow one character or every character, it may jump forward or backward in time, or it may be half-reality and half-BoJack's drugged-out reality where the show he's starring in creeps into his own reality.
Where to begin with the all heartbreak this season? There's the second episode, which chronicles Diane's trip to Vietnam, but it's also about her being not familiar with her own culture and heritage. But on top of that, it's a commentary about a white actress voicing a Vietnamese American woman, and it's also about feeling isolated and not belonging anywhere. That may sound like a lot for just one episode, but that's just the nature of the writing in BoJack: tackling many themes and scenarios yet blending them all together into one satisfying package that immediately makes you click on the next episode instead of crying in a corner.
The standout episode though is episode six, which is just a nearly half hour eulogy/monologue by BoJack for his recently deceased mother at her funeral, which turns into a self-critique and takedown of himself and his very existence. If there was an Emmy award for voice acting, Will Arnett would win. His awkward, cringey, self-loathing and destructive performance has set a new gold standard for animated voice acting. This episode proves that even a monologue-driven single-location animated episode can be just as compelling and emotional as an epic battle scene from Game of Thrones, or a tense exchange from Breaking Bad.

We get a lot more insight into Princess Carolyn's origin in episode three. It's a heartbreaking origin that's hard to watch and carries with it so much pain and guilt. It's even harder to watch knowing all the pain she's been through with not being able to have a baby and having difficulty with the adoption process. Her final scene with her mother, where she knows that it would be the last time they see each other, is heartbreaking and just a knife in the heart. Once you've finished crying there's even more highlights of this season to talk about: there's BoJack's Halloween party episode, which shows four different parties over the years and switches between all of them. Todd builds a sex robot, which takes over his very own company and inspires a #MeToo scandal that is both hilarious, sadly relevant, and sharply written. There's even an episode where two therapists discuss their clients but use different names which transforms our characters into a Zebra, a human hand, and Princess Diana.
But this series at its core is a character study with characters who are struggling with their own demons and finding their place in the world. BoJack is unlikeable at various points, and his traumatic bad story and past makes him feel guilty and depressed. But we want BoJack to succeed, even if we know that may never happen. The show's sharp takedown of pop culture and society serves as an ultimatum to us, the audience. We can either improve our society and culture or let it continue to sink to such a cruel degree that it's worth asking if it's alright being part of this downward spiral of human behavior and culture. Judging by what's happening in our society currently, we may never get better–and are one step away from overdosing on it, just like BoJack.
Season Grade: A