Review: Emotional and Compelling, "A Star Is Born" Is Fantastic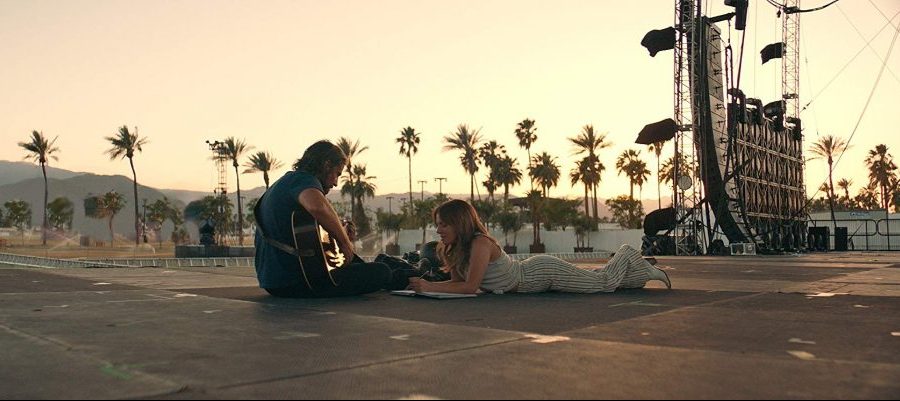 Olivia Luisi '21 / Emertainment Monthly Staff Writer
Directed by Bradley Cooper, A Star Is Born is this generation's masterpiece. The movie stars Lady Gaga as a new artist, Ally, and Bradley Cooper as a famous country artist, Jackson Maine. This film is packed with so many real emotions that the audience will be on an emotional rollercoaster during every scene. The audience is brought into the lives of a woman following her dreams of becoming a singer and a drunk Jack Maine who helps Ally in her career due to him falling in love with not only her but her voice. The film demonstrates how real-life celebrities tend to lose themselves while trying to become the best new artist and how sometimes fame can get to their heads. A Star Is Born shows that even with all the fame and fortune that people want, there are still bad times. It reveals that no matter how life may appear celebrities are humans too with real-life issues.
The storyline of a huge celebrity struggling with drug and alcohol abuse is, sadly, common nowadays, so to witness the daily issues that Jack has with trying to become sober is hard to watch. However, Cooper did an amazing job acting the part and brought the audience into a mesmerized state during the entire film. Cooper, as Jack Maine was absolutely phenomenal and watching the story beginning to end with Jack struggling, was heartbreaking but exceptional.   

Not only was the storyline heart wrenching but also the music was emotionally beautiful. Music is such a huge part of this generation's identity and it is important when coming out with such a huge movie that the music touches people's souls. The whole audience was so invested into the movie and the music that people would be moving with the characters as if they were on stage living out their movie star fantasies too. Gaga's performance resembled her own struggles getting into the singing industry. Gaga's character Ally finds it hard to stay true to herself when she starts to break into the business but eventually finds her voice again. For the people that are especially excited to see Gaga acting and singing in this movie, they will not be disappointed.
The film is Cooper's first time directing a film and it was beautifully done. Everything from the camera work to the music was absolutely breathtaking. Cooper and Gaga both wrote music for the movie and everything was beautifully done. Combined, the stars are a powerful dynamic that audience's around the world will enjoy seeing on the big screen together.  A Star Is Born was an exceptional film full of moments of pure joy and sadness due to real-life stories that everyday people go through. Due to this, audiences feel a connection to the characters even if they are portrayed as celebrities. A Star Is Born can make audiences cry, laugh, and is inspirational.
Overall Grade: A-
Watch The Trailer:
[embedyt] https://www.youtube.com/watch?v=nSbzyEJ8X9E[/embedyt]