A Belated, Well-Deserved Tribute for the "LazyTown" Meme King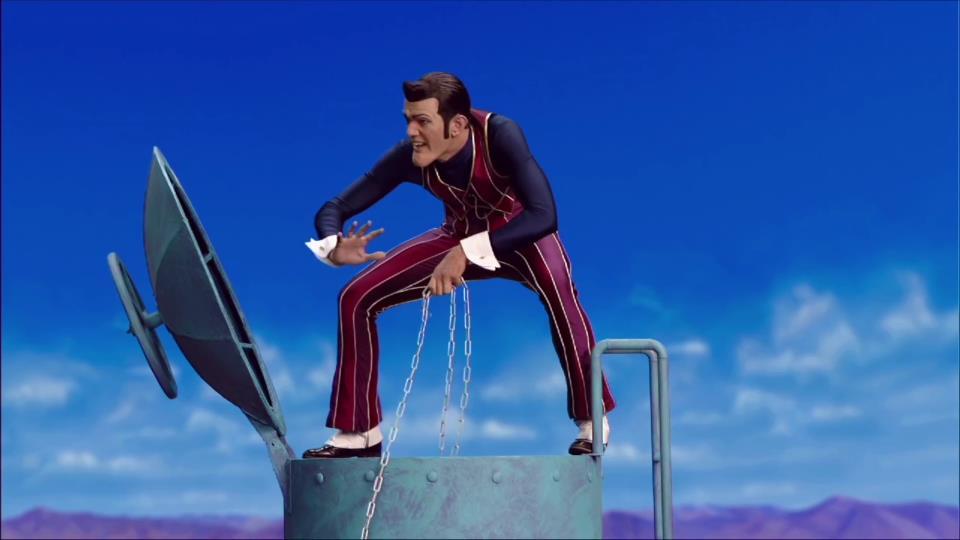 Isaiah Simeon '22 / Emertainment Monthly Staff Writer
Flash back to late 2016. Agar.io was popular. Every celebrity was dying. Something was going on with politics, but who cares about that? It's almost hard to believe in retrospect, but during that time, there was a very strong narrative being pushed that 2016 was 'the worst year ever.'
Yet out of this turmoil spawned what could be argued as the golden age for internet meme culture. While the televisions spouted hate on both sides of the political spectrum, YouTube was being flooded with humorous edits of the Bee Movie and over dramatized videos of people flipping near-empty water bottles. Looking back two years later, it is hard to see the appeal of these, but they capture a moment in time where humor was much needed, even if it was weird and meaningless (looking at you, dat boi). The internet goes through memes quickly, so these examples died off after a few weeks or months, as is custom. Yet one meme from this 'golden age' lived on and became something more.
Four years ago this past week, on October 3, 2014, the long-running children's television show LazyTown aired an episode titled 'Robbie's Dream Team,' in which the show's antagonist, Robbie, played by Stefán Karl Stefánsson, attempted to capture the show's hero, Sportacus (Magnús Scheving), by enlisting the help of three clones of himself. At one point in the episode, Stefánsson's character gives the clones a crash course in the art of being a villain in the form of a song, entitled 'We are Number One.'

This was in the later years of LazyTown, which ran from 2002 to 2016. A large portion of the show's initial audience had grown beyond the intended young audience at this point. It was not until two years later that the internet community was reintroduced to the iconic villain, Robbie. Unfortunately, it was under heartbreaking circumstances.
In October of 2016, Stefánsson announced that he was battling bile duct cancer. For the countless number of now-late-teens who grew up with Robbie, the news was devastating. Sudden grief and nostalgia led previous fans to relive their childhood by watching clips from the show, this was when the infectiously catchy 'We are Number One' was discovered by the mainstream. The official music video for the song currently sits at over 50 million views.
Droves of Lazytown clips flooded the internet, but none grew as popular as 'We are Number One.' The music video was edited, parodied, and memed into oblivion. Out of all these memes, something beautiful and wholesome happened, a rarity for the internet. LazyTown's head writer, Mark Valenti, posted a GoFundMe page to help Stefánsson pay for his cancer treatment. By December, the campaign had met its goal of $100,000. As a thank you, Stefánsson did a Facebook livestream where he answered fan's questions and performed a live version of the now-iconic song.
The following August, Stefánsson announced he was in remission. The internet rejoiced. A community had come together, had a few laughs over some funny videos, were reminded of a simpler time in their lives, and made a genuine impact on a life. A connection was formed between this internet community and the Icelandic actor. As fans followed Stefánsson's progress and treatment, they were continually greeted by a man with relentless wisdom and positivity. His social media updates were laced with inspirational quotations and love.

The internet moved on to new fads and fresher memes, but the love for Stefánsson never ended. In March 2018, Stefánsson announced that he had been diagnosed with cholangiocarcinoma, which had been deemed inoperable. One month later, the actor chose to discontinue his chemotherapy treatment. In his last post on social media, Stefánsson delivered one last bit of wisdom to his followers before deactivating his account.
"It's not until they tell you you're going to die soon that you realize how short life is. Time is the most valuable thing in life because it never comes back. And whether you spend it in the arms of a loved one or alone in a prison cell, life is what you make of it. Dream big."
Stefánsson passed away on August 21, 2018.
Following his death, fans took to internet to celebrate the actor's life and legacy, from memorials in the style of memes, to a petition to erect a statue of the actor in his hometown (which has garnered nearly half a million signatures and counting). As for his iconic role, 'Robbie's Dream Team' currently sits at a perfect score of 10/10 on IMDb with over 11,000 reviews.
While Stefánsson is gone, his impact lives on. His story represents the best of humanity and the untamable potential for good that all individuals possess. At a time when it seemed as if the world was burning, the internet found a way to help a man who had done so much for them.
Stefánsson was not a superstar. He does not have a star on the Walk of Fame. He might not even make the cut for the Oscars' memorial tribute video. But none of that matters, because he was something more.
He was number one.