Review: 'An Absolutely Remarkable Thing'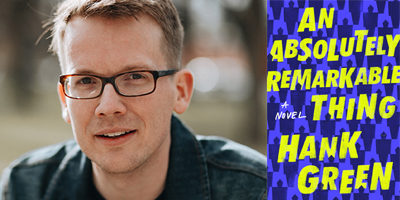 Emelie Mano '20 / Emertainment Monthly Staff Writer
Hank Green's debut novel, An Absolutely Remarkable Thing, published by Dutton Books, was released on September 25th. The first of a two-book deal, it features a variety of themes that manage to blend perfectly into a meaningful look at the world we live in currently, as well as the world we might live in the future. His main protagonist, April May, offers an enjoyably snarky perspective on the dizzying effects of media fame as well as the consequences it has on a global scale.
After walking home one night, April May comes across an armored, robotic looking art sculpture which turns out to be more than she could ever have imagined. Calling her friend Andy to record the event, she introduces the robot as "Carl" to the world through YouTube. Soon "Carls" appear in cities all over the world, causing widespread panic and curiosity. The mystery of this alien presence soon becomes a quest for April, Andy, and a scientist named Miranda. April thrives on her fame and remains oblivious to the toxicity of her addiction to the media; her journey through overcoming society's self-absorption opens her eyes to the world around her, and not everything she sees is positive. She sees the world's fear of the unfamiliar, and its inhabitants dependence on social image to carry them through their lives.
The use of adolescent humor and other worldly phenomena creates a perfect blend of humor, suspense, and science-fiction. April May and her friends work together to make sense of the unknown. Her story gives an honest portrayal of humanity when faced with the power of remarkable and unexplainable events. Underlying messages are present as readers witness the rise and fall of April's views of society. Though she remains blinded by the attention of the internet throughout most of the story, she stresses by the end of her journey the importance of community, especially when facing uncertainty. Green presents unmistakable political parallels that connect the story back into the real world. His writing flourishes into making his characters vivid and honest; he throws a voracious curiosity into April's personality that drives herself and readers into thinking about the bigger picture when regarding the universe and humanity's potential.
Fans of Hank Green will be able to pick up on his humor and perceptiveness through April May's genuineness as a character. He gives readers an opportunity to self-reflect through her experiences, choices, and moral beliefs in order to unravel the powerful influence of the virtual world. Though it might appear to be a young adult novel, it has multiple layers that appeal to more mature readers. Green addresses not only the world's fixation on the media, but gender identity, the negative aspects of cyberspace, and the unification of humanity. All of this through the eyes of a recently graduated art student who stumbles upon an otherworldly statue, changing her own life and the world around her.