Review: 'The Nutcracker and the Four Realms' Is a Delightful Film for this Holiday Season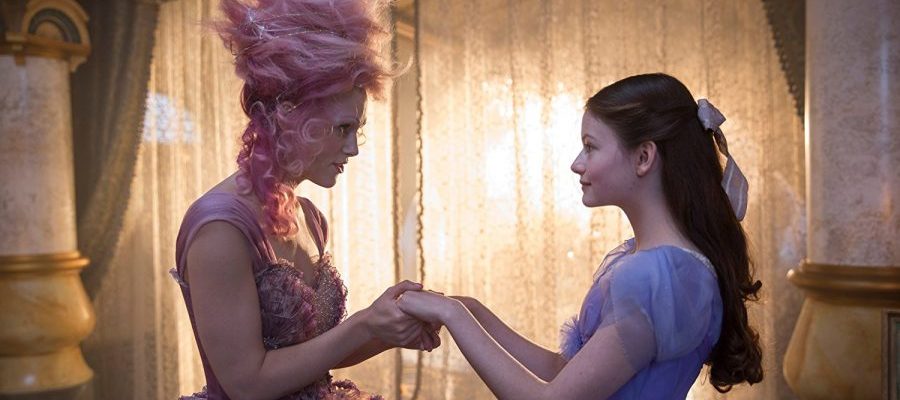 Toni Gangi '21 / Emertainment Monthly Staff Writer
Missing the worlds of Tim Burton's Alice in Wonderland and the Narnia series? Love beautiful music, incredible sets, and gorgeous costumes? Disney's new feature The Nutcracker and the Four Realms is a wonderfully fun film to kick off the holiday season, combining elements of fantasy and girl power in the best ways. The film incorporates all the iconic aspects of the original story and ballet an audience could ask for, portraying them beautifully while still managing to interpret them in a fresh way.
The film's heroine is Clara Stahlbaum (Mackenzie Foy), a young girl attending her godfather Drosselmeyer's (Morgan Freeman) Christmas Eve party along with her father (Matthew Macfadyen) and siblings. They are all feeling out of sorts and not quite in the Christmas spirit since Clara's mother (Anna Madeley) has just recently passed away. Just before the party, Clara's father gives each of his three children one last gift from their mother. Clara receives an intricately decorated silver egg but it is locked and there is no key to go with it.

Drosselmeyer is aware of the grief the Stahlbaums feel and decides to give all the children at the party his own Christmas gifts. While following a golden thread that is meant to lead her to her gift, Clara finds that not only is her gift from her godfather the missing key, the string also ends in a mythical world — the Four Realms. As is turns out, Clara's mother, Marie Stahlbaum, created this world through a special invention she built that can give life to toys. Consisting of the Realms of Flowers, Snowflakes, Sweets, and Amusements, Marie once reigned as queen over her entire whimsical world.
Upon entering the world, Clara's key is stolen by a small mouse who quickly runs away with it. While in pursuit of the mouse and her key, she meets a nutcracker named Captain Philip Hoffman (Jayden Fowora-Knight) who has vowed to protect the realms and, as she is a princess, will help Clara in whatever she needs. The mouse has run into a grim-looking land and Clara wants to follow but Philip is wary, saying it is a dangerous area. Still, they go and encounter the frightening Mouse King (Lil Buck) as well as the even more fearsome Mother Ginger (Helen Mirren).

Philip takes Clara to the castle where she meets Sugar Plum (Keira Knightley), Hawthorne (Eugenio Derbez), and Shiver (Richard E. Grant), toys that Marie designated as the individual rulers of the Realms of Sweets, Flowers, and Snowflakes, respectively. Mother Ginger was once ruler of the Realm of Amusements, now referred to simply as the Fourth Realm at the insistence of Sugar Plum, but she wanted more power for herself and went astray.
Sugar Plum takes Clara under her wing as she adjusts to being the princess of this strange new land. She dolls her up (no pun intended) in a dress and hairdo fit for a queen before they attend a ballet performed by a Ballerina Princess (Misty Copeland) that, according to Sugar Plum, tells the story of the Four Realms. It begins with the wonders that Marie created and ends with the fear Mother Ginger instilled. Sugar Plum shows Clara her mother's invention but it is not working. Clara realizes that it is powered by the same key as her silver egg. She dons a nutcracker-esque military uniform and takes on the role of the princess by commanding a small army through the Fourth Realm to confront Mother Ginger and take back her mother's key. Not everything is at it seems, however, and Clara must figure out who is trustworthy, who is not, and which course of action her mother would've wanted her to take.

Stating the obvious first, this film is a visual candyland. Every live action Disney film of the fifteen years or so has been beautiful in its own right and this one is no different. There is one short scene in the film involving a clock that is so adorable and inventive one cannot help but smile. At times, the CGI was apparent, but in others, it was impossible to tell what was real and what was digitally created. An almost surrealist quality to the production design and artistically positioned shots set it apart creatively from other films in the genre while James Newton Howard's score seamlessly integrates Tchaikovsky's beloved ballet, creating something new while making sure to set the scene of the holiday season and pay respects to the original material. It is exactly what one would want visually and musically from a Disney film with the title The Nutcracker.
Each character is wonderfully interesting, if sometimes underused, especially in the cases of Mother Ginger and Philip. Clara is an excellent character for younger girls of today to look up to and watch and Foy plays her very well. She is allowed to be inventive, clever, angry, apologetic, naive, and curious. She apologizes when she is wrong, is open to advice from friends, and takes charge without question when she knows she must do so. Keira Knightley as Sugar Plum is charming, funny, and compelling in a role unlike anything she's ever done before and Helen Mirren somehow embodies both motherly-ness and fierceness in Mother Ginger. Characters like Philip, Hawthorne, Shiver, and, to an extent, even Mother Ginger fall by the wayside in the story but they still serve to add to the sense of the world of the Four Realms.

The theme of the development of this film seems to have been taking inspiration directly from the source material and redistributing it, such as taking the fact that Drosselmeyer was originally a clockmaker and turning into the previously mentioned clock scene. When borrowing so heavily from such a well-known story, adding twists and turns along the way feels like it would make perfect sense, but the twists don't always hit their mark. When this happens, it leaves the audience almost wishing it was simply an as-advertised story. It makes one wonder what could have been. This film in particular, with its fantastical visuals and original stories, may have benefited from an even simpler narrative.
Overall, the praises outweigh the complaints. Though it may not be completely perfect, it is still a holiday-themed, whimsical new film that all fantasy-lovers should see this winter. (And make sure to stay through the credits to see more of Misty Copeland!)
Overall Grade: A-
Watch The Trailer:
[embedyt] https://www.youtube.com/watch?v=BXfxLIuNJvw[/embedyt]