Review: "Fantastic Beasts: The Crimes of Grindelwald" Serves as a Solid Sequel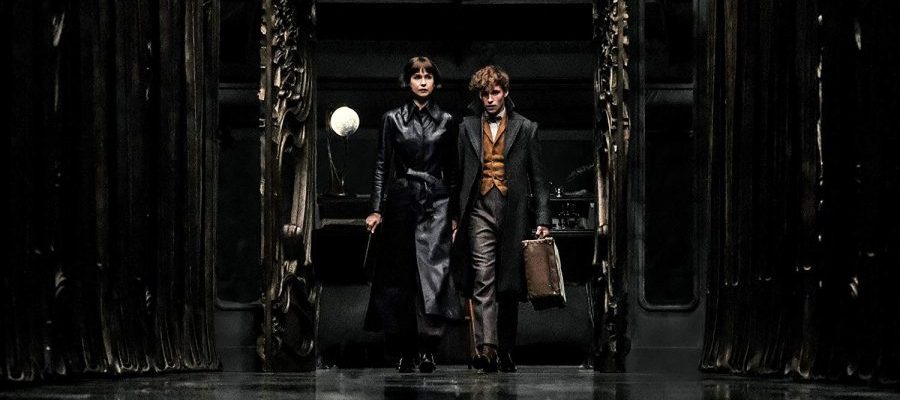 Toni Gangi '21 / Emertainment Monthly Staff Writer
Ready to jump back into the Wizarding World? Fantastic Beasts: The Crimes of Grindelwald, the second installment out of five in the Fantastic Beasts series, serves as a decent film alone but a fantastic middle-of-the-story film for fans of the first, especially for those familiar with the original Harry Potter books and movie.
Only about six months have passed since the end of the first film and the infamous dark wizard Gellert Grindelwald (Johnny Depp) is still under lock and key by the American Ministry of Magic. The British Ministry has decided the time has come that he be transported to Europe to answer for his crimes but Grindelwald has other plans for himself. He breaks out, putting the gears of this chapter of the story in motion.
Meanwhile, magizoologist Newt Scamander (Eddie Redmayne) just wants to get permission from his superiors to once again travel internationally and find Tina (Katherine Waterston), the American witch he fancies. Newt's ministry bosses, however, will not give him this permission to travel legally unless he agrees to track down Credence (Ezra Miller), the young wizard who has become a dangerous destructive force known as an Obscurus, and kill him. The Hufflepuff that he is, Newt refuses, which allows an unnerving bounty hunter called Grimmson (Ingvar Sigurdsson) to take the job, perhaps a little too eagerly.

Separately, Dumbledore requests for Newt to go after Credence, not to kill him but to save him. Still, Newt is hesitant. It is not until Newt gets inspiration from the visiting Queenie (Alison Sudol) and Jacob (Dan Fogler) to go looking for Tina that he even considers traveling without permission and further entangling himself in the whole Obscurus ordeal. With multiple parties after Credence, who is on his own mission with a new friend, the rising status and growing numbers of followers of Grindelwald, and interpersonal relationships between characters becoming sticky, the full Fantastic Beasts story is beginning to unfold.
Directed by David Yates and written by J.K. Rowling, the film holds a clear reverence and nostalgia for the source material and world of Rowling. There are countless moments throughout where other areas of the Wizarding World are mentioned and visuals from the Harry Potter movies are included, adding an extra layer of magic and childhood fun. That being said, the film is also rather dark at times and death is used much more frequently as a poignant symbol. Just as the books changed in depth and tone as the children reading grew, the quite complex and sometimes grim Crimes of Grindelwald is definitely more for adults who read and watched Harry Potter in their youth than for younger people just getting in on the stories.
Though not as strong story-wise as the first film, it gives the clear impression of being a smaller part of a larger whole. This is surely a side effect of being only one-fifth of what is beginning to feel like a 10-hour film rather than a five-part series and is not unforgivable. The first film introduced us to these incredibly compelling characters and this one continues their stories in an endlessly entertaining way. Though Newt is our hero, the film is made up of bits of the lives of the entire ensemble cast. Still, while watching one is not waiting for any character in particular to make a return to the screen. Rather, each scene and story holds attention just as much as the last.

In a noticeable trend of big-budget blockbusters lately trying to break away from their Hollywood nature and find ways to be unconventional visually and in their storytelling, Crimes unexpectedly uses point-of-view shots in an unusual and fun way, literally putting the audience in the middle of the scene. Special effects are, of course, used frequently and to great effect both magically and creepily. No one performance stands out, as each character was wonderfully cast and each actor does a remarkable job of truly becoming their character.
Colleen Atwood's costumes stand out once again as being impossibly beautiful. They indispensably contribute to the atmosphere of the film, even if they may not be as outlandishly wizard-y as some fans may have expected.
That is just it, though. The filmmakers behind Fantastic Beasts know what they have on their hands, know what fans expect, and subvert that at every opportunity while still making something that completely fits within the Wizarding World. Fans of wizards and fantasy should not miss out on experiencing this series on the big screen.
Overall Grade: A
Watch The Trailer: